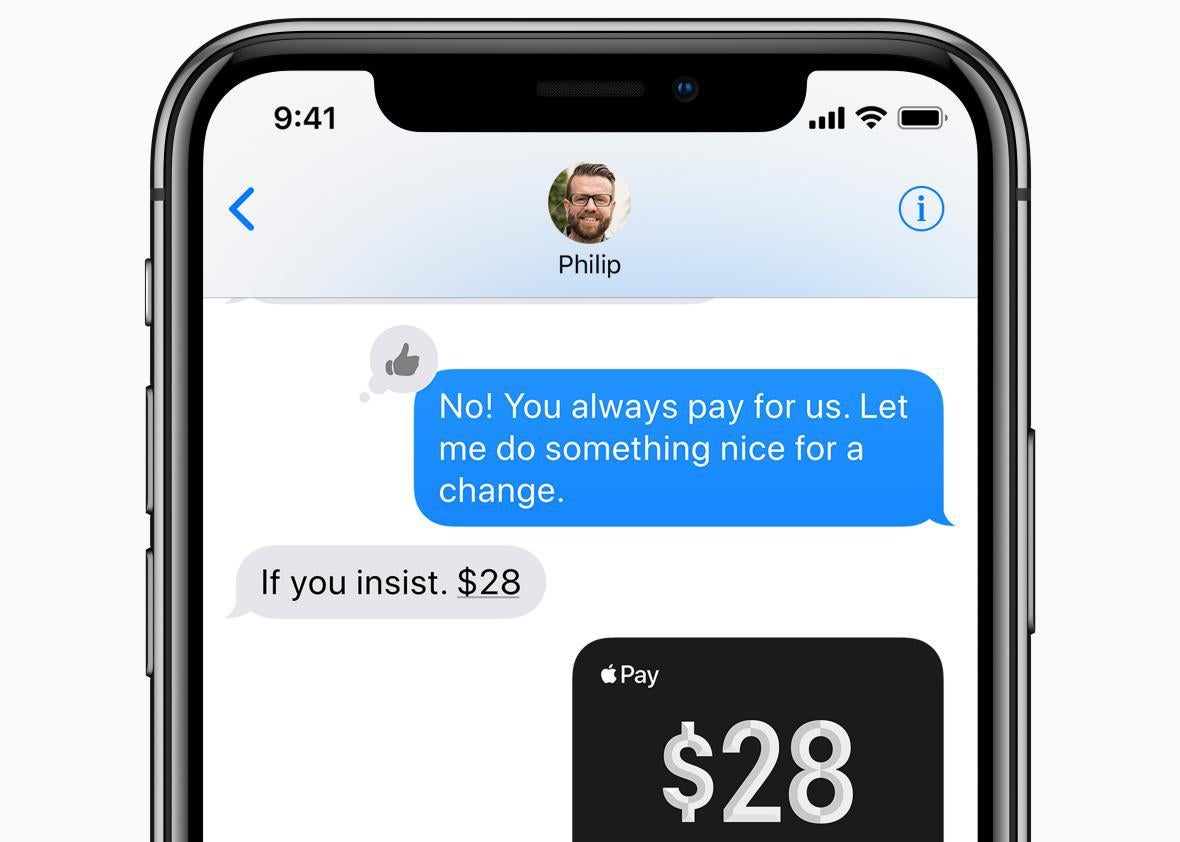 With the release of iOS 11.2 this week, Apple hasn't just fixed a handful of pesky bugs. The second major update to iOS 11 introduces a potential Venmo killer: Apple Pay Cash. Apple's new peer-to-peer payment service has a chance to upset existing leaders in the space, including PayPal, Square Cash, and the aforementioned poster child of peer-to-peer payments, Venmo.
Apple Pay Cash works nearly identically to existing digital payment systems: You can use it to send or receive money directly from contacts. Payments made with a debit card are free; ones conducted with a credit card tack on a 3 percent transaction fee. Once cash is transferred, you can keep it in Apple Pay or move it to your bank account, a process that can take up to three days.
It's a logical space for Apple to enter. According to online statistics aggregator Statista, 63.5 million Americans will use peer-to-peer payments in 2017. By 2020, that number is expected to grow to more than 100 million. With its digital wallet Apple Pay in place, iPhone owners already have their credit or debit card information on file, making the transition to using Apple's option relatively seamless. Instead of opening a third-party app to pay your portion of rent to your roommate, you can just text her the payment instead, confirming the transaction via Touch ID or Face ID.
The incumbents have large and dedicated user bases. Venmo, which accounted for $18 billion in transactions in 2016, has an estimated 7 million users. Its parent company PayPal has more than 197 million users. Square Cash recently passed both in the App Store's top downloads charts. And then there's Zelle, the cash transfer service built directly into banks' apps—banking's stab at the peer-to-peer transaction market. Apple, with 85.8 million iPhone owners in the U.S. alone, could jump to the top of this space if only a fraction of its users adopt Apple Pay Cash. However, once people have developed a relationship, and a friend base, using a particular app, they may not be easily swayed to another platform.
Still, iOS users get a few other benefits from using Apple Pay Cash over alternative apps. With Apple, you can use Siri to initiate a payment, which means the process is almost hands-free. And then there's the additional security of knowing that your card information is protected on your device, which is a small comfort given the preponderance of hacks these days. There's also the fact that Apple Pay Cash payments are private between you and whomever you're paying, or vice versa. Venmo, in contrast, defaults to making your transactions—minus the dollar amounts—public. For those making more sensitive purchases, that could be an advantage. And a significant portion of Venmo's audience says it uses the app for transactions best kept private, at least occasionally: According to a survey published in July, one-third of millennials on Venmo have used the app to pay for drugs. A Quartz analysis also suggested the payment platform is used for illegal sports betting as well. Venmo prohibits payments related to gambling or drugs in its user agreement, and has said that if it's alerted to illegal activity, it will take appropriate action. But given users don't have to share what their payments are for, it still happens.
This could be an issue for the Cupertino company. Apple keeps public content, such as apps on the App Store, pretty PG and squeaky clean. As recently as November, Apple reportedly removed the private photo storage app Nude for its slogan, "the sexiest app ever." Apple does not like to have its image associated with sex, drugs, or violence.
But Apple Pay Cash payments, like the messages you send with friends and the photos you take, are private, and Apple historically has not inserted itself into how individuals privately user their iOS devices. While a plurality of smartphones users sext one another flirty or X-rated messages, including teens, Apple hasn't made any move to admonish or ban the behavior—it turns a blind eye. While Apple hasn't yet responded to a request for comment on the issue, it seems likely it will react similarly with Apple Pay Cash: What you do with your money on the platform is your personal business.   
With Apple Pay Cash, Apple nets itself another revenue stream from iPhone owners. Not that it's hurting in that regard: Apple is expected to post record iPhone sales this quarter. But its "services" category, which includes the App Store, iTunes Store, Apple Music, iCloud, and Apple Pay, is a significant source of cash for the company.
More importantly, it further ensnares iPhone owners into the iPhone ecosystem, making them less likely to leave for Android alternatives and more likely to continue investing in Apple's other iOS-only services. It furthers the divide between the "blue bubbles" and the "green bubbles" in Messages. Now, non-iOS friends won't just be Animoji-less green bubbles. They also won't be able to send in-message payments. Apple Pay Cash makes cross-platform relationships just a little more complicated—and provides another reason for iPhone owners to try to sway their Android friends to the Apple side.