Before today, only a small fraction of Twitter users could send tweets longer than this sentence, which checks in at exactly 140 characters.
Starting now, however, Twitter is raising the character limit for all users in most languages (not including Japanese, Korean, and Chinese) to 280 characters. That means you'll be able to send tweets that are precisely the length of this paragraph.
A little wordy, right? In loosening the character constraint that has long defined it, Twitter risks sacrificing part of what makes it unique. In a time of information overload, the platform's enforced brevity forced users to get right to the point. Some writers joked that the 140-character limit was the best editor they'd ever had.
But the company makes a persuasive case that the change is for the best. In short: People like it.
The move to 280 comes less than two months after Twitter began testing the new limit on a small percentage of Twitter accounts. Twitter says that research quickly confirmed its three-part hypothesis:
It led to fewer people bumping up against the character limit.
It boosted user engagement and satisfaction.
It did not lead to substantially longer tweets overall.
The first finding should not come as much of a surprise. With more characters to play with, users were more often able to say what they wanted to say without having to edit. The result is that people spend less time fiddling with wording—who really enjoys the process of replacing words with shorter synonyms or stripping them of their vowels?—and more time just saying what they have to say. It's great that some writers found the constraint useful, but the average social media user doesn't want to be Emily Dickinson or E.E. Cummings.
That leads us to the second finding, which—as I wrote when the test began—is likely Twitter's main goal here. The company is desperate to get more people tweeting, and it's going to seriously consider any change that promises to accomplish that. Here's what Twitter says about the results of the test in its announcement:
In addition to more Tweeting, people who had more room to Tweet received more engagement (Likes, Retweets, @mentions), got more followers, and spent more time on Twitter. People in the experiment told us that a higher character limit made them feel more satisfied with how they expressed themselves on Twitter, their ability to find good content, and Twitter overall.
If that finding holds up, it could give Twitter something positive to report the next time quarterly earnings roll around.
Finally, there's the third finding, which is that people with the 280-character limit don't actually tweet much longer, in most cases, than those confined to 140. That may seem counterintuitive, but it was at the core of Twitter's reasoning when it announced the test in September. It had noticed that people using Twitter in languages such as Japanese, where you can express more in 140 characters than you can in English, simply didn't need their full allotment in most cases. Now Twitter says that a similar principle appears to apply in English and other languages: The majority of tweets will still be shorter than 140 characters, even as some run on to 200, 240, or 280. You can see the change in distribution in the chart below: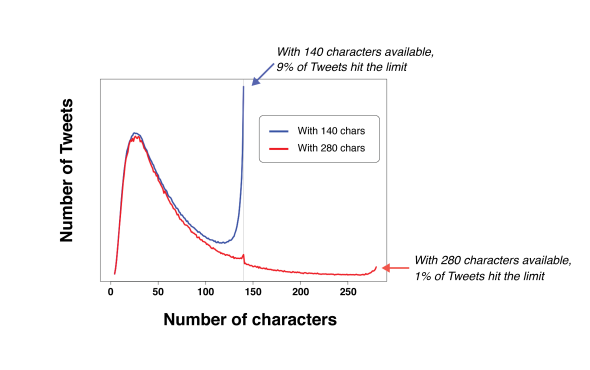 That could be partly because we've already been conditioned to keep tweets brief. It's conceivable that, over time, the ethic of brevity will erode, and tweets will sprawl in length. That might be bad. But for a company that has been trying for years to broaden its appeal without much success, it's a risk worth taking.