For a lot of Americans, Nov. 8, 2016, started out like a really great day. I went to vote with my husband. The polling place was knotted with poorly organized lines, but when I voted, I had tears of joy in my eyes. We took a glowy picture with our "I Voted" stickers in front of the "Vote Here / Vote Aqui" sign. We thought we'd just voted for our first female president. I posted the picture to social media, because, of course.
That evening, the mail finally brought my HRC campaign T-shirt. I posed in it triumphantly, arms akimbo, as we settled down to watch the election results come in. I posted that picture to social media, too.
Every time I see those pictures, I think, before. I think of how happy we were. And how wrong we were. And how shitty the last year has been—for immigrants and people of color and disabled people and trans people, for the environment and education and America's standing in the world, for the people whom have been hurt by the administration's policies, and who may continue to be hurt in the future.
Lots of us have those pictures, and tweets and Facebook statuses, too. Before and after, the hope and then the shock and the despair.
And now, because the internet is terrible, all of those memories are being brought forcibly back.
There's Timehop, the app that shows you what you were posting on social media on this date back through the years. Facebook also has its own On This Day feature, which resurfaces photos and status posts from years past. Outreach and engagement—what we hoped could make cumulatively meaningful small change—come back via Facebook memories to bite us, as the algorithm favors the most liked and engaged-with posts for On This Day. (Soon enough we'll enter an era of "On This Day … you were begging friends to call Congress to save health care!" and "On This Day … you were begging friends to call Congress to save health care again!")
On Nov. 6, 2016, Facebook user Ben wrote a lengthy, impassioned post aimed at any friends considering not voting or voting for Trump. He asked to hear their reasons. He offered thoughtful conversation. It was an earnest and hopeful gesture, which Facebook decided to remind him of in 2017. Ben shared the memory to his timeline, with "Real glad this post worked and I personally saved America from disaster."
Elizabeth woke up recently and logged into Facebook to be reminded—cheerfully, which is the only way Facebook reminds you of anything—that a year ago she overlaid her profile picture with Hillary's campaign logo. That isn't the only time when On This Day has caused pain. Recently, she told me, Facebook has been resurfacing pictures she took with her college best friend who was killed a year after graduation.* She said, "The kind of contextless way that my Hillary profile pic popped up on my feed today has me dreading Nov. 8. Facebook can't adequately handle individual points of grief when it comes to their memories feature; I'm not sure why I thought they'd do a better job with our collective points of grief."
Timehop isn't as aggressive as Facebook. It doesn't pop memories into an otherwise present-day feed—it promises to "Celebrate your best photos & memories from the past, every day!" when you open the app. It offers nostalgia and fond memories—but all it can deliver is memories, full stop. There's no filter for "fond."
Whitney, who struggles with memory issues after a traumatic brain injury, uses Timehop as an external memory in conjunction with a journal. She checks it daily. When she sees her posts from the fall of 2016, she told me, she thinks, "Wow, I sure seemed anxious this time last year, I wonder why—oh right!"
Another Timehop user, Sarah, told me that her app showed her commentary watching Obama's second election night. "I watched the returns with one of my twin babies in my lap, and I distinctly remember how much I wanted [my daughters] to see a woman president as they grew into the awareness of politics."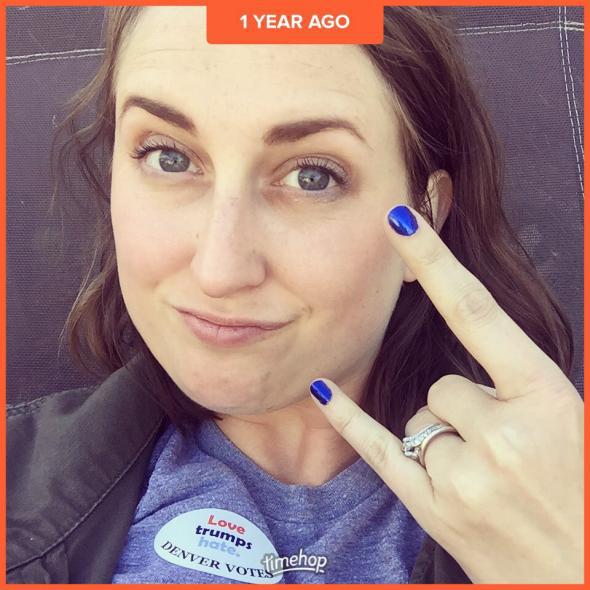 Sarah volunteered last year for the Clinton campaign and documented it all on social media: photos of her clipboard for canvassing, a selfie with the blue manicure to match her ideal electoral map. She said, "Looking back, I'm pretty sad for that person I was a year ago. I feel like her country let her down. I really just hadn't allowed myself to think Trump winning was actually possible."
Of course, we're not powerless against the algorithmic overlords. You can choose to abstain from Timehop for a few days as Election Day's anniversary approaches. If you want to stop Facebook from serving up your On This Day flashbacks, go to www.facebook.com/onthisday to change your settings.
The world is what the world is, and we have plenty to learn from 2016, whatever combination of effort, hopefulness, and naïvete we may have had. But let it be a carefully considered look into the past and not the social media equivalent of a horror movie jump scare—no matter how determined Facebook seems to be to give us exactly that.
Correction, Nov. 7, 2017: This piece originally misidentified when a Facebook user's friend died. It was a year after graduation, not before graduation.