If you visited YouTube to watch video news coverage about the deadly mass shooting at a church in Sutherland Springs, Texas, on Sunday afternoon, the top three search results were two right-wing newsfeeds and a random channel created at the end of September called TruthNews Network.
Early this afternoon around 1pm PST, soon after the shooting was reported, the No. 1 search result for "texas shooting"—and this was the same for multiple people signed into and out of Google accounts—was the Right Side Broadcasting network. Right Side Broadcasting, which had more than 5,000 people watching its Texas shooting coverage at the time, is a conservative media network that gained a national following for broadcasting almost every Trump rally on the campaign trail.
The second (or third, depending on when you looked) search result was from a page called BP Network, which at one point had more than 6,000 people watching its live video coverage of the shooting aftermath. A link provided in the description of its live news stream invites users to visit its Facebook page, called Blazing Press, which says it's "a conservative news broadcasting network" that aims to provide "unbiased political commentary with humor and offer deeper insight of world events from a Christian based perspective." The third (or second, again, depending on who searched and when) linked to a stream from a page called "TruthNews Network." That page, which had nearly 800 people watching at one point shortly after the shooting, was only created at the end of September. It describes itself as a service that brings "the news to your friends and the rest of the world" and ensures that "trusted regulars will gain certain access options in the future." But only seven people have liked its linked Facebook page.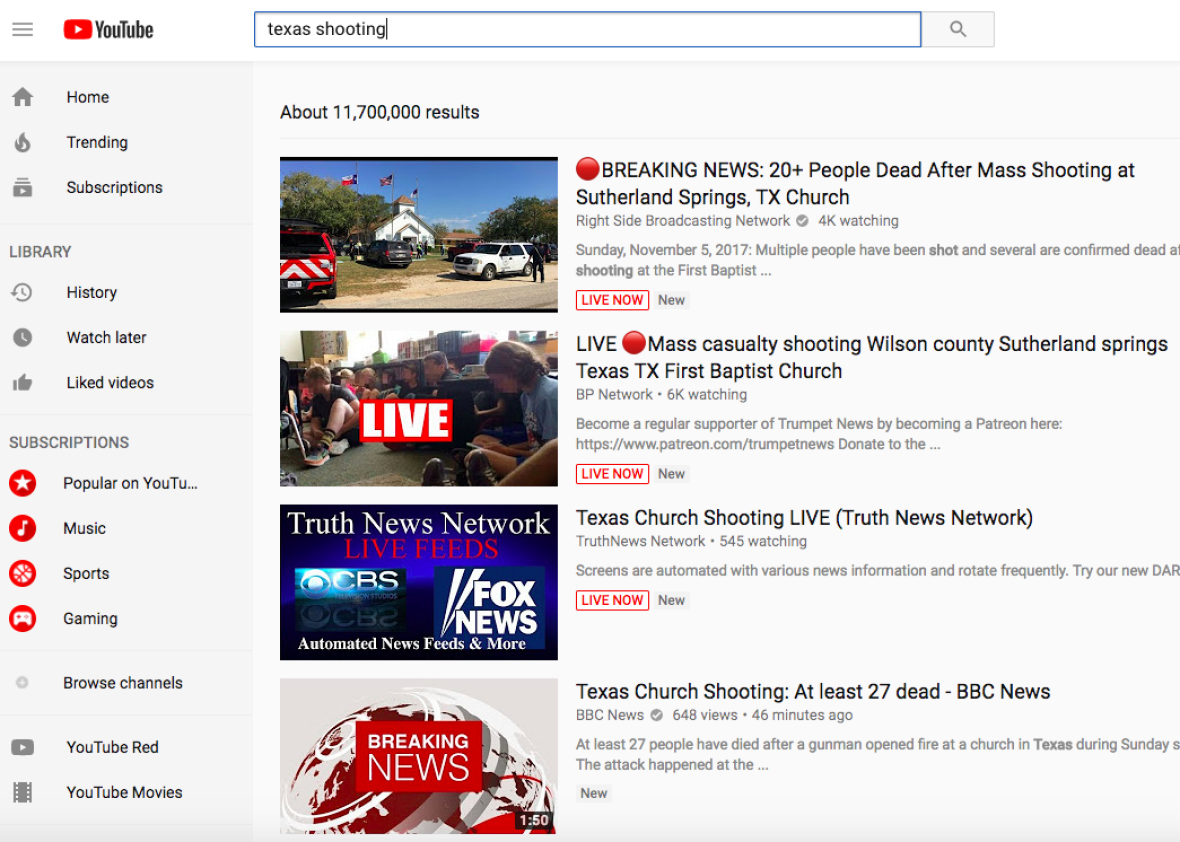 The top YouTube videos suggested to the right of the top three video search results, in the main suggestions bar, included content from InfoWars, a page called "Viking Preparedness," another page called "Cyber Command," and Fox News.
When I searched again a few minutes later, two results from NBC and ABC appeared in a search bar labeled "Top news." Still, the top three search results outside of the "Top news" bracket remained the two conservative pages and the Truth News Network.
A YouTube spokeswoman told Slate that the company is investing in changes to its search functions "that provide authoritative results when people come to YouTube looking for news." The spokeswoman said that already this year YouTube has introduced features that promote "verified sources" when a major news event is breaking that show up under "Breaking News" on the YouTube homepage and are featured in search results under "Top News." Additionally, YouTube, which is the world's largest video site, says that it's been working on tweaks to its algorithm for breaking news events. Still, when I first searched for news about the Texas shooting, the Top News section wasn't featured, and when other colleagues searched, the Top News section was displayed below the right-wing pages. YouTube didn't say why unverified right-wing pages—as opposed to the many news outlets that are covering the event—percolate to the top of its search feed.
Under those first results mentioned above, there were a litany of other right-wing pages. The fourth result was a news video from a page called Right Wing, which says it focuses on subjects related to "Rocket Man, Radiation, World War," "Kim Jong Un," "WW3, Hydrogen Bomb," the "Pacific Ocean, EMP," and "Nuclear War."
The focus on North Korea is peculiar and is also echoed in the "TruthNews Network" page, which says it focuses on "Earthquake feed, North Korea & More," and further down notes: "If you want the time in North Korea, type !timenoko. Time listed is North Korea time. If you want the weather in North Korea type !weathernoko." A person who called themselves Ankh responded to an email asking what this meant, as well as why the TruthNews Network channel is focused on North Korea:  "As far as the !timenoko and !weathernoko, that is for the live chatters. If they want to know what the time is in North Korea, they can type !timenoko and it will tell them. Also it is the same for the weather. Since the world has a big concern for North Korea, that is why we have a lot of North Korea focus." Ankh, who would not reveal his or her location, further noted that TruthNews Network's top-ranking, brand new YouTube page was a "hobby news channel" and that they are "currently not working anywhere."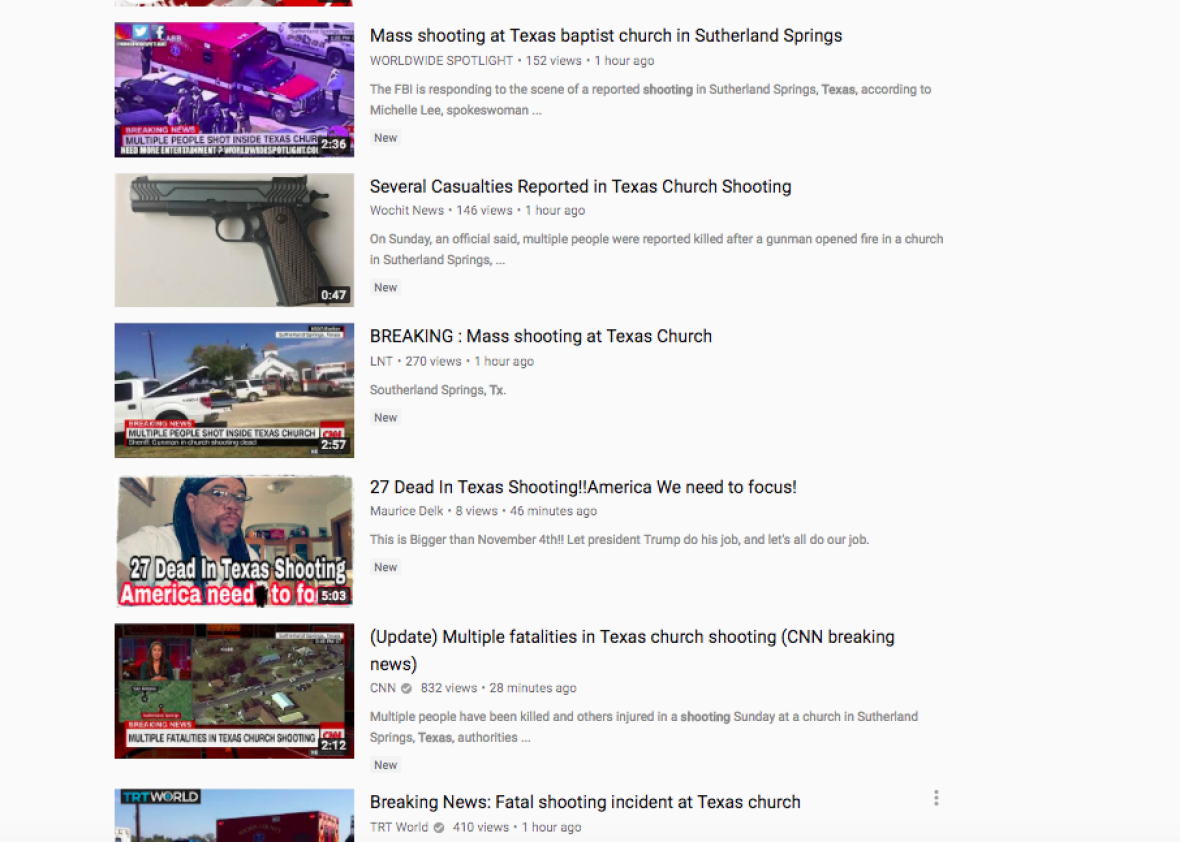 Another site that appeared in YouTube's top 10 results for the Texas shooting when I looked is called "Thetruthdamnit," narrated by a character who calls himself "The Doctor of Common Sense." There was also a page called "according to Joe," which made a series of videos about the details of the Las Vegas shooting that received hundreds of thousands of views. Neither of these channels are verified news providers. Another top video was from a user named Gavin Seim, who calls himself a liberty activist.
YouTube and its parent company, Google, are under scrutiny right now for hosting pages and videos from a Kremlin backed disinformation group called the Internet Research Agency, which was active before and after the 2016 election with a surreal constellation of thousands of social media accounts across sites like YouTube, Facebook, and Twitter. Those Russian operative accounts intended to inflame political unrest in America by focusing on the country's most socially sensitive topics, like racial justice, immigration, and gun ownership. Last week executives from Google sat through three different congressional hearings on how Russian government operatives interfered in the U.S. election. Lawmakers on both sides of the aisle appeared dissatisfied with the company's responses.
According to screenshots from Justin Hendrix of the NYC Media Lab, Google's popular "On Twitter" bar, which shows up on the top of its search results, surfaced questionable information for Devin Patrick Kelley, who was identified as the shooter, including tweets claiming he had converted to Islam and that he was a Bernie Sanders supporter.
This isn't the first time in recent memory that Google has surfaced questionable information during a national crisis. After the Las Vegas shooting in October, Google offered results at the top its page from the notoriously shady troll site 4Chan.