The automotive world was expecting to see a new Tesla semi truck on Thursday night. It got that—and then, just for fun, the back of the semi trailer opened, and out rolled a new Tesla Roadster, which CEO Elon Musk is billing as the quickest production car ever made.
The Roadster 2—an unexpected sequel of Tesla's first vehicle, the Roadster—will steal some headlines, understandably. With three motors, all-wheel drive, and a 200kWh battery pack, it will rocket, Musk says, from a standstill to 60 mph in 1.9 seconds, which would make it the first production car to crack the 2-second barrier. It will reach 100 mph in 4.2 seconds, with a top speed of 250—not that you'd ever use it to break the speed limit, right? It's a four-seater, at least nominally ("You can't put giant people in the rear seat," Musk admitted), and a convertible, and the company claims it will travel 600 miles on a single charge. That's about twice as far as its current flagship car, the Model S sedan.
The roadster isn't cheap, of course: It costs $200,000, or $250,000 for a "founders series" vehicle. Production begins in 2020.
The Roadster announcement was a PR masterstroke reminiscent of Steve Jobs' famous "one last thing" bits at Apple launch events. It got diehard Tesla fans screaming and swooning on the heels of an event that was otherwise a little harder to get fired up about.
But it's the heavy-duty, workaday truck that matters more in the long run, both to Tesla's future and to everyone else's who isn't a gazillionaire. And from the looks of it, the Tesla Semi will not be a slouch. The 18-wheeler has four motors, a center-mounted driver's seat, a highly aerodynamic design, and—most importantly, for an electric truck—an impressive range of up to 500 miles. It appears the base version, however, will come with a range closer to 300 miles, which could pose an obstacle for long-haul truckers given the time it takes to recharge the battery. Tesla did say that a new type of high-speed charger will replenish 400 miles in 30 minutes, which is relatively brisk.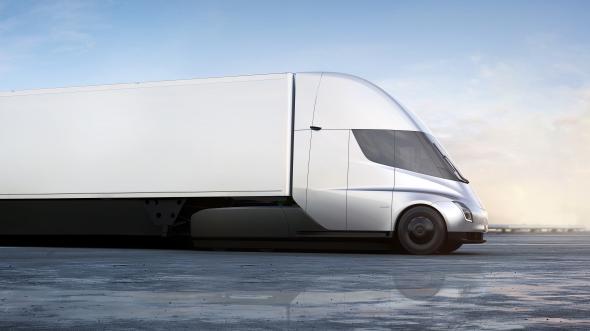 The truck is quick, too: Musk said it would go from zero to 60 in five seconds without a load, or zero to 60 in 20 seconds with an 80,000-pound load. The ride should also be much smoother, he added, since you don't have to shift gears—a clunky, grinding process in older semis. Tesla will put the Semi's four independent motors to use in an advanced traction control system that Musk claimed will make jackknifing "impossible."
In the long run, the big selling points will likely be the fuel savings and Tesla's autopilot technology, which could be especially valuable to long-haul truckers. (In the long run, there are concerns it will replace them entirely, but the technology for that is not yet ready, and no one can say with confidence when it will be.) Whether that's enough to convince truck companies to buy in, we'll see. The cost equation matters a lot more to a commercial trucking enterprise than it does to the average well-to-do Model S buyer. But if it does pencil out, it's easy to imagine the Tesla Semi capturing significant market share. (Tesla didn't announce the semi's price, but is already taking reservations for a $5,000 deposit. Production begins in 2019.)
This all matters because Tesla's stated mission is to help the world transition away from fossil fuels, and getting the trucking industry to go electric would make a real impact. It's also noteworthy because Tesla is a leader in semi-autonomous driving software, which might eventually transform the industry altogether.
But let's not forget that Tesla's No. 1 priority right now was supposed to be ramping up production of the Model 3, its mass-market electric sedan. Production delays have called into question the timetables the company gave to the many customers who reserved theirs in advance.
If Tesla can get its act together on Model 3 production, its entry into the trucking industry and the revival of the Roadster will be icing on the cake. If not, they're going to look a lot like shiny distractions from a glaring failure.