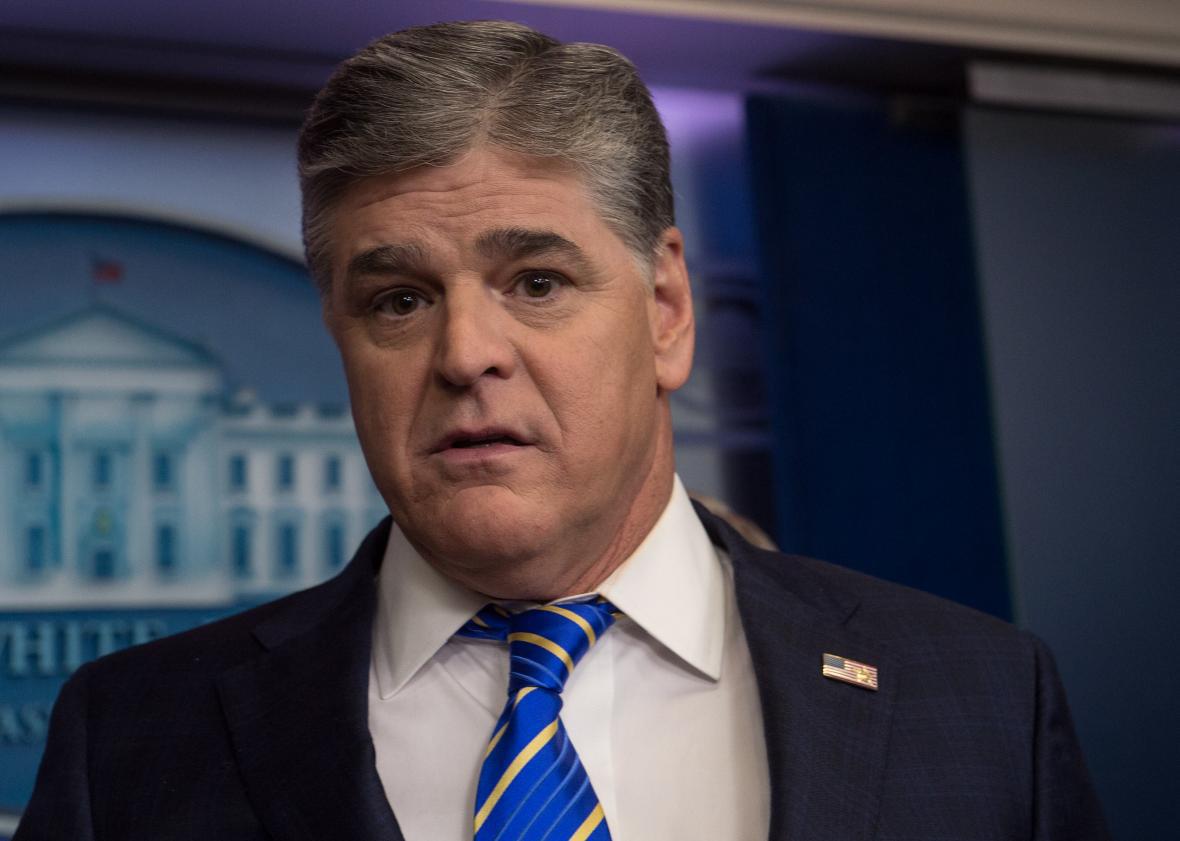 Fox News host and Trump bestie Sean Hannity made a new enemy this weekend: a coffee maker. Or rather, a coffee-maker maker. Keurig announced Friday that it has pulled its ads from Hannity's show on Fox News after learning that Hannity defended Roy Moore against recent allegations in the Washington Post that in his 30s, the Alabama Republican nominee for the U.S. Senate made advances toward teenage girls, including one encounter with a 14-year-old that Hannity implied was consensual. (On Hannity's radio show, Moore denied having been involved with the 14-year-old but only kind-of sort-of denied having dated other teenagers.)
Keurig's decision to yank advertising led enraged Hannity fans who also owned Keurig coffee makers to take matters into their own hands, resulting in videos of angry men dropping Keurig coffee makers from balconies or smashing them with baseball bats. By the end of the weekend, the hashtag #BoycottKeurig was trending on Twitter. Though Hannity encouraged the Keurig-bashing throughout the weekend by retweeting videos, polls, and supportive statements from fans about boycotting the brand, he changed his tune Monday. Hannity tweeted to his fans to "Hold on to your coffee machines," and that Keurig realized it had been "mislead." Still, the weekend did result in some impressive footage of angry people decimating home appliances.
Here's a supercut of Hannity fans demolishing their Keurigs:
"Liberals are offended by this video of a Keurig being thrown off of a building. Please retweet to offend a liberal," read an early tweet on Saturday from an angry conservative.
The #BoycottKeurig hashtag originally surfaced after Angelo Carusone, the president at Media Matters for America, a left-leaning media watchdog group, tweeted Friday urging Keurig and other brands to pull ads from Hannity's show following his defense of Roy Moore. But the #BoycottKeurig hashtag changed meaning Saturday afternoon following the company's decision to pull advertising. A handful of other advertisers also decided to no longer run ads on Hannity's program, including 23 and Me and Nature's Bounty.
This is the second time this year advertisers have fled Hannity's show. In May, Cars.com and others pulled their ads after Hannity promoted a conspiracy theory about the murder of a Democratic National Committee staffer, Seth Rich. This kind of advertising pressure can get results: After a New York Times report detailed settlements Bill O'Reilly had made with at least five women who accused him of sexual assault or harassment, 50 brands pulled advertising, and Fox News canceled O'Reilly's show.
Roy Moore aside, Keurig is a reasonable nemesis for coffee snobs and environmentalists. The company's individualized coffee pods aren't easily recyclable. Besides, the coffee is, in my opinion, terrible. What's particularly odd about this protest from Hannity fans, though, is that in smashing a coffee machine they already bought, Keurig isn't really losing any money, and former owners may have a hard time finding out what to do with their unused coffee pods. What's more, people who did smash their Keurigs may end up just buying a new one now that Hannity has rescinded his support of the Keurig-bashing.
In the meantime, Hannity and some of his fans are expressing excitement for Black Rifle Coffee Co., which is owned by veterans and promotes itself with a video of white men shooting machine guns and women in their underwear. "Instead of worrying about microagressions and what bathroom we're gonna use, I believe it's important to support the people that actually serve our country," the video's narrator says before throwing an ax at an employee who catches it. That employee then uses the ax to tear open a bag of unroasted coffee beans. "Fresh roasted freedom," he yells.
Watch the full video from Black Rifle Coffee here:
---