A famous black and white photograph of Black Panthers from 1968 is captioned with the words "never forget that the Black Panthers, group formed to protect black people from the KKK, was dismantled by us govt but the KKK exists today." It was shared on Facebook at least 29,000 times and was intended get black Facebook users to follow a page called Blacktivist, so presumably they would then see its content without an ad.
Blacktivist, however, was operated by the Internet Research Agency, a Russian troll group working to inflame political unrest in America by focusing on the country's most socially sensitive topics. The ad was released Wednesday as part of a small sample of the thousands of Facebook ads and Twitter accounts used by the Internet Research Agency, a Kremlin-backed group. The release came after a mini-marathon of three congressional hearings in which executives from Facebook, Google, and Twitter submitted to rounds of questions from angry lawmakers looking to understand how these companies unwittingly helped Russian operatives interfere in the U.S. election. The constellation of content created by the Kremlin groups is surreal and varied, focusing on some of the most polarizing issues in U.S. politics, like racial justice, bigotry against Muslims, police brutality, immigration, and gun control. The sophisticated strategy shows that the Russian propaganda machine's aims went well beyond securing Trump's presidency.
Facebook gave Congress information on 470 pages that it said reached roughly 126 million people, but there could have been even more. Jonathan Albright, the director of research at Columbia's Tow Center for Journalism, found that six of those pages alone had posts that may have been shared more than 340 million times. Though the national conversation has focused more on Russians' efforts to stir up the right wing ahead of the election, they also attempted to infiltrate and manipulate U.S. racial justice activism and efforts to fight anti-Muslim bigotry.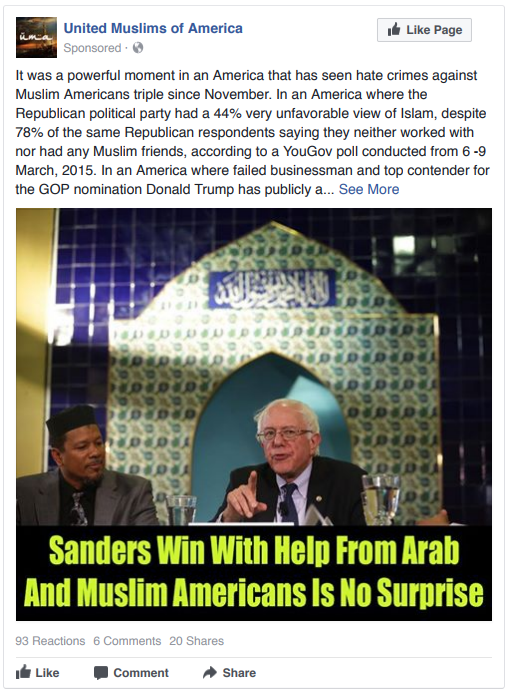 For instance, the page United Muslims of America, a puppet Russian account, ran an ad promoting Bernie Sanders that notes Donald Trump "lauded a plan to shoot Muslims with bullets covered in pig's blood." That ad was engaged with more than 100 times, and the United Muslims of America page itself had more than 324,000 likes. United Muslims of America also hosted a pro-Clinton event on July 9, 2016, billed to take place at "The Obama White House," which it promoted with a Facebook ad targeted to people interested in the Muslim Brotherhood, an Egypt-based Islamic political organization that briefly occupied the country's presidential palace for roughly a year following the 2011 revolution. The Muslim Brotherhood, however, has a poor track record of supporting women's rights, having made a statement to the United Nations in 2012 that women should not have the right to press charges against their husbands for marital rape and that wives should be under the "guardianship" of their husbands. It's not a stretch to imagine that many who indicated interest in the political party on Facebook might respond negatively to an ad supporting a female presidential candidate. As with the ad featuring the historic Black Panthers photo, this may be an attempt to anger people of color in the U.S., but this time the target was Arab Americans in the Washington, D.C., area. The Facebook page for the faux advocacy group is no longer online; Facebook took it down, along with all the other pages it located that were created by the Internet Research Agency.
Beyond what Facebook and Twitter shared with Congress, journalists have found other examples of explicit attempts from what appear to be Russian operatives to either undermine or exploit America's ongoing movement for racial justice. One of the more creative efforts was a Pokémon Go scavenger hunt in Baltimore that urged people to catch Pokémon at sites where alleged incidents of police violence against black people had occurred. That event was organized by a fake Russian-led activist group called "Do Not Shoot Us," which also circulated at least a dozen petitions calling for justice for acts of police violence. The petitions garnered thousands of signatures.
Congress also released a list of thousands of Twitter accounts that were linked to Russian operatives. With names like "staywoke88," "BlackNewsOutlet," "Muslimericans," and "BLMSoldier," they appear calculated to give a false sense of activist credibility behind whatever Kremlin propaganda they were tweeting.
One of the Russian Facebook groups, Black Matters, had a page for a protest in New York City the Saturday after the election, which it promoted with an ad. On the event page, more than 16,700 people signed up to attend, while 33,000 more listed themselves as interested. The Guardian at the time wrote that thousands of people actually showed up with protest signs in tow. Black Matters may not have been the only group advertising the event, but its page, it seems, did act as a hub for people planning to attend. Again, the event suggests that the Kremlin saw value in cultivating an activist network of Trump opponents just as much as it wanted to put Trump in the White House. Think about it. If Trump does something Putin doesn't like, how convenient would it be for the Russian leader to spark a series of grassroots protests across the country to do his bidding?