The website Blackmattersus.com, like most activist sites, has a donation page. There, visitors are implored to "donate to the needs of the Black Community." According to the site the money, collected through a PayPal account will be used for things like posting bail for protesters who get arrested and organizational costs, like postermaking and van rentals. "All contributions," the donation page reads, "are cherished and appreciated."
But Blackmatterus.com isn't run by black activists in the United States. As we learned last month, it's a site run by the Internet Research Agency, a group of Russian government-backed operatives that created thousands of Facebook and Twitter accounts that aimed to stoke political divides in the U.S. before and after the 2016 election. According to the independent Russian news outlet RBC, the Blackmattersus.com brand was one of the most influential groups of websites and social media accounts run by the Internet Research Agency. An ad purchased by the Blackmattersus Facebook page was released by the House Intelligence Committee on Wednesday following a public hearing with Facebook, Twitter, and Google about how Russian agents used their platforms to manipulate voters before and after the 2016 election.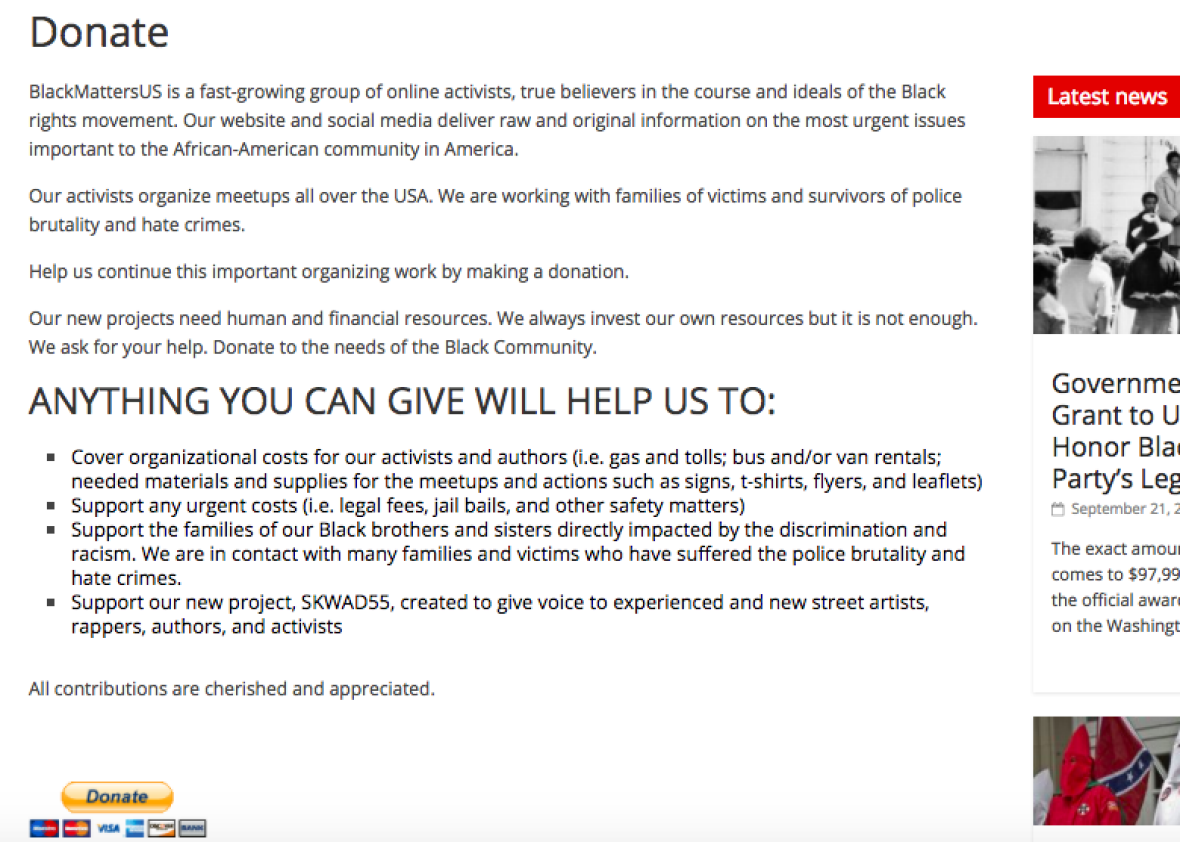 The PayPal account listed on the site to collect funds was still working until this morning, when PayPal disabled the donation link following an inquiry from Slate. Though PayPal wouldn't confirm if funds were collected from the account, the Blackmattersus network was extremely popular. The Facebook community alone boasted more than 223,000 likes, meaning at least that many Facebook users could see content posted from the page without the page needing to pay for advertising. With so many people looking to the site, ostensibly for information about racial-justice activism in the U.S., it wouldn't be a stretch to imagine at least some of the people who visited the suite of pages dedicated to the Kremlin-backed fake activist group were convinced enough to donate.
If people did donate, that money likely went to the Kremlin-backed trolls. This information, combined with a report earlier this week by the Daily Beast about how Blackmattersus also sold T-shirts and sweatshirts via the online printing company Represent, shows yet another side of Russia's efforts to infiltrate U.S. social activism—one where fake accounts could help pay for themselves. Unlike fake news sites, which generally make money from ads, these fake activist accounts appear to have been set up to collect money from deceived Americans wanting to support activist efforts against institutional racism.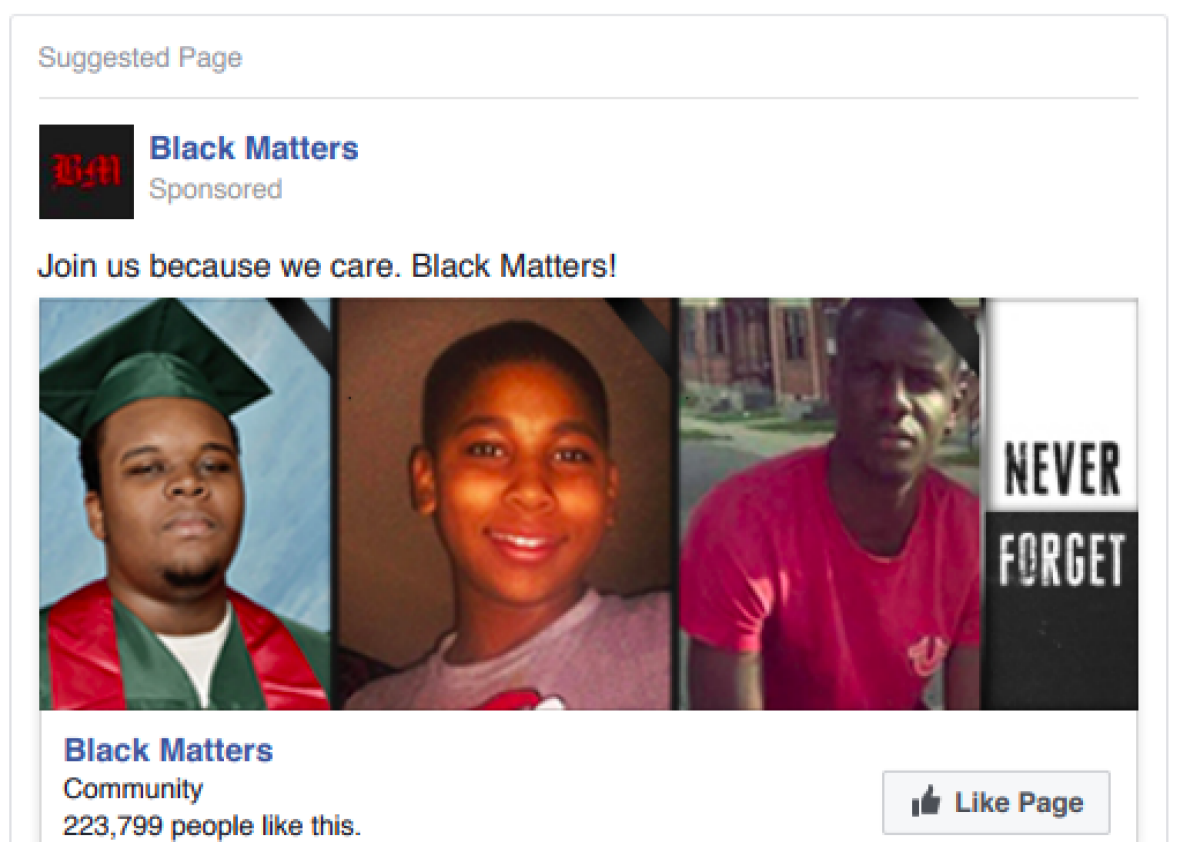 In response to Slate's inquiry, PayPal told me that it "cannot provide greater specificity on accounts per your questions." However, PayPal did clarify that when the company becomes aware of such accounts, either through its own "due diligence or when a site is brought to our attention" that may violate its user policy, PayPal evaluates each case individually before making a call. It is against PayPal's user policy to engage "in potentially fraudulent or suspicious activity and/or transactions."
Blackmattersus was one of 470 Facebook pages the social network located with ties to the Internet Research Agency. Facebook told a Senate panel on Tuesday that, collectively, these pages garnered 126 million views. But that's number is likely a low-ball figure. Jonathan Albright, research director and Columbia's Tow Center for Digital Journalism, looked at only six of the 470 pages and found that handful alone may have been shared 340 million times.
It wasn't just Facebook. The Blackmatterus site also includes links to now disabled Twitter and Instagram accounts. Another Kremlin-backed fake racial justice suite of accounts designed to appear in solidarity with the Black Lives Matter movement, Do Not Shoot Us, also used Pokémon Go to try engaging Americans in its fake racial justice efforts, encouraging people to catch Pokémon at sites of alleged police violence.