According to my spam folder, the holiday shopping season is upon us. Last week, most retailers kept busy with the annual post-Halloween tradition of clogging customers' phones and browsers with coupons for slippers, sweaters, and various cheer-enforcing things. But Amazon attempted to pique consumers' interest in a whole new way and kicked off Nov. 1 with an augmented-reality option on its app.
Called "AR View," the feature hopes to get you to 1-click purchase by helping you imagine what a certain item might look like in your home. For a company that hopes to pillage every kind of retail experience possible—particularly ones where it needs to compete on more than price—it's clear why the technology that makes Snapchat and Pokémon Go possible would be enticing: It's Amazon's version of the showroom. But will it convince anyone to shell out for a new living-room set?
So far, the feature is a goofy waste of time—but one that also happens to reveal a lot about why we shop the way we shop. The biggest head-scratcher is the selection of products available for reality augmentation. (AR View is available on Apple iPhones 6S or higher operating on iOS 11.) Among the 300 or so goods you can visualize in your kitchen or living room are toys, cookware, novelty speakers, and the Amazon Echo—hardly the kinds of things the average consumer would have trouble imagining in their own home.
Arguably more helpful as AR are the approximately 200 pieces of furniture and home decor that you can see in your home. By dragging a finger or two across the screen, you can rotate or move around an item in a room. Et voila: So that's what an uncomfortable-looking midcentury armchair made of dark walnut and tufted tweed would look like in my cramped apartment. (Disclosure: Slate is an Amazon affiliate; when you click on an Amazon link from Slate, the magazine gets a cut of the proceeds from whatever you buy.)
Even if an object in the relatively tiny AR View catalog appealed to me, the glitches and halting speed of the feature render it a time-suck. The feature only works against bare stretches of floor and wall, so first I had to first clear out a sizeable area of my bedroom to give the app a clean surface on which to project items. (Even then, I was told at least half the time that AR View couldn't find a surface when my iPhone camera was aimed at an uninterrupted tract of hardwood floor.) Each product I looked at took several seconds to load from start to finish, and when it did appear, the image was disappointingly animated-looking. A shortcut that AR View could have offered was providing a rough sense of how much space certain furniture pieces might take up. But one six-foot bench looked about two-thirds of its size in my home while a Tiffany lamp falsely promised to perch comfortably on the slim ledge that frames my bed.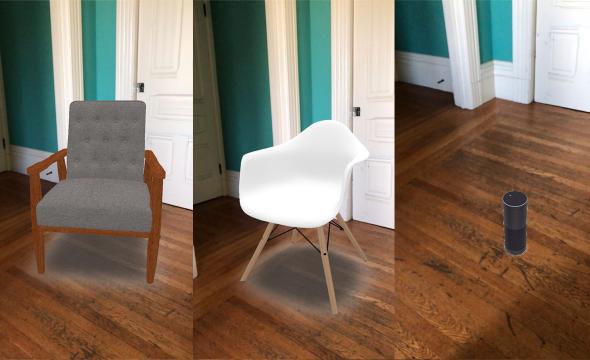 Further innovation will probably make AR more useful and enjoyable as a retail experience, but Amazon's app currently makes the feature feel like yet another purportedly life-changing tool in need of a purpose. With AR View, Amazon joins furniture retailers like Ikea, Wayfair, and Houzz, which have released their own augmented-reality apps to help consumers experiment with different products, styles, and colors. Should shoppers want it, AR enables the conversion of real-life homes into a game of The Sims.
But I can't help wondering if AR View—and shopping via AR in general—removes a key pleasure of buying things online: aspiration. If you need a new set of linens, you might read reviews or compare prices or look for a specific color or fabric or whatever other factors matter most to you. But you might also be persuaded to buy a particular set of sheets because of the lifestyle that a photo shoot featuring the product implies. Placing it via app in your own home, for better for worse, kills some of the magic.
And that's not just the case with items that chiefly aim to please the eye. Take, for example, a Black and Decker toaster showcased on AR View. In the app, it's centered, like all the other items around it, in a white box, with no other signifiers. Sure, I can aim my iPhone at my kitchen counter and imagine that toaster there. But as with so many other purchases, I want from a toaster is more than a toaster. I want the little reverie that marketers use to sell me the toaster, too.
Amazon's utilitarian shopping interface is far from the glossiest on the web, a fact that may have something to do with its slow progress in capturing market share in fashion retail. But when you go to the Amazon page for that same Black and Decker toaster on a laptop browser, even that most humblest of appliances is photographed next to some toast, juice, and orange slices in one image, and in another, modeled next to a woman in professional dress, with a pair of wine glasses in the background. However unconsciously, a shopper might be more enticed to buy an object because of the ways it's socially or culturally coded.
But on AR View, items are mostly stripped of such framing. And it's that elimination of aspiration that I ultimately find so anticlimactic about imagining a new product in my own home. I love my apartment, but when I consider a significant purchase like furniture, I don't want to think about how it'll be surrounded by the same old clutter, the strewn-about dog hairs, and the permadust I'll wage a lifelong battle against and never defeat. If you're lucky enough to be able to enjoy it, shopping offers the luxuries of anticipation and fantasy, even for minor wares. Sure, a toaster toasts your bread, but it can also be a portal to an alternate dimension where all your breakfasts are healthy and your kitchen is instantly Instagramable. Amazon's website understands the hopes that come with its products, but its AR capabilities just drag us back down to reality.