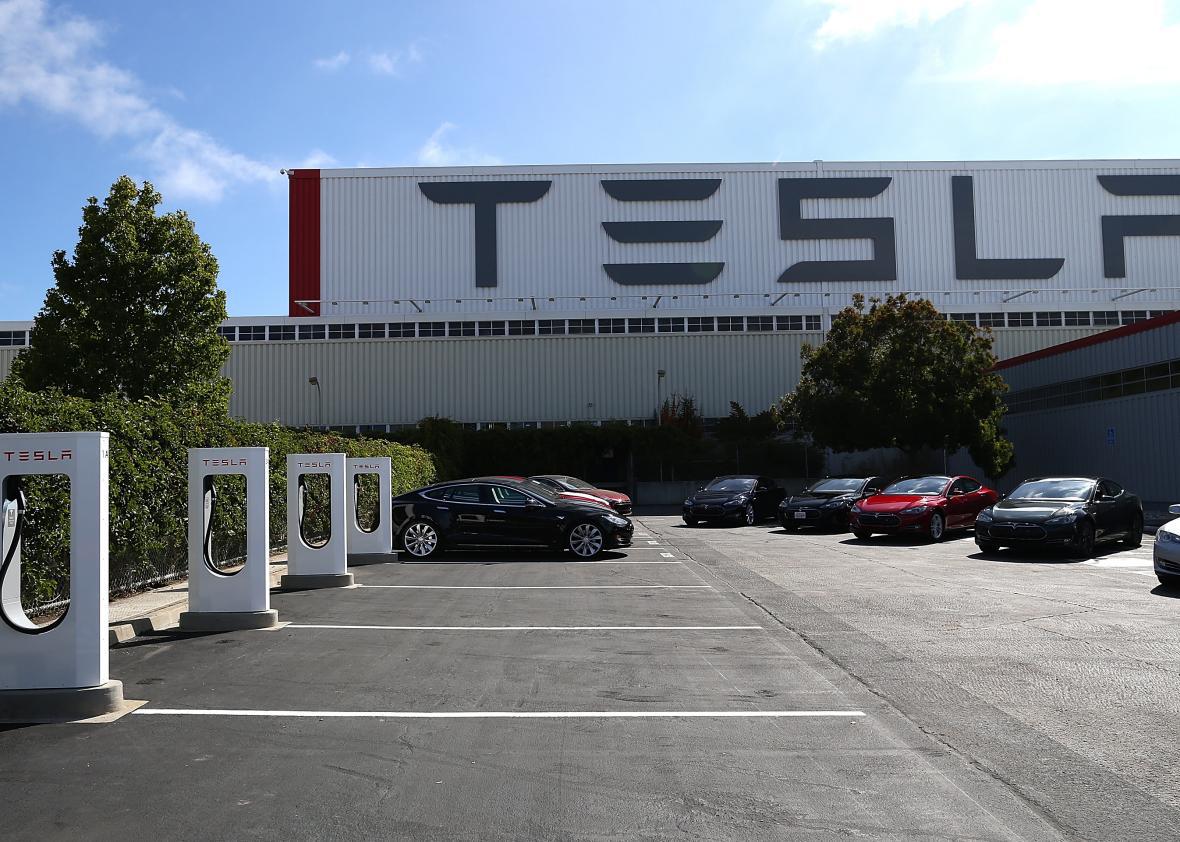 Three former Tesla factory workers filed a lawsuit Monday in a California state court alleging that the company's Fremont factory was a "hotbed for racist behavior."
The plaintiffs, who are black, say that racist slurs and Jim Crow–era imagery were pronounced in the factory, yet upper management failed to respond to their complaints. The company told the Verge that "none of these individuals has ever brought a claim about their time at Tesla until now, in some cases years after they were last at Tesla."
The suit claims that racist insults, particularly the n-word, were commonplace among supervisors and fellow employees. One of the alleged incidents involved a supervisor verbally abusing two of the plaintiffs, who are father and son. The father, Owen Diaz, says he tried to intervene in a quarrel between the supervisor and his son, Demetric Diaz. According to the complaint, the supervisor swore and spat a racial epithet. The third plaintiff, Lamar Patterson, similarly claims that he had to endure racist comments and hostility.
Owen Diaz further alleges that he found a Jim Crow–era caricature of a black child drawn on a cardboard bale in the factory. (The Mercury News published a picture from Diaz of what appears to be the cartoon.) He says he argued with the supervisor who supposedly drew it and then began getting abysmal work evaluations. Tesla acknowledges that the company received an email complaint from Diaz in Oct. 2015, but asserts there was no mention of racist language in it.
The lawsuit alleges that Diaz's son faced similar retaliation. According to the complaint, Demetric Diaz says that less than a week after he complained to the staffing agency and a supervisor about the racist language, he was dismissed. His father left the company less than a year later, in 2016.
Tesla provided reporters with the following statement: "No employee should ever feel harassed or mistreated based on their race, gender, beliefs or anything else. There are over 33,000 people working at Tesla, and given our size, we recognize that unfortunately at times there will be cases of harassment or discrimination in corners of the company. For there to be zero cases in a global workforce of 33,000 would be impossible for any company, no matter how much we care. And we care a lot, particularly given how hard everyone at Tesla works to do what most regard as impossible." The company also pointed out that the men were only employed for a "short time" through staffing agencies.
This isn't the first time that Tesla has faced allegations of harboring an unwelcome work environment. In March, the California Civil Rights Law Group, which is also representing the Diaz's and Patterson, filed a suit claiming that a black employee, DeWitt Lambert, received racial insults on the assembly line. Several women have also come forward with stories of gender discrimination and harassment at the company. One of the women filed a lawsuit in 2016.
---