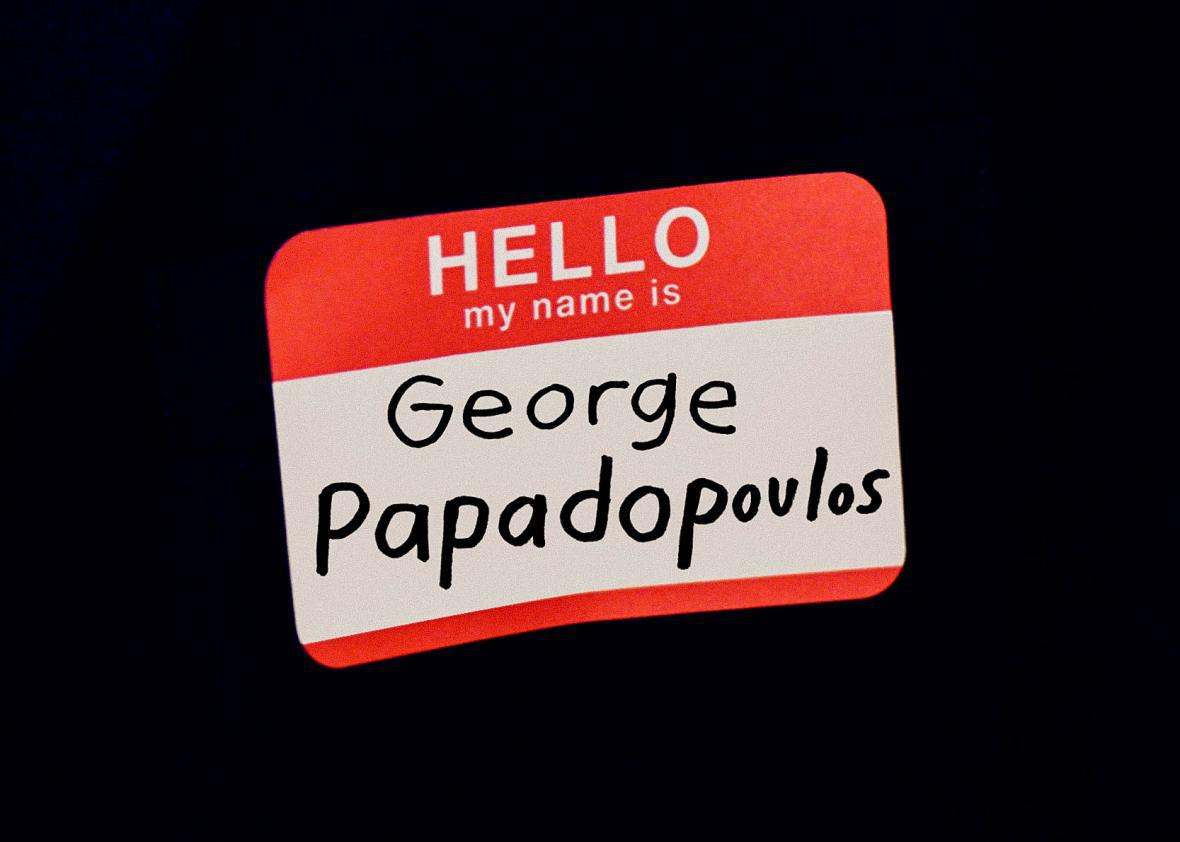 Now that former Trump campaign chairman Paul Manafort has been taken into federal custody and campaign adviser George Papadopoulos' guilty plea for lying to the FBI has been unsealed, the question on everybody's mind is who else in the Trump orbit will become a casualty of special counsel Robert Mueller's Justice Department investigation. Jared Kushner? Donald Trump Jr.? Trump himself?
One person who never expected to be involved: the other George Papadopoulos.
Sure, that's exactly what the guilty George Papadopoulos would say. But apparently it's a common name in Greece, and this guy does in fact appear to be a completely different person than the Trump-adjacent one. The George Papadopoulos who did not plead guilty to the FBI earlier this month is a Michigan-based certified financial planner and certified public accountant (double threat!) who tweets under the handle @feeonlyplanner. He has contributed to the Wall Street Journal's wealth management experts blog and, per his Twitter bio, provides "top quality personal finance advice." He is renowned enough in his area of expertise to have earned the checkmark that marks his Twitter account as verified, and in what must be a cruel twist of fate for a CPA who prizes certification, it's that very verification that is probably the source of his current predicament: People are tweeting at him thinking he is a disgraced Trump associate, and it's getting on his nerves.
Mistaken identity is a common problem on Twitter—just ask the guy who has the @donald handle. Trump himself recently confused country singer Lee Greenwood with a New York lawyer and fantasy football commissioner who shares his name. To underscore the struggle, a John Kelly (no relation to the president's chief of staff) even popped up in CPA Papadopoulos' mentions to commiserate, as did a Paul Singer who is not at war with Steve Bannon.*
CPA Papadopoulos tweeted that he is taking in this situation from Greece, where he's visiting his mother. If true, this excuses him from not immediately responding to Slate's request for comment.
But there's no rest for CPA Papadopoulos. Before it belonged to a Trump associate, his name was associated with an old TV character.
Still, CPA Papadopoulos is looking on the bright side of all of this.
Look at all the followers he's gained! Accordingly, amid the stream of denials, he's found time to fit in a few tweets about debt and equity. No time like the present to attract some new clients!
Let's all wish him a great Q4.
*Correction, Oct. 31, 2017: This post originally misidentified Paul Singer as Peter Singer. (Return.)
---