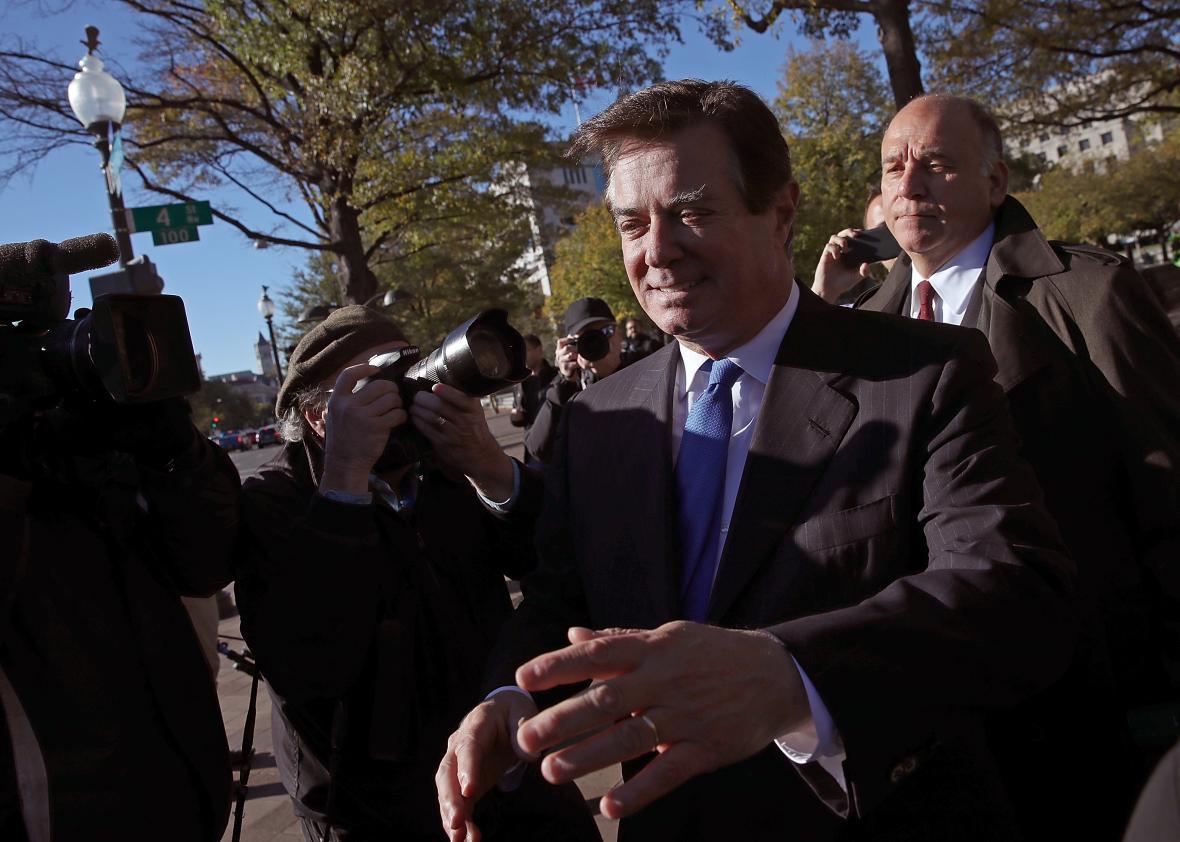 For months, special counsel Robert Mueller's investigation—into Russian meddling in the 2016 election and the Trump campaign's possible collusion therein—often seemed mysterious. In contrast to the White House and the Capitol, the special counsel's office has operated at a remove from the public, aloft like some wartime airship that people on the ground know, at some point, may drop rations.
That changed early Monday morning, when Mueller announced his team had indicted former Trump campaign manager Paul Manafort and Manafort's business associate Rick Gates, and that on Oct. 5 Trump campaign adviser George Papadopoulos had pleaded guilty to making false statements to the FBI about his 2016 contacts with Russian government representatives.
With the announcement came legal documents that finally offered readers some sustenance. On social media, many people and institutions consumed them in a curiously ravenous way: by posting and sharing screenshots of the raw indictments—cold, formulaic legal briefs—alongside commentary about why This Is Big:
But the mere importance of Monday's news doesn't fully explain the viral sharing of the indictments. Nearly every arrest and lawsuit in America produces documents with similar form and furniture, and traditionally, the news media works on the assumption that most people don't want to read through paragraphs, let alone pages, of legalese. There's a good reason why BuzzFeed quizzes about true crime stories are more popular than Law360's analysis, and if readers didn't want indictments interpreted into stories for a general audience of nonlawyers, many reporters would lose their jobs. These documents were special.
One reason for this might be that the legal briefs are documents we're primed to take seriously. Movies and television shows like Law & Order that center around legal proceedings often present the indictment of principle characters as important moments, even a story's climax. We're used to thinking of arrests as a turn in the tale, and the Russia-election narrative is one that until now, has often struggled to turn at all. As Mueller's team has quietly plugged away, public consciousness has centered on the summer's hurricanes, the Weinstein accusations, NFL player protests, and more. Monday's indictments were the most dramatic development since the firing of James Comey. After months of stasis, the indictments seem like proof that this thing is going somewhere—and screenshots helped tell the tale in punchy ways that wordy New York Times pieces couldn't.
Twitter and Facebook have also made legal documents more accessible, helping to push this sense of momentum. Previously, masochists who wanted to read through the Starr report or the official Iran–Contra charges against Oliver North needed to acquire a physical copy of the documents. (The Starr report was eventually made available for sale as a book, and it became a best-seller. But that report was full of a sitting president's sexual secrets.) At best, newspapers and magazines might publish excerpts of legal docs in their pages; otherwise, a reader needed to either know someone with access to legal proceedings or visit libraries, law firms, universities, and government offices to see them. Twitter in particular has made access to legal docs remarkably simple. Anyone who knows how to take a screenshot can share relevant clauses of an indictment to a potential audience of millions.
The appetite for such screenshots has been further whetted in an environment where news sources are low on public trust. In the era of "fake news," many readers have greater faith in America's legal system than in the media. In this way, the popularity of the Mueller legal briefs echoes the virality of police-shooting videos, leaked audio of Harvey Weinstein harassing model Ambra Battilana Gutierrez*, the Access Hollywood tape, and leaked excerpts of John Podesta's emails. If Americans don't trust the media, maybe they'll trust the receipts—especially if those receipts show that it's theoretically possible to spend more than $1 million on antique rugs.
Critically, the legal briefs give a sense that news coverage since Trump's election has struggled to evoke: that someone, somewhere in Washington, D.C., is working diligently. Like the documents on Law & Order and Comey's testimony before Congress, they evoke a rare and refreshing professionalism. Even before Donald Trump—a reality television star prone to incoherent rage and whom more than a dozen women have accused of sexual harassment or assault—was elected president, the country's center has felt as though it is not quite holding. America is apparently a country in which immigrants can be banned for their religion or because their government ran out of passport paper, where nuclear war might be provoked with a tweet, and where the president can defend neo-Nazis.
But the legal briefs from Monday's indictments suggest that, contrary to an overwhelming feeling that nothing matters, that there is a system and that there are rules. It's tempting to see and share the legal briefs as reassurance in a time of crisis, as signs of accountability, in part because so much else out of Washington seems so stupid and chaotic if not breathtakingly cruel. The indictment screenshots seem like ports in a storm.
Are they? Given that no conditions that helped create this stupid, cruel chaos have abated, skepticism seems prudent. In part, feeling hopeful that the indictments of Manafort, Gates, and Papadopoulos will lead to real accountability for this administration feels like resistance thirst. As Slate contributor Jacob Brogan has written, Twitter excels at presenting fragments as full portraits, and these indictments don't tell the full story of the Russia investigation. How many tick tick ticks have fizzled already?
Monday's arrests could be the first dominos, the start of a story that ends with Donald Trump's premature exit from the White House under threat of obstruction of justice charges. But four times as many presidents have been murdered as have been forced from office under legal threat. And Woodward and Bernstein's first Watergate stories emerged before Richard Nixon won a second term in a landslide. In this environment, and looking at this history, it feels more likely that this story will precede Trump's re-election. But for now, the indictments at minimum suggest that the United States might be a country where laws work. Lordy—that'd be nice.
*Correction, Nov. 18, 2017: This post originally misidentified the person Harvey Weinstein was caught on tape harassing. It was Ambra Battilana Gutierrez, not Asia Argento.
---