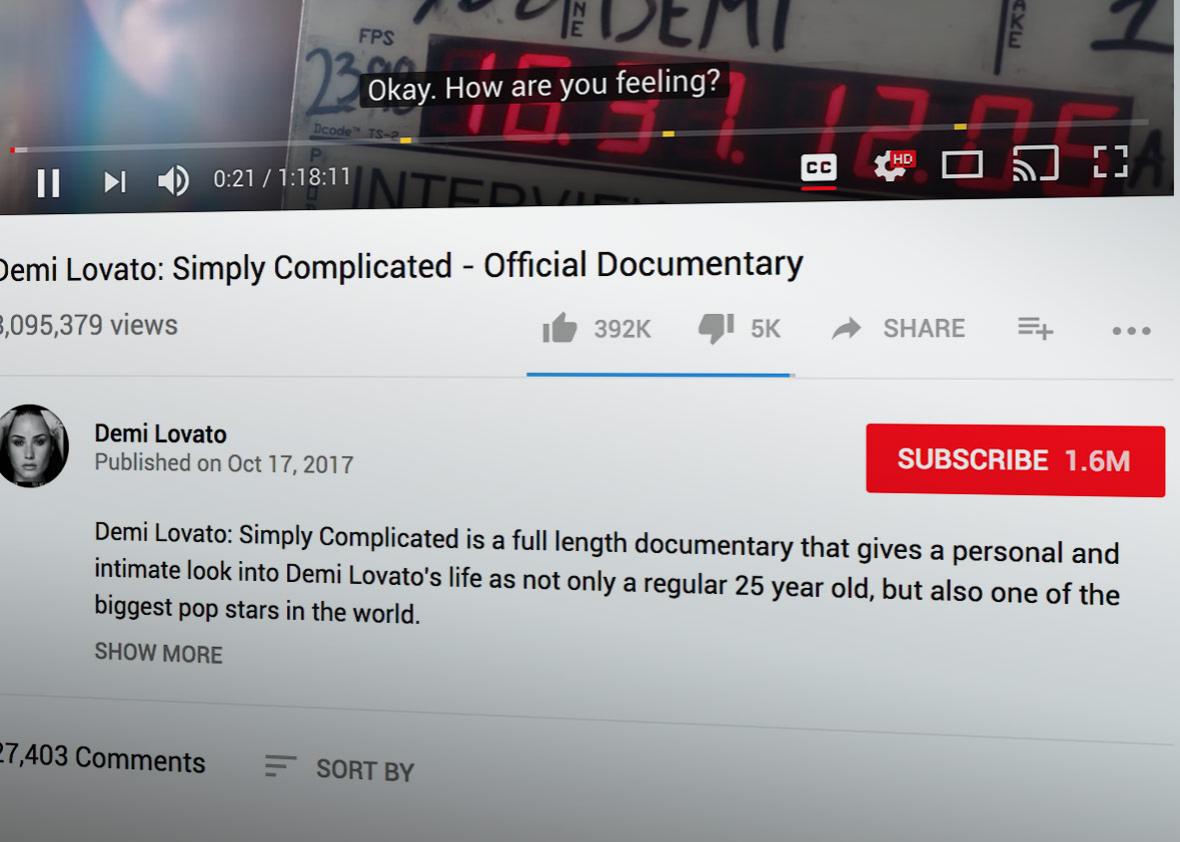 Last week, YouTube debuted Simply Complicated, a feature-length documentary about pop star and Disney Channel alumna Demi Lovato. YouTube hasn't earned praise for prestige programming the way Netflix, Amazon, and Hulu have, but the platform has attracted lots of serious talent for its original content. In the documentary realm alone, the cat-centric Kedi boasts a 98 percent "Fresh" rating on Rotten Tomatoes, and legendary filmmaker Barbara Koppel (Harlan County, USA) helmed the Sundance-approved This is Everything: Gigi Gorgeous, about the trans model and actress who documented her transition on YouTube.
Simply Complicated falls short of such ambitions. (All three docs are YouTube Originals, but Kedi and Gigi Gorgeous are part of the subscription-only YouTube Red slate.) Like other recent filmic portraits of Top 40 staples like One Direction: This Is Us and Justin Bieber: Never Say Never, Simply Complicated (now viewed more than 8 million times) is largely a branding exercise. Lovato veers between platitudes like "the key to being happy is to tell the truth" and confessions about her drug use, eating disorder, and lingering feelings for ex-boyfriend Wilmer Valderrama. Whatever the film's faults, though, it's a great match between platform and subject: Lovato's persona and YouTube's currency both depend on candor, authenticity, and youth. Either one could accurately be called a mess with a purpose. (Gotta love a gal who's aware enough to refer to her teenage self as a "former crack whore.")
If you're not a super-stan, what catches the eye during Simply Complicated might actually be YouTube's user interface. In contrast to Netflix's clean content-showcasing layout, YouTube's is notoriously cluttered and distracting unless you're in full-screen mode. An icon in the top-right corner offers to take you to other videos on Lovato's official channel to learn more about, say, the pop star's skin care routine. You have the option of watching the doc at quarter-speed, for some psychotic reason. An interview with Ellen peeks up in the lower right-hand corner of the screen. At first glance, it would seem that YouTube's UI works against the attention span necessary to sit through a feature documentary. It's actually the opposite.
Simply Complicated is briskly edited, with family photos and talking-head scenes often edited in a staccato rhythm. But when it inevitably takes breaths—like Lovato waxing rhapsodic about the EDM scene—the YouTube UI offers a helpful distraction that gives viewers something else to divert their attention to while waiting for a more compelling segment. I scrolled down to look at links to videos promising "Demi Lovato's Shadiest/Diva Moments" and "Demi Lovato Addresses Nick Jonas Romance Rumors," thumbnails that helped remind me why I was watching Simply Complicated in the first place. (If you're curious, Lovato speaks at length about the time she punched an acquaintance while on a bender and makes clear her heart still belongs to Valderrama.) I used the speed-modification option—a feature I wish Amazon, Netflix, and Hulu would adopt—to whiz through duller chunks in anticipation of the good stuff. I flipped through the subtitles option to see which languages were available. (Alas, only English.) In short, I fucked around. And just those quick bursts of diversion were enough for me to then snap back into focus.
But the best distraction of them all, to my great surprise, were the comments under the documentary. "Don't read the comments" is a rule for a reason, and YouTube comments are particularly infamous for their venom and superficiality. But the comments under Simply Complicated are shockingly supportive. "I've never been a huge fan of Demi, but after watching this and seeing how much is hidden from the public eye, and also seeing how much she has grown from her lowest points is incredible," reads a representative note. Other comments offered sympathy for the bullying Lovato suffered as a preteen and the grind of the Disney machine on child stars. Such sentiments effectively serve as both reviews and advertisements for the doc; they made me want to stay there, not just for my own real-time experience but to absorb others'.
The reverence with which Netflix and other streaming sites display their content is admirable, perhaps even noble—they're almost solely about the shows and movies. But watching without distraction doesn't quite feel natural, and not just because it's 2017. When we go to the movies, we whisper with our companions and revel in our fellow audience members' laughter or delight. (The more inconsiderate of us look at our phones.) We watch TV the same way, or while doing the dishes, or while live-tweeting, or while falling asleep. Undivided attention is a nice idea, but it's like a fancy dress: usually reserved for special occasions.
YouTube is frequently accused of shortening our attention spans, but it may also have figured out a way of extending them by giving them little breaks. The platform evidently has no fear of longform content, nor should it: Its distraction-filled interface productively diverts us just enough to make us keep watching.
---