The world's most famous character limit might soon be changing.
Twitter announced Tuesday that it is doubling the 140-character limit for tweets to 280 characters for a small group of users. The move is essentially a test—although Twitter isn't calling it that—after which the company will consider doubling the limit for all users, except in China, Japan, and Korea (whose languages use fewer characters per word).
If Twitter goes through with this on a broad scale, it will amount to one of the biggest changes to its core service in the company's 11-year history. The 140-character constraint, originally a function of limits in the text message systems on mobile phones, has served as a ruthless enforcer of brevity on the service—at least until the past year or two, when threaded, multitweet "tweetstorms" have become common. It's not an overstatement to say that the limit has shaped a new medium of communication, one built on self-contained bursts of information or opinion that appear rapid-fire in users' feeds.*
Twitter's power users have a penchant for freaking out at even the slightest tweak, so the backlash to a potential change this big is sure to be swift and severe. Expect mockery. Expect fury. Expect self-righteous rage-quits. If you use Twitter, your feed is probably full of all of these right now.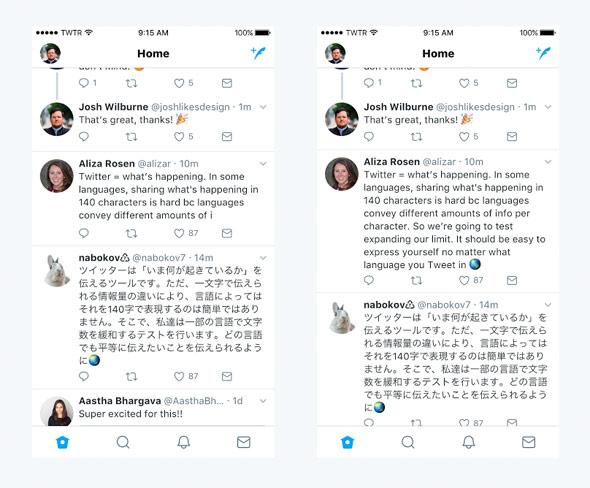 Why, then, is the company doing it? There are a lot of possible answers to that question, only some of which are hinted at in Twitter's oddly modest official explanation. So, as one of the tech world's few remaining apologists for Twitter's myriad unpopular product changes, I'll take a stab at a fuller explanation.
To make a long story short, the company suspects the shift will actually change the Twitter experience far less than you might expect. And it has some data to back it up—but it wants more.
Let's start with what the company says in its blog post, published at 5 p.m. ET on Tuesday. It begins by declaring that "trying to cram your thoughts into a tweet" is "a pain," which is surely true—though of course, it's that very pain that gives rise to the form's distinctive pace, vocabulary, and tone.
The post quickly veers, however, in an unexpected direction: comparing the experience of tweeting in English to that of tweeting in Japanese. In Japanese, Korean, and Chinese, most words can be written in just a few characters, whereas many words in English and other languages require five or more. As a result, Twitter says that its research shows users in those East Asian countries run into far less frustration with the 140-character limit. One justification for the change, then, is to reduce a common source of user frustration.
For a less momentous tweak of a consumer product, that alone would be sufficient justification. But as a rationale for changing the fundamental structure of Twitter, it feels a little thin. Won't changing the limit from 140 to 280 characters simply prompt people to write longer tweets, thus taxing users' attention span without really solving the problem of an arbitrary length constraint?
Believe it or not, Twitter doesn't think so. This is where the company's data comes into play. It reports that, whereas 9 percent of tweets in English use all 140 characters, only a tiny fraction—0.4 percent—of tweets in Japanese do the same. Not only that, but the typical length of a Japanese tweet is just 15 characters, roughly equivalent to the 34 characters that compose a typical English tweet. In other words, Twitter's research suggests that a less onerous character constraint doesn't make people tweet much longer than they would otherwise.
Now, there are some reasons to be skeptical of that theory. Just because people use Twitter a certain way in China, Japan, and Korea doesn't mean users in the United States and elsewhere around the world will use it the same way, if given more space. The only way to know that is to test it—which is exactly what Twitter is going to do, starting Tuesday. The company says it will watch closely to see how the new character limit plays out before making a decision to roll it out to everyone.
But even if you buy that Twitter users in the West will remain judicious with their tweet lengths under a 280-character limit, that leaves the question of why the company would dare make such a risky move. Is it really worth upending the whole concept of Twitter just so 9 percent of users can finish their thoughts w/o hvng to awkwrdly omit vwls?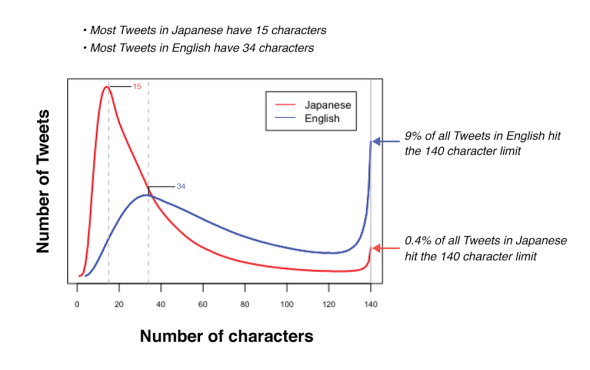 That brings us to a sentence in the blog post that is likely to go mostly overlooked, but which might be its crux. Twitter writes: "Also, in all markets, when people don't have to cram their thoughts into 140 characters and actually have some to spare, we see more people Tweeting – which is awesome!"
The company declined to elaborate on what exactly it means by "more people tweeting," but the implication is clear: Twitter thinks this just might be a way to address the user growth and engagement problem that has dogged it for years. At this point, the company's failure to substantially expand its user base represents an ongoing existential threat to its future. In other words: It's desperate. It has tried so many different tweaks that, by now, CEO Jack Dorsey must look at the idea of changing the 140-character count and think: What have we got to lose?
*Correction, Nov. 2, 2017: This article originally misstated that it was not an understatement to say that Twitter's character limit had shaped the medium. It is not an overstatement. (Return.)