Science fiction often predicts—or inspires—the future. Similarly, the field of tech policy is built on predictions about new technologies' impacts on society. Perhaps nowhere is the overlap between those two fields and its practitioners clearer (or more fun) than at one of the largest annual sci-fi conventions on the planet.
This past Labor Day weekend, as they have for three decades, thousands of science-fiction and fantasy fans descended on downtown Atlanta for Dragon Con. This annual science-fiction and fantasy fan convention draws in enthusiasts of every sci-fi and fantasy TV show, movie, video game, comic book, or anime you can imagine. Many of those fans are cosplayers: That is, they attend the con in costume to celebrate their own corner of fandom, often having spent months on homemade versions of their favorite characters. Among these monsters, robots, aliens, heroes, and villains, you'll also find many of the top minds in tech law and policy—an illustration of the powerful feedback loop between the sci-fi world and the "real" world of tech policy.
Those costumed professionals are lawyers and activists from top internet advocacy organizations from Washington and the West Coast—like the original digital rights organization the Electronic Frontier Foundation (EFF), the internet and human rights-defending Access Now, the telecom and intellectual property–focused Public Knowledge, and the internet advocacy organization that I work for, New America's Open Technology Institute. (Disclosure: New America is a partner with Slate and Arizona State University in Future Tense.) They're there both because they are fans and because DragonCon boasts a programming track that doubles as a sort of shadow tech policy conference, with more than 30 hours of panels and events dedicated to straight-up unadulterated digital rights and internet policy content.
Mixed in among the big celebrity sessions where stars from current and past sci-fi and fantasy TV shows like Doctor Who and Buffy the Vampire Slayer trade quips and stories, and hiding among the more than 30 different specialized tracks of content serving every stripe of fandom, you'll find the Electronic Frontiers Forums track. There you can hear from a wide range of experts drawn from both the national internet policy scene and the local community of expert lawyers as they opine and educate on an even wider range of internet and tech policy issues, with panel titles like "The Life and Death of Net Neutrality," "Why James Comey Was SO Wrong About Encryption," and "Internet-Connected Sex Toys: Privacy, Security, Safety." It's just like any other tech policy conference—except that the expert you're listening to may be dressed up like a Batman villain or a Starfleet officer.
The connections between fandom and the tech policy run deep. As long as there has been the internet, there have been fans using it to build community. Indeed, Dragon Con owes its name in part to a computer: a "Dragon"-brand PC that, in 1987, hosted the original bulletin board system of the local gaming community out of which the convention grew. Today, the convention itself feels like a physical extension of the internet—as if the myriad fan communities online, usually spread out geographically, have briefly escaped their online forums and chatrooms and have taken over real life, if only for five gloriously geeky days.
So it's no surprise that the fans themselves are interested in the reality of the internet—how it works, how law and policy impact it, how they can protect themselves when they use it. Hence the Electronic Frontiers Forums, which first became a part of the programming in 1996 with a single panel on "Hacking 101" produced by Electronic Frontiers Georgia. EF–Georgia is a small local internet advocacy organization that was founded back in the early '90s when the national Electronic Frontier Foundation was encouraging the creation of independent local affiliates.
I first became aware of Dragon Con in 2003 during my first year working as an attorney at the national EFF in San Francisco when I was originally invited to speak by the Electronic Frontiers Forums. By then, the Forums had graduated from a single session to an entire track of programming, and I was lucky enough to be the first representative from the national EFF to participate.* As someone who was in no small part inspired to work in technology law and policy because of the science fiction I grew up on, the fact that my first big speaking gig was a sci-fi con was a sign that I'd picked the right career path for my nerdy self.
Since then, Dragon Con has steadily grown—from about 20,000 attendees in 2003 to more than 80,000 this year—as has the Electronic Frontiers track, under the stewardship of local software developer Scott Jones. Jones began working with EF–Georgia shortly after its founding in 1995 and has been running the track since 2000, even as EF–Georgia itself dissolved in the mid-2000s. (Jones and a few allies are now in the process of reviving that organization in response to new Trump-era threats to internet freedom.)
As the audience and the programming of the Electronic Frontiers track have expanded, so too has the representation of national internet policy organizations. That trend started in 2014 when Dave Maass—an investigative researcher at the Electronic Frontier Foundation who is also a dedicated science-fiction fan and recently edited the science-fiction short-story anthology Pwning Tomorrow as a fundraiser—spearheaded EFF's return to the convention for the first time since the 2000s.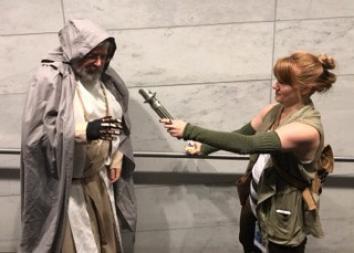 This year, EFF sent three staffers to the con, including its general counsel and deputy director, Kurt Opsahl. Opsahl, one of the most esteemed leaders in the internet NGO space, this year cosplayed as both Mr. Robot and as the elder Luke Skywalker from Star Wars: The Force Awakens. Amie Stepanovich, Access Now's U.S. policy manager and another noted leader in the space, cosplayed as The Force Awakens' heroine Rey.
"What's special about Dragon Con is that the people here are enthusiastic about being enthusiastic," said Nathan White of Access Now, who at the time was in costume as Captain Malcolm Reynolds, the dashing space smuggler from the short-lived but much-loved TV show Firefly. Whatever your thing is—whether it's an obscure Japanese anime series or the policy intricacies of net neutrality—you'll find people here who are into it or are willing to check it out based on your own eagerness to share it. As White described, "Where else can you get 120 people to come to a panel about net neutrality on a Friday night—and then in your call to action at the end be able to say 'and please come on over to our TARDIS to call Congress?' "
There was in fact a life-size cardboard TARDIS—the Doctor's preferred mode of transit through time and space, in the form of a old-fashioned British police call box—sitting by the booth, with a phone that Dragon Con attendees could use to make calls to Congress to voice their support for net neutrality. Access Now and EFF ordered it online and split the cost. According to Maass, there was some controversy over which organization would get to take the disassembled TARDIS back to its office when the con was over. (EFF ultimately took the TARDIS home.)
As the friendly argument over the TARDIS demonstrates, many tech policy experts are also sci-fi fans—and the tech policy field would benefit if there were even more. As White noted, both fields "live at the edge of what is currently possible" and speculate about future worlds. Jones and Opsahl actually used identical terms here, saying that science fiction and tech policy each ask "the 'what if' questions." That is, what if we deploy this new technology in this way? How will it change society? What will the benefits be? What might the unintended consequences be? Science fiction is a perfect training ground for policy professionals to practice asking those questions (and be entertained in the process).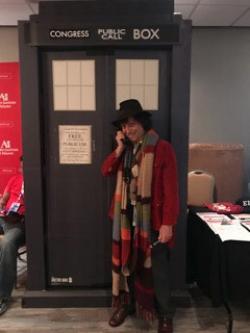 Just as tech policy professionals have a reason to care about sci-fi, so too does sci-fi fandom have myriad reasons to care about tech policy. Says lawyer Meredith Rose, who specializes in intellectual property at Public Knowledge, "Science fiction is about the future and technology is how you get there." (In the past, Rose has attended Dragon Con as the lawyer-superhero She-Hulk.) Sci-fi fans are more knowledgeable, more eager to learn, and more willing to do activism about the tech issues of the day than the average citizen. According to Jones, the longtime curator of the Electronic Frontiers track, net neutrality is especially hot with the Dragon Con crowd right now, while the debate over encryption has long been a popular focus.
However, fans also have particular reasons—beyond just sci-fi-driven technophilia—to care about tech law and policy. For example, as Rose points out, a range of fan activities—from cosplay to fan fiction to GIF-ing clips from your favorite TV shows to producing Star Trek fan films—can implicate copyright and trademark law, and fans are eager to learn their rights. As might be obvious from their involvement in oftentimes pseudonymous internet forums and their interest in cosplay, sci-fi fans are also interested in issues of online and offline anonymity and pseudonymity, which prompted EFF's Maass in previous years to design a Dragon Con–specific activism campaign called Project Secret Identity. (Maass' own cosplay identities this year included Dirk Gently of the book and TV show Dirk Gently's Holistic Detective Agency, the masked and top-hatted mascot of the hacker collective "fsociety" in TV's Mr. Robot, and a character from the video game Watch Dogs 2.)
But as EFF researcher Gennie Gebhart explained, fandom has an even broader interest in tech policy that ties back to its deep reliance on the internet as a means of building community. (Her cosplay this year: superspy Lana from Archer, hacker protagonist Darlene from Mr. Robot, and a sim from The Sims.) "[I]f you're part of any kind of marginalized community, if you've ever experienced bullying, if you go online to find refuge, to find people like you who aren't in your physical space, then you're going have a ton of questions about your rights, your privacy, and your security on the internet because that is where you live your life." Fandom cares about the internet because, in a very real way, fandom lives online. Physical gatherings like Dragon Con are the exception rather than the rule: a special opportunity to build and maintain a large fan community IRL—in real life.
As EFF's Maass points out, Dragon Con may pose a similar opportunity for tech policy and computer security enthusiasts to build a new physical community—one more accessible to those who can't easily attend the traditional tech and hacker conferences that occur on the coasts or in Las Vegas. The fan community has its own problems with diversity and representation—Maass regretfully admitted that several of his panels this year were still all-white-male "manels." But "just by being here at Dragon Con, you're reaching more people from communities of color," he said. Dragon Con also boasts greater gender diversity than at a typical tech conference. To celebrate that diversity, EFF teamed up with Black Girl Nerds for its Dragon Con party this year.
Maass' ultimate hope is to serve that diverse audience of tech-interested fans by leveraging Dragon Con into not just the best-available tech conference in the South, but simply the best: "If we can get more prominent [tech] people showing up at panels here and talking to people, this could actually be one of the big destinations … and it's a heck of a lot of fun."
That fun is ultimately what makes Dragon Con a special opportunity for both the tech world and sci-fi fandom. By bringing experts and fans closer together, Dragon Con gives techies and policy wonks a fun way to dip their toes into the speculative world of science fiction and discover how it can inform their work. More importantly, it exposes the sci-fi audience to today's tech policy issues, in an entertaining way that feeds into their passion for imagining tomorrow, while arming them with the knowledge and advocacy tools they need to influence what that tomorrow looks like. At Dragon Con, imagining the future is fun—but shaping the future is even better.
*Correction, Sept. 26, 2017: This article originally misstated the year in which the Electronic Frontiers Forums graduated from a single session to an entire track of programming at Dragon Con. That change occurred in 1999, not 2003. (Return.)
This article is part of Future Tense, a collaboration among Arizona State University, New America, and Slate. Future Tense explores the ways emerging technologies affect society, policy, and culture. To read more, follow us on Twitter and sign up for our weekly newsletter.