For someone with a neuromuscular disease, like amyotrophic lateral sclerosis, also known as ALS or Lou Gehrig's disease, using a keyboard and a mouse is easier said than done.
That's because for people with ALS, the eyes are often the only part of the body that isn't paralyzed, making most tech products completely unusable for them. But Microsoft is trying to change that, thanks to new eye-tracking technology to company created that allows users to control a mouse on a screen or even operate a keyboard with only their gaze. The new eye-tracking technology will be officially supported in Windows 10, the company shared in a blog post Tuesday. That could open the doors for the hundreds of thousands of people in the world who suffer from paralysis, ALS, or other muscular diseases to have technology work for them, too.
While eye tracking devices have been around in some form for more than 25 years, they weren't really available for most ALS patients until Medicare started to pay for them in 2001. But Medicare doesn't cover eye-tracking devices for everyone who could benefit from them, and typically only pays for them when it's a last resort. Now that Windows has native support for eye-tracking tech, these systems should be able to easily integrate into the operating system, without requiring additional expensive software.
Eye-tracking hardware often takes the shape of a thin bar mounted to the bottom of a computer monitor. The tracking uses a light source to illuminate the eye in order to produce reflections that are then captured by a camera. Then the images are analyzed to identify the angle of the reflections to calculate the direction of the gaze. Microsoft collaborated with Tobii, the company that makes the eye tracker that's the first to be compatible with Windows. So with a screen-based keyboard, the eye-tracking tech will see that the user is looking at the letter R, for example, and then type it.
"Technology is basically a link to life for people with ALS," says Alisa Brownlee, the clinical manager of assistive technology at the ALS Association. "As the disease progresses a lot of folks become isolated due to the fact that it's such a burden to even get out the door. Our patients rely on the internet for everything: to do their shopping, get on social media, and see what their families are up to."
But the assistive eye tracking technology currently available to ALS patients can cost upward of $10,000. Brownlee expects that integration on a platform as large as Microsoft will help to dramatically drive the cost of those devices down.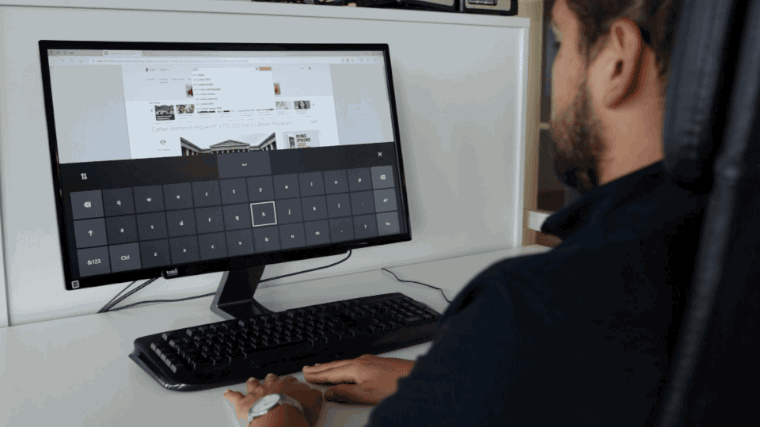 Of course, like all technologies, eye tracking can be used for good, like helping people with serious disabilities use computers, but it can also be used for more nefarious purposes. The make-up company Smashbox recently tested eye-tracking technology to gauge where users of the beauty app Makeup were focusing their attention, which led to a significant uptick in engagement with its ads, according to Modiface, the company behind the Makeup app.
That's often the case with technology—something that begins as an adaptation ends up being used in other ways. But that doesn't mean we shouldn't embrace eye-tracking tech. For people with ALS, eye-tracking and other assistive technologies can be one of very few ways to interact with other people and the outside world. And considering Windows the most popular desktop operating system on the planet, having it work natively with eye tracking tools is a welcome move.