Jason Feifer had always been drawn to strange street names, sometimes even posing for pictures beneath them. There was one, however, that drew him in more than the rest, even though it wasn't especially odd: When he visited his in-laws near Washington, D.C., he would sometime drive past Jenifer Street—an unassuming enough name that he might have ignored it if weren't so close to that of his wife, Jennifer Miller. (Both Feifer and Miller have contributed to Slate in the past.) Feifer found himself wondering, Was it possible that Jenifer Street intersected somewhere with Jason Street?
To his surprise, he couldn't find a way to see where—or even if—the two names might cross. Because most map programs are designed to solve practical questions, their search function couldn't do much more than reveal where a place was and how to get there. So Feifer reached out to his cousin Jeremy Merrill, who'd been wrangling map data for the New York Times.
Though it took a few years, their collaboration—which also pulled in a few other developers along the way—ultimately led them to create the site Crossing, which launched this week. Give the site two words, and Crossing queries its database of intersections, telling you where, if anywhere, they meet in the United States. If there are any, it'll pull them up on a map, also offering a Google Street View image of the intersection in some cases. In the interest of making interesting findings more shareable, it can also generate animated GIFs of intersections to help users show off particularly charming finds.
Here, for example, is a spot in Westchester County, New York, where a road with my name meets a street with my girlfriend's: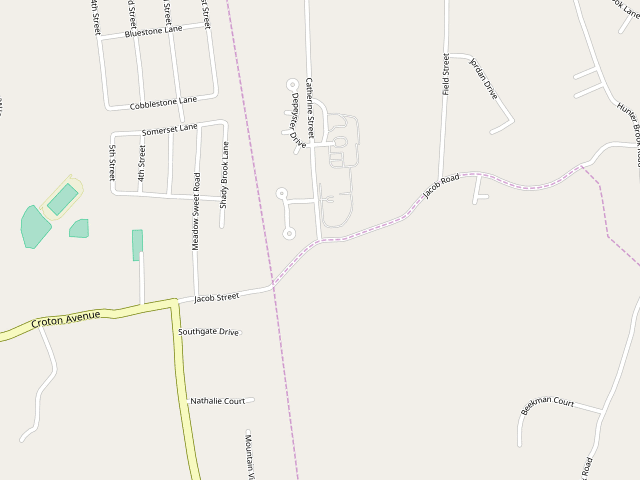 As Feifer told me, Crossing doesn't actually query existing maps when you feed names to it. Instead, Merrill found a way to pull up these results by drawing on a list of street names across the country derived from U.S. Census data. From there, he created a sort of sublist of intersections. It's this list that the system examines when a user searches Crossing. If there's a match, it takes the coordinates for the intersection in question and plots them into Google Maps.
Once Merrill got the database working, he tested it against a list of the 1,000 most common names in the United States. According to Feifer, all but two of those names—Yesenia and Aaliyah—had corresponding streets somewhere in the country. That doesn't, of course, mean that there's a corresponding intersection for any two of those names: There isn't one for me and Future Tense editor Torie Bosch, for example. Nevertheless, the site still yields up plenty of peculiar finds for those willing to dig around.
Though it was the junction of Jason and Jennifer (there are several across the country, including Lord Jason Drive and Lady Jennifer Drive in Biddeford, Maine) that drew Feifer to the project, he's since been pulled in by this capacity for other charming and sometimes weird discoveries. Feifer and his collaborators plan to spotlight some of those finds through the site's Intersection of the Day feature, where it will call attention to locations like the corner of Burr Avenue and Hamilton Avenue in Monmouth County, New Jersey.
Here at Slate we rounded up a few of our own favorites:
For Feifer, though, the site's real charm may derive from the charm of the stories it suggests—and sometimes invites us to discover. By way of example, he points to the intersection of School Drive and Beer Can Alley in Weston, West Virginia, a crossing so peculiar it inspired him to call the town, ultimately learning that a number of divey bars had once spilled into the alley—and that the school had only come along later. "It's great because you find these little local histories. It's a fun way to search the country, because road names tell a story," Feifer told me.