Let us stipulate, as New York magazine's Jesse Singal does, that the most dreadful thing about logging into Facebook this week has been those malignant lists of nine musical acts your friends have seen live, and one they're lying about. It is, indeed, a bad meme—barely illuminating, built for taste-peacocking (look at me—I've seen Migos and Cocteau Twins!), and also just dull.
According to Singal, the meme's only redeeming quality is that it has produced some variations that mock the thing itself, like his friend's list of nine piano recitals and school band performances and one Boyz II Men concert. Otherwise, he argues, the "10 bands" meme represents a failure of the form: "Good memes have a fun, peppy, iterative quality to them—the more time you spend with them, the funnier and more creative and more interesting things get." When a meme is this horrible and deathless, though, only a cutting, transcendent evolution of the same meme can flush it from the internet.
That, praise the Jesus and Mary Chain, is now what's happening on my own Facebook feed. Gone are the earnest posts, the lists of acceptable jam bands and reformed post-punk acts and Prince (everyone is sure to point out they saw Prince—or did they?). Finally, the memetic antibodies have arrived.
For example:
10 Lies I've Seen and One Band, including "The best people," "Drain the swamp," and "Radiohead." (Topical!)
10 Bands Whose Singer I've Wanted to Smash in the Face With a Pie, Except One. (Cranky!)
10 Bands Who Slept at My House, at Least One of Whom Lied About Not Clogging the Toilet. (Shade-throwing!)
This, from Slate editor Dan Kois, was pretty good, too: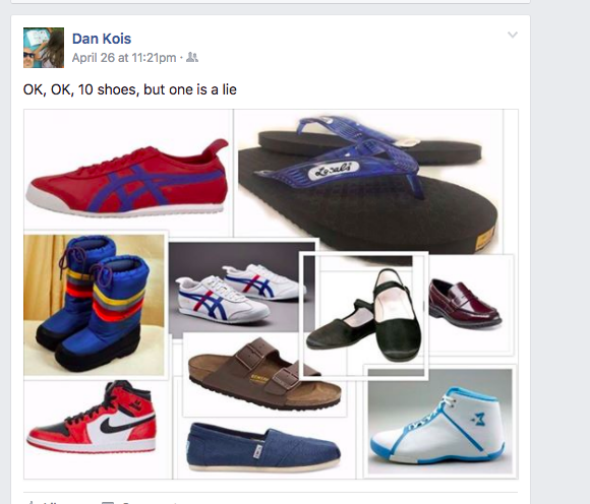 Not every arrival in this second wave of "10 bands" posts is funny; plenty fall flat. And some don't lunge for humor but for true self-reflection. My favorite came from a curator and musician, who posted "Ten bands I have played in, and one is a lie" and gave a pocket-sized history of each. ("Slag Battery. Dubbed Worst Band in Charlottesville.") It was like coming across nine small installments in an autobiography, and one tiny work of fiction.
What's gratifying about all of this is the suggestion that even when the internet produces something truly stultifying and banal, our online commons is able to detect its own misstep and then roast itself—and maybe iterate a bad meme into a rewarding one. It can also do the opposite, of course: Many, probably most, memes outlast their original novel spark. The attempt to rework a meme into something better sometimes just makes the whole nightmare last longer. And some memes, like Harambe and that Nazi frog, are too awful to be murdered by other memes alone.
Still, at least we have confirmation of one comforting thing, which I will remember the next time a Facebook acquaintance posts one of these pop-detritus chain letters: The internet will only let us be so boring for so long. Also, Slag Battery clogged the toilet.