You might have seen some posts circulating Facebook recently that end with a warning for friends spreading the post's message: "Copy and paste this but do not share."
These posts—often anti-Trump pronouncements that list the accomplishments of the "resistance" or instructions to budding activists for how to get involved—explain that if you share the post, only your mutual friends will see it.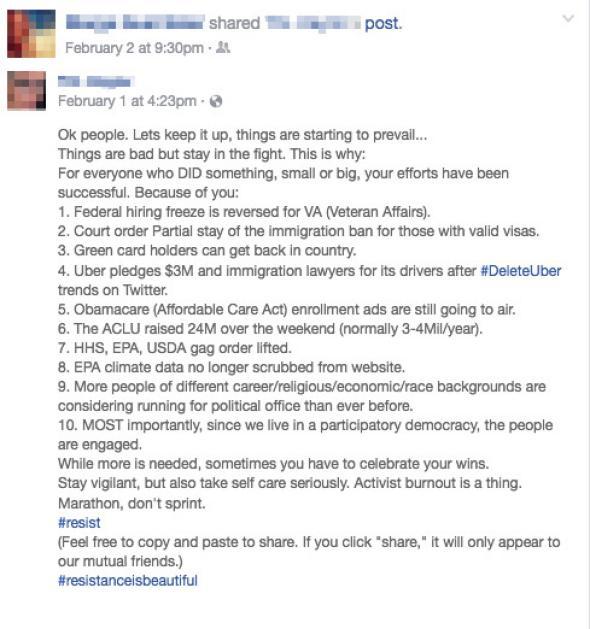 But is it true? This comes down to two things: the method of sharing (public or friends-only, for instance), and the news feed algorithm.
Most posts meant to be shared and spread are set to the "public" setting, which means that if you share that post, all of your friends can see it, not just friends you have in common with the original poster. The anti-Trump posts begging for you to spread their message should certainly have started out as public.
But if your friend who obediently copied and pasted was not too cognizant of privacy settings, he or she might have set the new post to the "friends" setting. That would mean that post could not be shared beyond the original poster's friends. In this case, the warning would apply.
There's an easy way to check whether a post is public or private. Look at the icon next to the timestamp on the post. (The timestamp is just below the person's name.) If the icon looks like a globe, it's public. If it looks like two people, it's for friends only (although you can also tinker with your settings to exclude certain people).
If it's set to friends-only, then yes, you'll need to copy and paste. But when you publish, just make sure to set yours to public, and go ahead and take out that warning at the end of the post. Your friends will appreciate it. (A quick note to bear in mind from the Facebook help page: "The [audience selector] tool remembers the audience you shared with the last time you posted something and uses the same audience when you share again unless you change it." So if you post something as public, make sure to change your settings back to private afterward.)
Sharing rather than copying and pasting saves you time and annoyance, but it also tells you how many people have shared a post. That's something that could be important if you want to gauge how popular your political message is.
The other question is, does the Facebook news feed algorithm prioritize fresh posts over shared ones? Does the very act of "sharing" make it less likely to appear prominently in your friends' feeds? Facebook said that sometimes, to a small degree, it does. This differs from person to person, however, as its algorithm considers shared posts more relevant to some people than others.
Copying and pasting also has another point in its favor, according to BuzzFeed: "A long text in shared post gets cut off—you have to click to "see more." In a fresh post, more of the text shows up in your friends' feeds."
However, if you really would rather have your message reach a greater number of people, it's better to just compose a new post entirely. If many people post the same, long post, Facebook's algorithm will view it as spammy and may also show it lower down in your friends' feeds.
So if you are engaging in a little social media activism, don't be lazy. Write your own version. It will get more views.