Many people seem to be mourning and grieving the U.S. presidential election results as if it were a death in their own family. In my liberal Boston-area neighborhood, I've encountered many people in all black, as if en route to a funeral. Out on the West Coast, my mother, a secular Jewish Democrat, is talking about sitting shiva. A British friend now living in Australia commented on my Facebook wall that "something has died."
Many people, on Twitter and other sites, are talking about processing this via the now familiar five stages of grief—denial, anger, bargaining, depression, and acceptance. Google searches of these spiked as the results came in on election night, and again in the morning.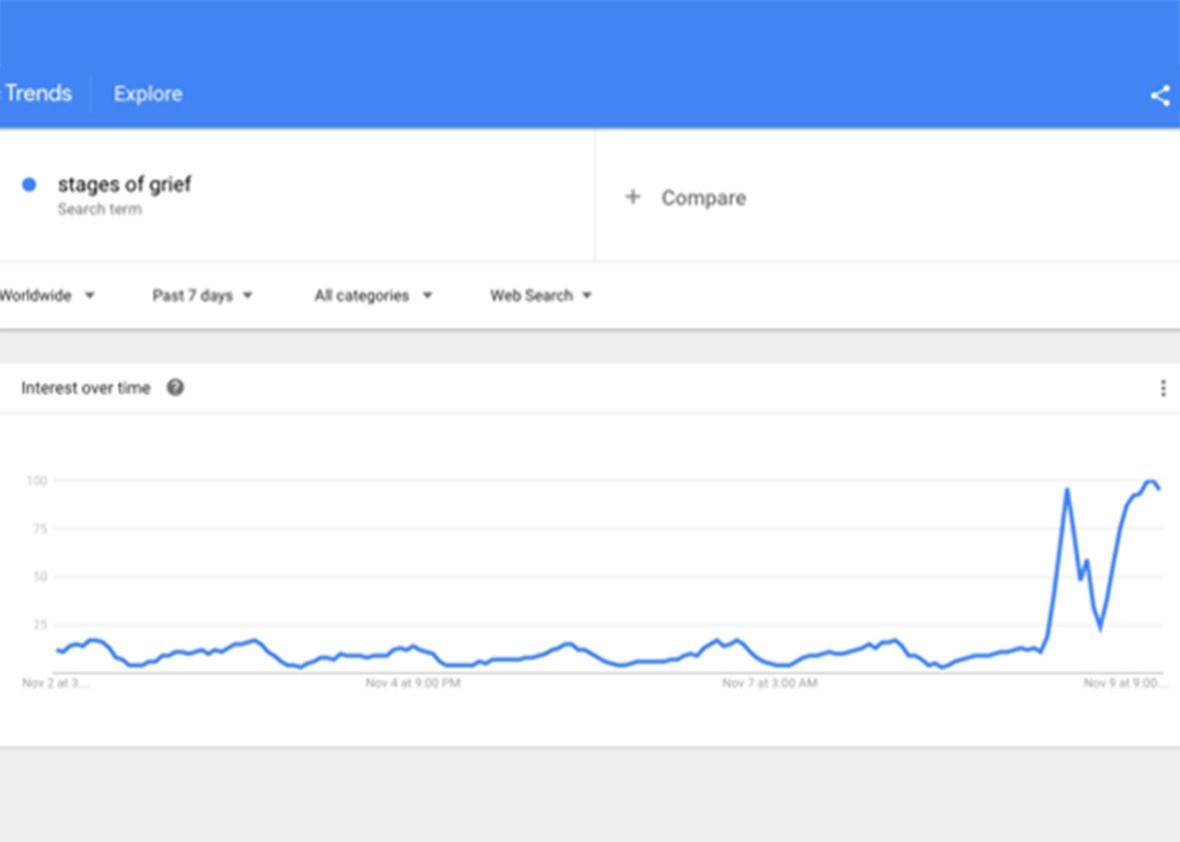 Many people may be experiencing genuine experiences of grief and bereavement in response to the election, including depression, anxiety, sleeplessness, and even physical symptoms. It is known that emotional events can cause a population-wide uptick in heart attacks. These are very normal responses to an emotionally traumatic event, and it may be comforting to recognize it. But the feelings you experience may not manifest precisely as the five stages of grief Elizabeth Kübler-Ross described them in her widely read 1969 book On Death and Dying: What the dying have to teach doctors, nurses, clergy, and their own families. That's because, for all of their appeal, the Kübler-Ross five stages of grief have never actually been tested or validated. The stages have, however, gained a foothold in our collective imagination. Why? Because people seem to like tidy and catchy ideas. They provide simple explanations for concepts that otherwise seem to feel too amorphous and overwhelming to process. Indeed, according to Carol Tavris, who spoke to Scientific American about this issue in 2008, constructs such as the five stages of grief hold appeal because they "impose order on chaos, offer predictability over uncertainty, and optimism over despair." But that doesn't make them accurate—even though aspects of the five stages can be harnessed in useful ways.
What that means is that failing to exhibit the famed progression from denial, to anger, to bargaining, to depression, and finally, to acceptance, does not imply that you or a loved one is not in fact grieving in a very real way. In fact, I'm quite certain my mother skipped directly to steps two and four; knowing her as I do, I doubt bargaining, denial, or acceptance are in her future either. No, I'm pretty sure she'll be sticking with anger and depression for the duration—although I'm hoping the depression will eventually abate. Similarly, you can acknowledge that what you're going through is grief without feeling that you must get to the acceptance stage. That may not be in everyone's future.
How do we deal with these symptoms? Is a national prescription for anxiety medication in order? For most people, the strongest and most crippling symptoms of sadness will abate with time as the mind adjusts and, for better or worse, adapts to its new reality. However, for some, major emotional events (including an election) can be a trigger for serious decompensations in mental health. The key to proper treatment lies in consulting with your doctor about what the treatment options, which can range from increased focus on self-care to therapy to medication. Self-medicating, whether via prescription medications or consuming mind-altering substances such as alcohol, marijuana, or even more dangerous and illicit substances, is not the path to healthy recovery. Times of emotional turmoil may cause some former addicts to lapse, which is why it's particularly important to seek care and support. As tempting as it is to self-medicate (especially, for example, in states where recreational marijuana was just legalized), it's far wiser to start by openly talking about your feelings and other symptoms with friends and family. You can also engage with mental health professionals for help, particularly if your symptoms are contributing to an inability to get your work done or failing to attend to your normal responsibilities. There is absolutely no shame in seeking help for this. Even seasoned trauma doctors sometimes need to debrief with mental health professionals after a tough case or mass-casualty incidents. The ones that fare the poorest are often the very ones who try to deny that there's a real problem in the first place and therefore do not seek out support.
Finally, troubling times can lead us toward bad habits that push us away from crucial self-care. It's hard enough to exercise, eat well, minimize screen time, and sleep enough, even in normal times. But in particularly stressful moments, it's all too easy to engage in maladaptive behaviors that are the opposite of what we ought to be doing: binge eating, skipping your exercise, staring at screens, and depriving yourself of ample sleep. Some may even use emotional stress as an excuse for these behaviors, either intentionally or not, in order to avoid their normal responsibilities. While we may know better, it still may take an unusual amount of vigilance simply to maintain normal healthy and productive habits. The best way to achieve this is to not go-it-alone. Instead, reach out to and rely on those around you in your support network. Don't cancel your gym date. (And if your gym date bails on you, try to ask what's going on.) Ask your loved ones if they are seeing signs that you're off your game in any way. Share any challenges you are struggling with others whom you trust. In other words, though the election may not have gone your way, we do, after all, remain stronger together.
Disclaimer: The opinions expressed in this article are solely those of the author and do not reflect the views and opinions of Brigham and Women's Hospital.