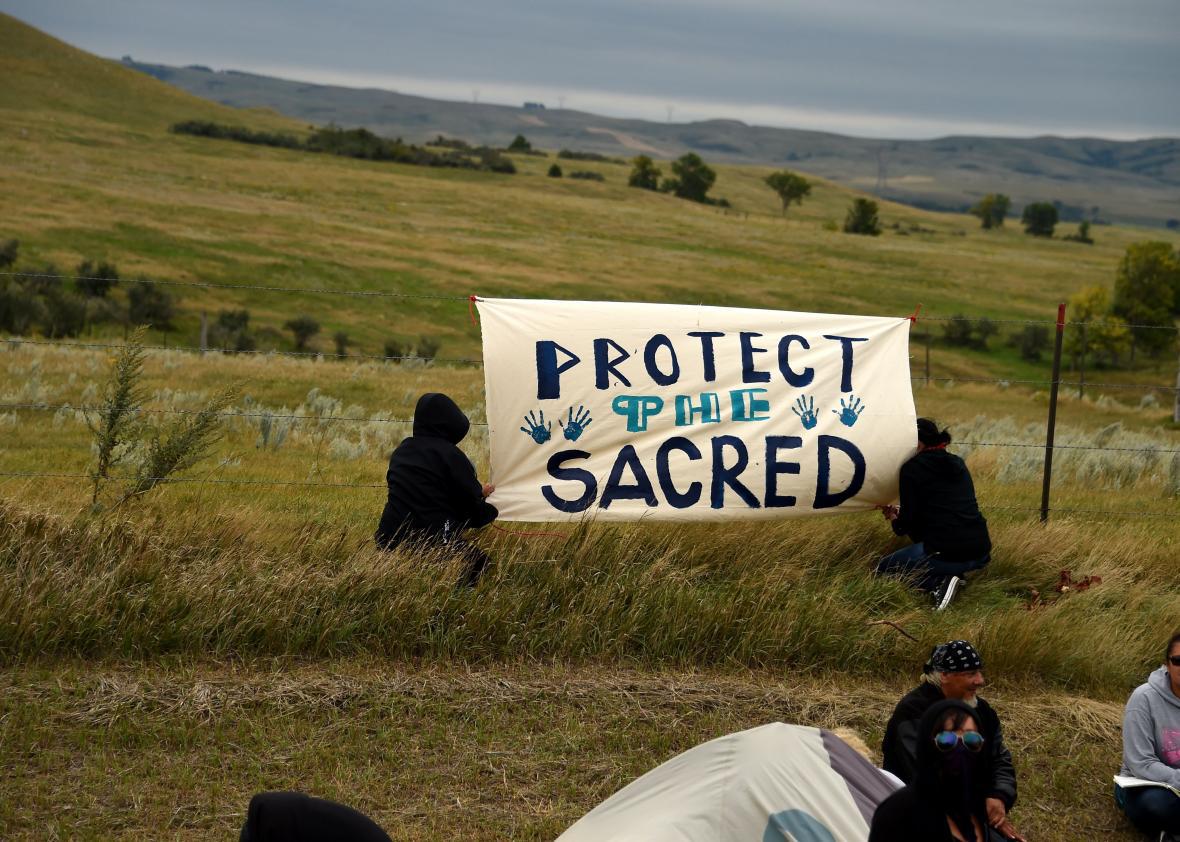 A Facebook post that began circulating on Monday is encouraging people to "check in" to the Standing Rock Sioux Reservation in North Dakota, where for months tribe members and activists have been protesting the proposed Dakota Access Pipeline, which would carry oil under the tribe's drinking water source and through its sacred sites.
The thinking goes that police are using Facebook geo-tags to somehow target protesters and that flooding Facebook with check-ins to Standing Rock will deter law enforcement interference.
Here's the post:
The Morton County Sherriff's Department has been using Facebook check-ins to find out who is at Randing Stock in order to target them in attempts to disrupt the prayer camps. So, Water Protectors are calling on EVERYONE to check in at Standing Rock, ND to overwhelm and confuse them. This is concrete action that can protect people putting their bodies and well-beings on the line that we can do without leaving our homes.
Will you join me in Standing Rock?
If you're sharing your location at Randing Stock (which you should be doing):
1) make it public
2) make the clarification post separate, and so that only your friends can see it
3) don't clarify on your check in, message friends who say "stay safe!" to let them know what's up – the stay safe posts are more convincing / confusing for p*lice
4) copy paste to share clarification messages (like this one) because making it public blows our cover
5) say "Randing Stock" in clarification posts so that when they filter out / search those terms, your post is visible to the right people
It's unclear where this idea orginated and exactly how it's supposed to work. According to Snopes, the Sacred Stone Camp, a group protesting the pipeline, said the message did not originate with them. And legal representation from the Standing Rock Sioux told the Atlantic that they did not know where it came from. The Morton County Sheriff's Department told Slate it "is not and does not follow Facebook check-ins for the protest camp or any location. This claim / rumor is absolutely false."*
Taken at face value, sharing this post may certainly seem like a tangible way to aid the protest against the Dakota Access Pipeline from afar. In reality, though, it's probably more symbolic than "concrete."
Certainly, though, a more obvious solution for protesters would be to not check in at all, thereby preventing police from knowing when and where people are gathering, and who is planning to attend. While Facebook can be a useful tool for mobilization—and while sharing locations quickly online can help people organize—there's no real need for participants to signal their plans to be present once they've learned of the location. Checking in might be marginally useful to the protesters' effort if police are using the check-ins to identify or gather intel on protesters, although it bears repeating that we really don't know how police might be using information posted publicly on Facebook. We also don't know who created the Facebook post, which may not have come from the protests' main organizers, for whom the flood of false check-ins might instead stymie their plans.
All that said: Even if these remote check-ins aren't optimally useful as a police-disrupting tool, they do serve one important purpose: getting attention. Protesters have been railing against the Dakota Pipeline for months, but the coverage hasn't been significant until recently, when protesters and law enforcement clashed and more than 100 people were arrested. I would guess that most of your Facebook friends checking in to Standing Rock haven't shared articles about it before. Which is fine! It reminds us that when you can make people feel like they're part of something—part of a protest movement!—without even leaving their houses, they may be more inclined to participate. It's also a way to make the Facebook-browsing person of conscience feel good, even though it isn't even close to the most useful thing they could do to be an ally. (Those things would be donating money to the Standing Rock Sioux or the Sacred Stone Camp Legal Defense Fund, petitioning lawmakers, and calling the companies behind the pipeline.)
So yes, checking in to Standing Rock is one way to show solidarity with protesters. But we have no clue what it's doing to advance their cause on the ground. And we definitely know that check-ins are not the most pressing thing they need.
*Update, Oct. 31, 2016, 3 p.m.: This post has been updated to include information about the origins of the Facebook post. It was also updated at 2:20 p.m. to include a statement from the Morton County Sheriff's Office.