Nothing went wrong with Twitter's live stream broadcast of Thursday night's NFL game in which the New York Jets beat the Buffalo Bills 37-31. But there was nothing really special about it, either.
Overall, the stream was similar to Yahoo's live-stream of a game in October between the Jacksonville Jaguars and the Bills. This should come as no surprise because, as Deadspin's Timothy Burke pointed out, the streaming technology and servers used for the two live-streams (HLS playlist streaming off Akamai CDN servers) were identical. Yahoo's live-stream brought in about 15 million viewers. (Update, Sept. 16, 5:50 p.m.: According to the NFL's press release, 15.7 million people watched across all platforms. But on Twitter, the number was much lower: Only 2.3 million.)
The game was available to anyone with an internet connection or mobile data, which was undoubtedly a draw for cord-cutters. And while the video was sharp and the sound was clear, the actual experience of watching the game on Twitter—in a browser, the video was on half the screen with a feed of tweets about the game on the other half—was much like watching the game on TV while being on Twitter on your phone. Except when you're on your phone, you only see tweets from people you follow. By far one of the most commonly suggested improvements was allowing for a more curated or personal feed.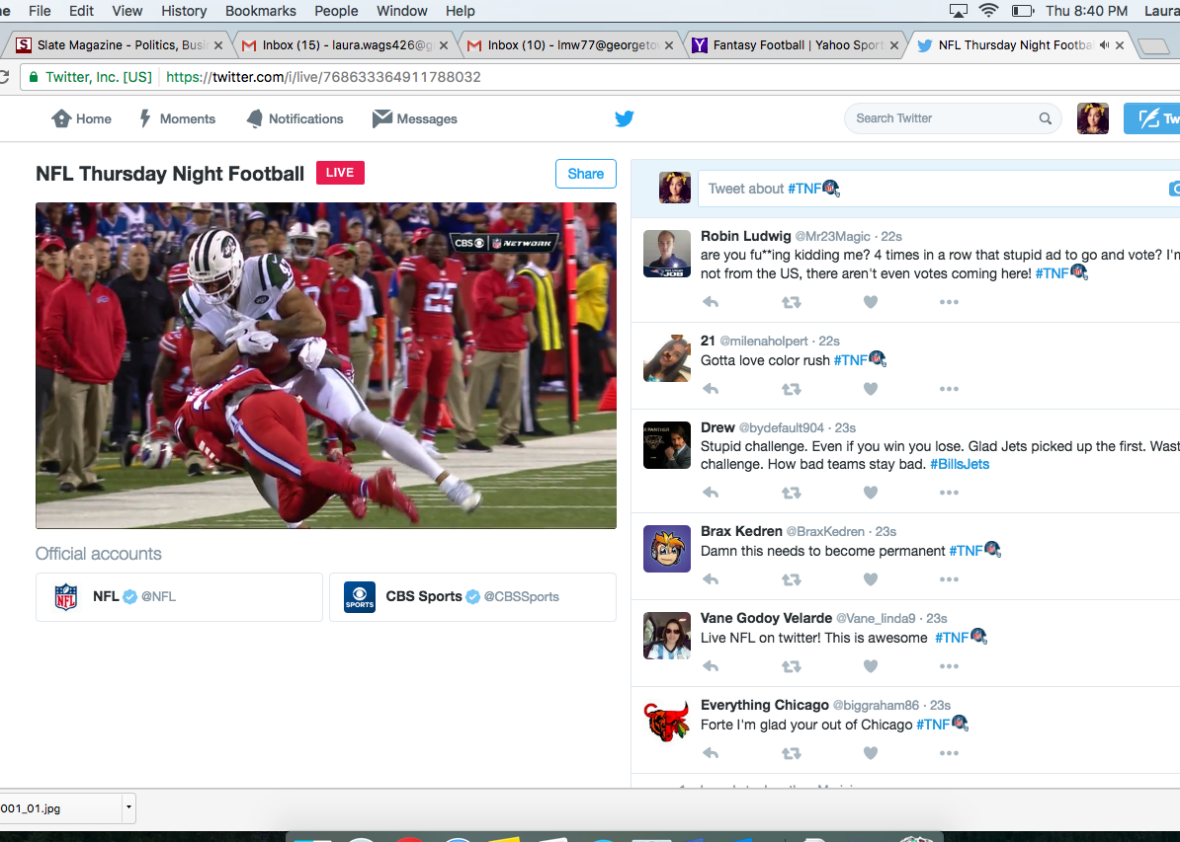 Another, as Recode suggested, was to bring more of Twitter's real-time analysis and opinion into the broadcast by adding "in-game polls," "stats on the most-mentioned players, or the most-tweeted plays of the game." The Twitter feedback from viewers, though, was decidedly positive.
In April, the social media platform struck a deal with the NFL in April to stream 10 games this season, for just $1 million per game, which is pocket change compared with the $45 million TV broadcasters like CBS pay to air Thursday night games, Bloomberg reported. Twitter's first live-stream didn't flop, but to take it to the next level and become a veritable "first-screen" for live events, it's going to have to step up its game.