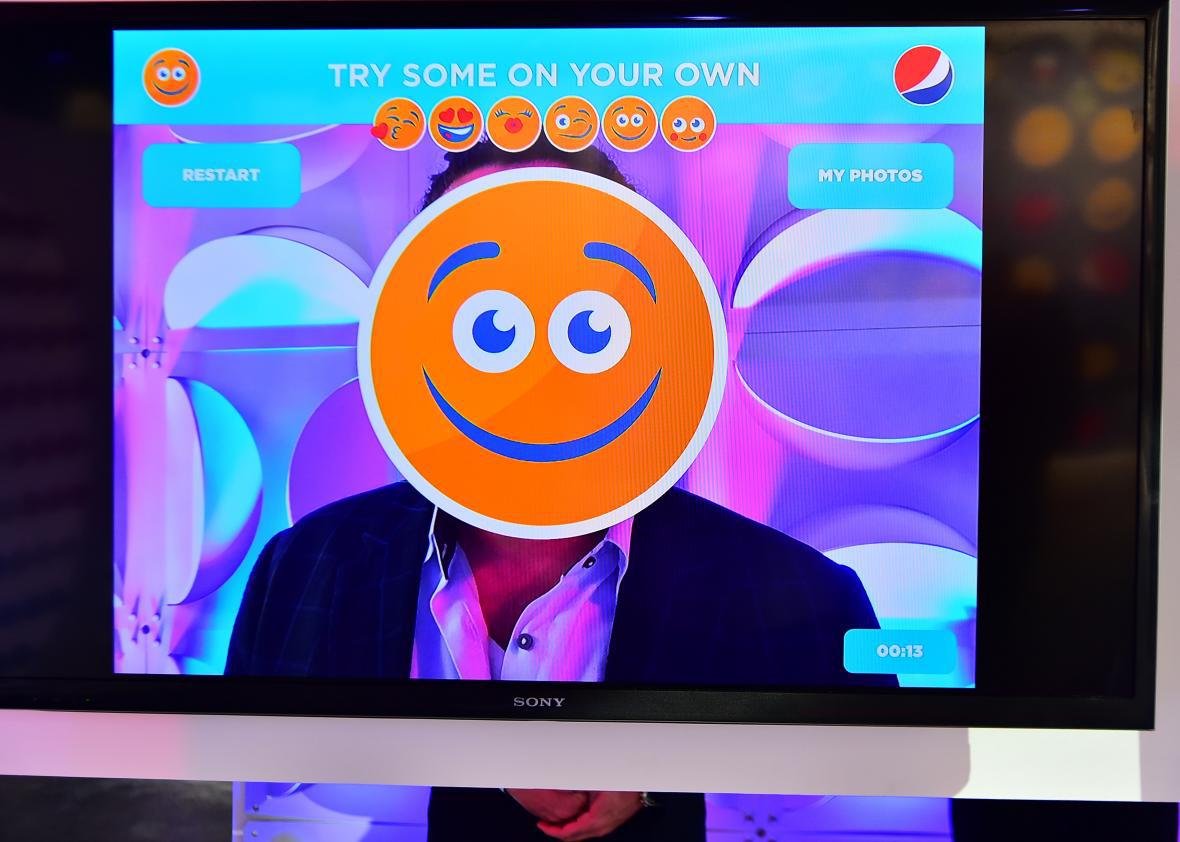 Two things about the internet: It runs on cuteness, and that cuteness often veils tremendous corporate power.
You already know this, and yet Twitter has demonstrated it yet again, this time with the launch of its branded stickers. Stickers! Everyone loves stickers—they embody the app world's zeitgeist of youthful fun. Snapchat lets you scribble on your photos. Facebook invites you to garnish your friends' posts with cartoon reactions. As of the end of July, Twitter—often considered a slightly more serious playground for media types—gives you pages of cheery insignia with which to comment, ironically or sweetly, on the freeze frames of your life. Some of the stickers, which appear in a searchable drop-down menu and which you can plaster on uploaded images, are summer-themed: palm trees, beach cocktails, sailboats, popsicles. You can bedeck your loved ones with mustaches and unicorn horns and Viking hats. Sure, it's a bit juvenile, but it's also expressive and possibly even artistic. Far be it from me to heap calumny on the harmless glee of the adhesive doodle.
On Aug. 15, Twitter launched the next phase of Operation Sticker: the "promoted sticker." These are lightly branded tags designed by companies—the first to participate is Pepsi—that users can affix to their photos. Each company may create four to eight stickers; when you click one, you can see how other tweeters are interacting with the graphic. Businesses are able to pull the marked tweets out of the stream and analyze them for market research purposes.
Not every sticker associated with the #SayItWithPepsi campaign evokes Pepsi, although some do. Some are just smiley faces. You can paste a smiley face over your actual face in a photo to become a miniature smiling Pepsi person. If you are drinking a Pepsi in the photo, you can use the "yum" face and all of your followers—plus the actual Pepsi people who are tracking your tweets—will get to see how much you like Pepsi.
Promoted stickers "allow brands to be featured by their fans in a truly authentic way," Twitter explained further in a blog post this week. More words followed, including the words "fun," "creative," "dynamic," "connect," "engaging," "awareness," and "message."
Perhaps Twitter, still scrambling to reach profitability, believes selling companies these "visual hashtags" will lift its bottom line. As Quartz points out, both Line and Snapchat have found that "stickers are less intrusive for users than actual advertising messages in feeds." That's an attractive carrot for brands that aspire to fluidity and seamlessness in the age of native advertising and sponsored content. For now, Twitter continues to depend on promoted tweets and video units to earn revenue.
But some Twitter users feel like guests at a dinner party who, instead of food, keep getting handed ever more elaborate ice sculptures. They don't want stickers; they want consequences for Twitter harassment and abuse. They want to edit tweets. They want photos, links, and GIFs not to count against their 140-character limit.
If these disgruntled people have something to say to the platform, they seem unlikely to say it with Pepsi.
---