At the end of last month, I received seven birthday cards in the mail. The senders were my mom, a friend from high school, my college roommate, an ex from a relationship that ended in 1984, that ex's mom, someone I've been close to since the mid-'80s, and a guy I met for about 20 seconds as I was leaving a 2014 holiday party.
Of course, those weren't the only birthday wishes I received. Other people sent greetings via Facebook, email, Gchat, Slack, and Twitter. I even got an ecard! And while I genuinely appreciated all those salutations, the one that stuck with me the most—the one I'm staring at three weeks later—was the card from the rando. It's made from 100 percent cotton, tree-free paper, and the design is one I'd choose myself: The letters "HBD" are spelled out in colorful cake-topping sprinkles. Inside was a touching sentiment written in a loose cursive script.
To be fair, describing my acquaintanceship with the person who sent the card exclusively in terms of our face-to-face encounters gives a false impression. Gabriel Arana, the sender, is far from a stranger. He's a journalist whose work I admire; our beats overlap; we move in similar social circles; and we often interact on Facebook. We know each other relatively well for people who've never really spent any time together. In other words, we have the kind of modern friendship that doesn't typically involve sending physical cards through the U.S. mail. Which made receiving one from him all the more memorable.
After a couple of minutes spent staring at the card, I started to question a few things: Upon closer inspection, the handwriting on the envelope looked like the robot script familiar from fundraising appeals. Then I asked myself how Gabe knew my postal address. I searched through my email archive and found a delightful note from him, sent back in January 2015. It began, "I apologize for the mass e-mail, but in order to fulfill my dream of sending people birthday and anniversary cards like a fancy society lady, I need your mailing addresses." There was a link to a site called Postable.com, which I had apparently followed. So that's how he got my postal address: I had given it to him! Sneaky.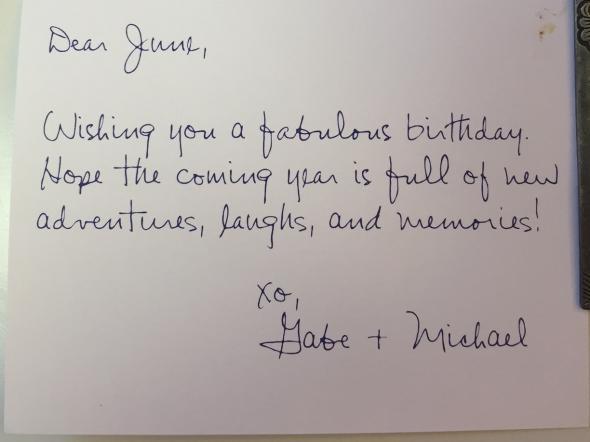 Over at Postable, I learned that the site bills itself as "snail mail heaven." It notes that postal mail seems special and surprising these days precisely because "it's a pain in the ass to send." We're all familiar with that particular PITA. In the case of a friend's birthday, you have to remember the date, acquire a card, find the time to compose a message—if I've spent money on a card, I generally want to write more than "Happy birthday"—dig up an appropriate stamp, and take it out to the mailbox. Postable claims it was "created to alleviate that ass pain. We make sending seriously stylish snail mail as easy as sending an email. You type it and we handle all the annoying stuff. We print, stuff, stamp, address and mail all of your cards directly to everyone for you." (It may sound a little like the letter-writing shop where Joaquin Phoenix works in Her, but with Postable, the words are your own.)
My first response was that this is cheating. Then I consulted my to-do list and noticed that four of the items included the words "send card to." All had been on the list for a couple of weeks. It's possible that I send more cards than most of the people reading this—I came of age before the email era; I grew up in another country so I rarely see childhood friends to catch up in person; and I'm a stationery addict who's always looking for opportunities to use her pens. But it's still surprisingly difficult for me to write and mail the darned things on time.
Postable offers a wide range of cards—in terms of design and occasion—and generally speaking, they're a little cheaper than the ones I typically buy in the chic card shops of Brooklyn. Cards cost $3 each, or $2 each if you send 10 or more, plus the cost of postage. You can choose among several handwriting fonts—I'm dying to use "As If Your Kid Wrote It," a tribute to the comically inept letter formation of small children—and there are also various type options. The font you choose for your message is also used on the envelope. You can set up automated birthday and anniversary cards—though you have a chance to tweak the message or cancel before it's sent out—or you can send one-off greetings. I imagine the service is particularly useful for people who are planning a big event like a wedding: Having someone—or something—else take care of dozens of save the date cards and invitations would surely save hours of repetitive toil.
But is snail mail still special if the person wishing you well used an online service rather than taking care of all the details themselves? I confess that when I first examined my Postable card, I briefly felt as though I'd been tricked into thinking it was more personal than it really was. I got over that very quickly, though. The Postable URL had been on the back of the card, but I just hadn't paid it much mind—URLs have become so ubiquitous these days, we barely notice them anymore. And the most important thing was that Gabe had put me on his list. It's always the thought that counts, but he'd also spent real money to wish me a happy birthday.
The more I looked at the Postable site, the more tempting it seemed. Soon enough, I was sending an overdue birthday card to a high-school friend in England. I used one of the cursive scripts for my breezy note—a choice I now regret. That isn't my handwriting, so it lends an unnecessarily ersatz tone. If there's nothing shameful about paying someone to send your cards, why not embrace the artificiality and use a typewriter-style font.
Postable won't let me cross off all the "send card to" entries on my to-do list, though. I know that some friends would be insulted by my time-saving automation, and certain occasions, like sympathy cards, demand a more personal touch. But I'll soon be sending out my own mass email to acquire my friends' addresses and birthdays. I feel guilty when birthday cards are late and Christmas cards go out in January, so why not let a website do some of the work?