It has been described in the press as "the world's most dangerous cruise" and in glossy marketing copy as "the ultimate expedition for the true explorer." It is a historic voyage, one that marks the opening of one of Earth's last frontiers.
It is also an abomination—a massive, diesel-burning, waste-dumping, ice-destroying, golf-ball-smacking middle finger to what remains of the planet, courtesy of precisely 1,089 of its richest and most destructive inhabitants. And it's all made possible by runaway climate change, the existential global crisis that these same people and their ilk have disproportionately helped to create.
The $350 million, 68,000-ton Crystal Serenity, operated by the decorated Los Angeles–based line Crystal Cruises, embarked from Anchorage, Alaska, on Tuesday. Its 32-day itinerary will take it to New York by way of the mythical Northwest Passage. Make that the formerly mythical Northwest Passage: Thanks to ocean warming brought on by climate change, the once-impassable shortcut between the Atlantic and Pacific oceans became ice-free in summer 2007 for the first time on satellite record.
A growing trickle of recreational and cargo ships have managed the trip in recent years, but the 820-foot, 13-deck Crystal Serenity will be, by far, the largest to do so. On board will be a rarefied set of passengers, each of whom paid between $22,000 and $120,000 for the privilege—plus $50,000 in required "emergency evacuation" insurance, according to National Geographic. At their disposal will be a crew of 600, a spa, a fitness center, a hair salon, multiple swimming pools, six restaurants, a movie theater, a casino, a driving range, and a complimentary "get out of hell free" card.
Just kidding about that last one.
Because global warming hasn't completely vanquished the Arctic ice—yet!—the voyage truly will be perilous. As a precaution, the Crystal Serenity will be accompanied by an ice-breaking boat and two helicopters. Meanwhile, apparently by coincidence, the U.S. Department of Defense is holding a five-day, multiagency training exercise to prepare for the possibility of a massive Arctic rescue operation. The exercise will commence in Nome, Alaska, the day after the cruise ship leaves that port.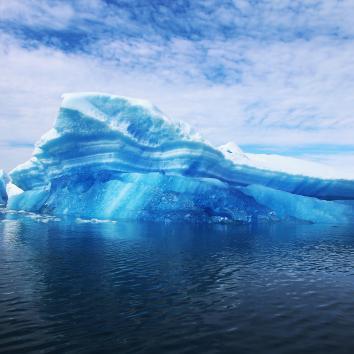 Harder to prepare for is the possibility of a fuel spill like the one that ensued when a tourist cruise ship sank off the coast of Antarctica in 2007, poisoning the nearby penguin mating grounds.
But even cruise ships that don't crash can still befoul the world around them. In addition to their exorbitant per-capita carbon emissions, commercial cruise ships dump 1 billion gallons of sewage into the sea each year, according to a 2014 study by the nonprofit Friends of Earth. While Crystal says it treats its sewage and avoids dumping it close to shore, it was one of four cruise lines to receive a failing grade in that 2014 report.
It isn't just the U.S. government that is scrambling to accommodate these wealthy tourists' whims. National Geographic notes that the Inuit community of Ulukhaktok, Canada, has spent the past two years holding town meetings and training sessions in preparation for the arrival of a cruise ship whose population is four times that of the town itself. The Crystal Serenity is scheduled to dock there on Saturday, Aug. 27, with its passengers disembarking in groups of 150 at a time.
The people of Ulukhaktok might as well get used to being outnumbered. Analysts say the Crystal Serenity's cruise, if successful, will blaze a path for many more large cruise, and cargo, ships to follow in the years to come. Already, Crystal Cruises says it's planning a second Northwest Passage cruise for 2017, after this one sold out.
When environmentalists talk about climate change, they tend to focus on its enormous and potentially catastrophic costs. But as Crystal Cruises reminds us, there are others who prefer to focus on its benefits—and profit from them.
But what about the passengers? What kind of person spends tens of thousands of dollars to partake in a cruise that simultaneously celebrates and accelerates the degradation of one of Earth's last pristine landscapes? It's hard to fathom, but an anecdote from a recent Travel and Leisure feature on Arctic cruises offers a clue.
In it, the author recounts how a sort of acquisitive mania overtook his fellow passengers when they spotted their first polar bears, after two weeks at sea without encountering any:
I think that's why we kept getting closer and closer even as they tried to swim away, crossing a cove and scrambling up a cliff. There were people on the cruise—a minority, to be sure—who later criticized the decision to follow them. Polar bears, they pointed out, often go up to a month without finding anything to eat and can ill afford to waste precious calories paddling away from people, even if those people only want to share pictures of them on Facebook.
But I'm not sure we had a choice. … If we hadn't seen any polar bears, I think there might have been a riot.
These, then, are the kind of people who will stop at nothing to satisfy their thirst for consumption—not only of goods, but of experiences. To be fair, ruining the Arctic probably isn't their goal, and all things equal, they might well prefer to see it preserved. It's just that, in their personal moral calculus, the coefficient they assign to their own pleasure happens to be infinity.