Frinkiac is the kind of website that makes the internet feel magical. Type a Simpsons quotation—say, "In this house we obey the laws of thermodynamics"—into its search bar and you'll be greeted with an array of still images from Simpsons episode associated with that scene, drawn from a database of more than three million screen grabs. Click on one of them, and you'll have the opportunity to build a shareable meme image, superimposing the quotation over the picture. On Thursday, Frinkiac's creators added a new function, incorporating the option to create short animated GIFs, which quickly filled up my Twitter timeline with a delightful array of moving witticisms from the show.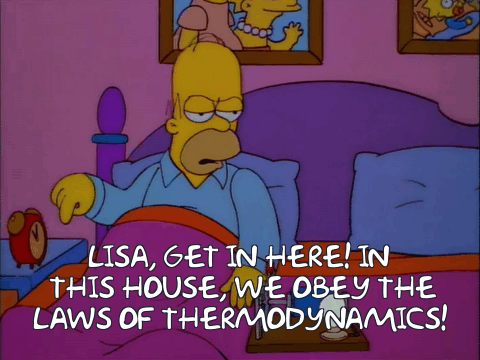 Despite its seemingly enormous scope, Frinkiac is the creation of just three individuals—Paul Kehrer, Sean Schulte, and Allie Young. Kehrer, who describes the project as "a love letter to the show that defined our childhood," told me that Frinkiac emerged in large part out of his friendship with Schulte. "Sean and I mostly communicate at work by quoting the Simpsons," he told me by email. Since it was sometimes hard to find images from their favorite moments, they set out to develop Frinkiac as a way of facilitating those interactions.
As Kehrer explained in a blog post when the initial version of Frinkiac launched in February, the three friends were able to automate the creation of their database. Their system chops scenes from the show up into small segments and then compares the color scheme of those segments to one another. It saves those that differ sufficiently and ultimately pairs them via time stamps to text drawn from subtitles. All that information lives on the servers of Kehrer and Schulte's employer, the cloud computing company Rackspace.
Young, who developed much of the interface through which Frinkiac's visitors interact with the site, told me that the warm response that the site has received offered them the opportunity to tinker with the setup. "Frinkiac is a user experience researcher's dream, because so many people have been so generous with their feedback and suggestions," she wrote by email. She and her collaborators have been working to implement many of those suggestions since they first launched the site, looking into support for additional languages, a gallery of user-created images, and searchability by episode.
From the start, Schulte told me, "the first thing people said in response to the original launch was, 'This is great but I want GIFs!'" But the team initially thought that an animated-GIF feature would be too much trouble, a problem, according to Kehrer, that was at least partially computational. "Generating high-quality GIFs with somewhat reasonably limited file sizes costs a lot of CPU and a lot of RAM," he said. That's partially reflected in the limitations they've placed on GIFs made through the site, which are capped at four seconds long.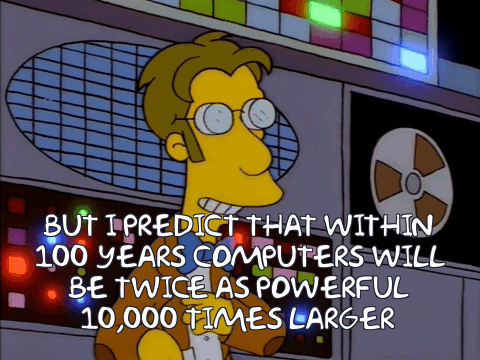 While the GIF option is technically still in beta, it works cleanly. The function's coolest quality, however, may not be immediately evident. Kehrer worked to ensure that GIFs loop cleanly wherever possible, by writing "some code that compares the first frame and [approximately] 15 of the final frames to see if one of them will generate something that loops well."
Elaborating on this, Schulte told me that Frinkiac's creators effectively inverted the process by which they separated images in the first place, looking for end points that color match with the first frame as closely as possible. This feature means that GIFs occasionally cut off before the point that a user requests, but the final GIFs are cleaner and smoother for it. Indeed, Kehrer pointed me to one of his own favorite creations, which shows just how seamless the results can be.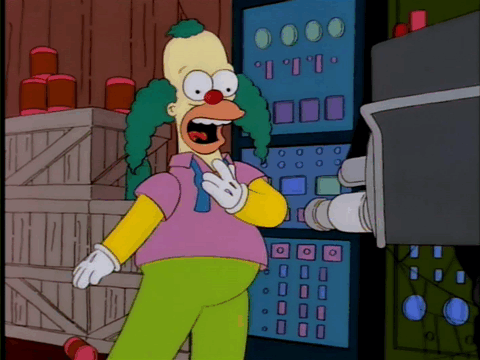 Once a user has rendered a GIF, the file lives on Frinkiac's servers, permanently accessible at the URL that the site spits out. "We might clear that cache every few months," Schulte said, "but even if that happens all it means is that the first person who goes back to the GIF page will have to wait a few seconds." He and his collaborators encourage people to simply refer back to those files via hotlink instead of posting them on other image sharing sites, since many of them "re-encode the GIFs and reduce the quality." Good ding-dong-diddily point!
Though they're handling a great deal of data, the three aren't collecting any real intelligence about the way visitors use the site. "I can tell you that the current most popular episode… for GIF generation is Lisa the Vegetarian just by the number of generated GIFs," Kehrer wrote. They have little additional information about user favorites, meaning that any data drawn from the site is bound to be anecdotal. That may, however, change somewhat if Young's plans for a gallery page come to fruition.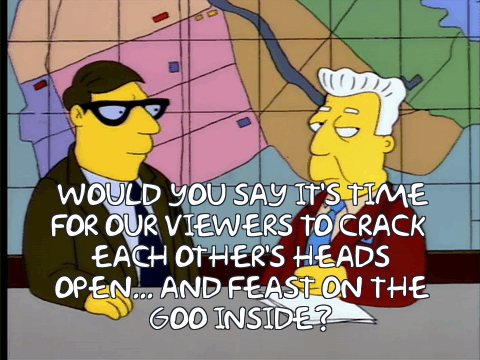 Frinkiac's work definitely isn't done. As Schulte discovered when the three first launched the site, not everyone who loves the Simpsons thinks in terms of quotations. Few sequences from the show are more iconic, for example, that the scene in which Sideshow Bob steps on a series of rakes, but it would be hard to pin that moment to a particular bit of dialogue. Recognizing that challenge, Schulte told me, "made me realize that I need to upgrade the index to handle 'scenes with Burns and Lenny,' etc., not just what was being said."
With this in mind, Kehrer says that he'd like to implement "more complex search parameters" that would allow visitors to find stills "by character, by readable text like newspaper headline gags," and so on. Schulte suggested that doing so might involve incorporating "computer vision functionality," before adding that they "haven't invested enough time to really have any details about it." Building on this possibility, Young observed that "the real challenge for us may be to look for creative solutions that, for example, invite users to participate in some form of cataloging or tagging of content that would enable new and better search options."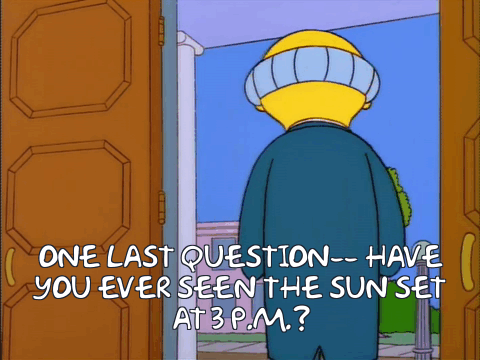 As Young suggests, Frinkiac's passionate users may be its greatest resource as it continues to develop. For now, the three are just happy to know that their fellow Simpsons fans are out there. "Given my penchant for using Simpsons references in almost any situation, it's wonderful that so many people can understand me," Kehrer claimed.