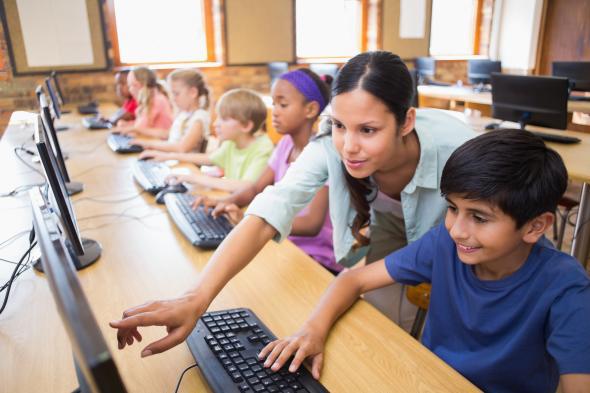 Greetings, Future Tensers,
This week found us thinking about the interplay of technology and learning, thanks in part to a Norwegian-led competition that's encouraging people to develop educational smartphone apps for children in Syrian refugee camps. And here in the United States, we stared down a Floridian proposal to give kids foreign language credits for studying programming. As Valerie Woolard argued, we'd be better off incorporating computer science into math curricula, since coding lacks the emotional valences of true language education. To see what happens when you confuse empathy and logical analysis, look to the self-driving car that crashed into a bus last month. According to Samuel English Anthony, part of the problem is that the software driving autonomous vehicles lacks interpersonal awareness, meaning that we'll have to teach it to better understand others' behavior on the road.
Just as algorithms don't always understand us, we don't always understand them. Future Tense's Ed Finn points out that from a human perspective, even the best algorithms often behave erratically—more Kirk than Spock, as he puts it. For Christine Rosen, that's all the more reason to limit the scope and authority of those programs, evaluating what they do and how they work before we invite them into our lives.
Finn's and Rosen's articles were the closing installments of our February Futurography course on algorithms. Once you've read them—and all the other great material we published on the topic—try out this quick quiz, and take a few minutes to tell us what you think about the roles algorithms increasingly play in our lives. (Come back in a few days to hear a summary of those thoughts.) Once you're done, dive into our next Futurography unit, which asks whether you're prepared for Cyber World War I. As always, we have a conversational introduction to the topic, as well as a cheat sheet that will fill you in on key players, lingo, and more. And, of course, we have a lot more coming in the weeks ahead.
Here are some of the other stories that we read while we were sweating it out:
Privacy: Philosopher Matthew Noah Smith argued that our devices are extensions of our minds, introducing privacy problems that neither corporations nor law enforcement agencies are considering appropriately.
Data collection: Will Oremus evaluated Facebook's new reaction buttons and proposed that they're a tool to help the company gather subtler information about its users.
Tech literacy: FBI Director James Comey understands frighteningly little about the technology behind the iPhone that he's trying to access.
Events:
How real is the threat of cyberwar? And what does the term cyberwar even mean? On Wednesday, March 9, Future Tense will host a discussion in New York between Steve Coll and Fred Kaplan in honor of Kaplan's new book, Dark Territory. To learn more and RSVP, visit the New America website.
Switching to a six-digit passcode,
Jacob Brogan
for Future Tense
---