I doubt anyone had a busier 2015 than Noah Strycker.
Beginning in Antarctica on New Year's Day 2015, the 29-year-old Oregon man crisscrossed 41 countries on all seven continents on his way to shattering the record for most bird species seen in a single year.* Of the estimated 10,400 bird species on Earth, Strycker saw 6,042 of them in just 365 days.
Big Years—birder slang for yearlong benders to see as many birds in a given area as possible—are a huge undertaking, even when focused on the birds in a given county or state.  Hardcore birders with lots of spare time (and money) and a permissive spouse occasionally make a run at the American record, currently held by Neil Hayward, who saw 749 species in 2013.
But worldwide Big Year attempts are almost unheard of. Too grueling. Too expensive. Too many logistics. American ornithologist James Clements made the first real attempt at a global Big Year in 1989, finishing with 3,662 species. Two Brits, Alan Davies and Ruth Miller, took on Clements in 2008 and finished with 4,341 species while dodging armed robbers and abandoning sinking boats.
Strycker got hooked on birding by a fifth-grade teacher. After he graduated college, he became, in his own words, a "full-time bird man." He spent a field season in Antarctica and wrote about his experience in Among Penguins.  Over the past several years he has traveled to Australia, Hawaii, and Costa Rica, hiked the Pacific Crest Trail from Mexico to Canada, and published another book, The Thing With Feathers.* But his biggest adventure was still to come.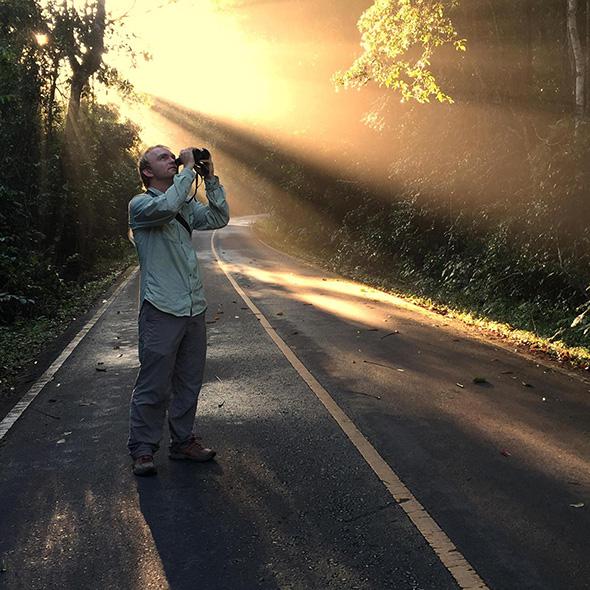 Strycker recognized that technological advances in the past decade have made birding in far-flung places easier than in the past. EBird, the massive public-driven bird sighting database, simplifies the process of determining ahead of time where and when to find the most species. BirdingPal connects birders to local guides across the globe.
But Strycker also had something else on his side: time. Both Clements and the Davies-Miller team had taken time off during their Big Year attempts and returned home between excursions. Strycker knew that maximizing his time in the field would maximize his species list, and besides, what else was there for a full-time bird man to do?
Buoyed by an advance from Houghton Mifflin Harcourt and an agreement with the National Audubon Society to publish a daily blog of his journey, preparations began. He spent months working on the itinerary, connecting with birders worldwide, and dealing with thousands of logistical details—plane tickets, vaccines, visas, and equipment.
He also had a lot of birds to learn, because just seeing a bird doesn't do any good if he can't identify it. He bought a set of field guides that stacked up taller than he was and scanned them all onto his laptop. That preparation, along with the assistance of his local birding companions, was needed to get him an average of 12 new species a day, every day, to break the record.
Strycker's Big Year began with a cape petrel off his ship near Spert Island, Antarctica. He worked his way north into South America, finding a pied-crested tit-tyrant in Peru in February for his 1,000th species and a shining honeycreeper in Panama in April for his 2,000th. He was in and out of the United States by the first week of June and found his 3,000th species, a tawny pipit, in Turkey in the middle of that month.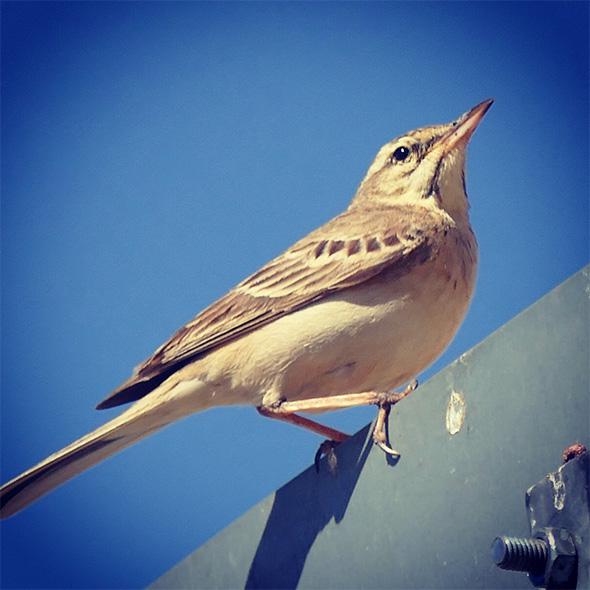 All along, things moved surprisingly smoothly. Lots of obstacles could have derailed his progress—an illness or an accident or a robbery—but Strycker says he avoided anything serious. The Ebola scare that loomed over the beginning of his trip caused him to slightly tweak his itinerary. His rental truck got stuck in the mud and endured two flat tires while on top of a mountain in central Peru, but his party was rescued by a crew of dirt bike–riding potato farmers. His Land Cruiser had a blowout and spun off a Tanzanian road, but he was unhurt and it all happened too quickly to be scary.
Instead of bad things, Strycker kept busy with the good. "I discovered a thriving, friendly, sharp, and helpful worldwide community of birders," he told me. "Black, brown, or white, rich or poor, male or female, old or young … even without sharing a spoken language … I learned that we all share the language of delight in birds and birding."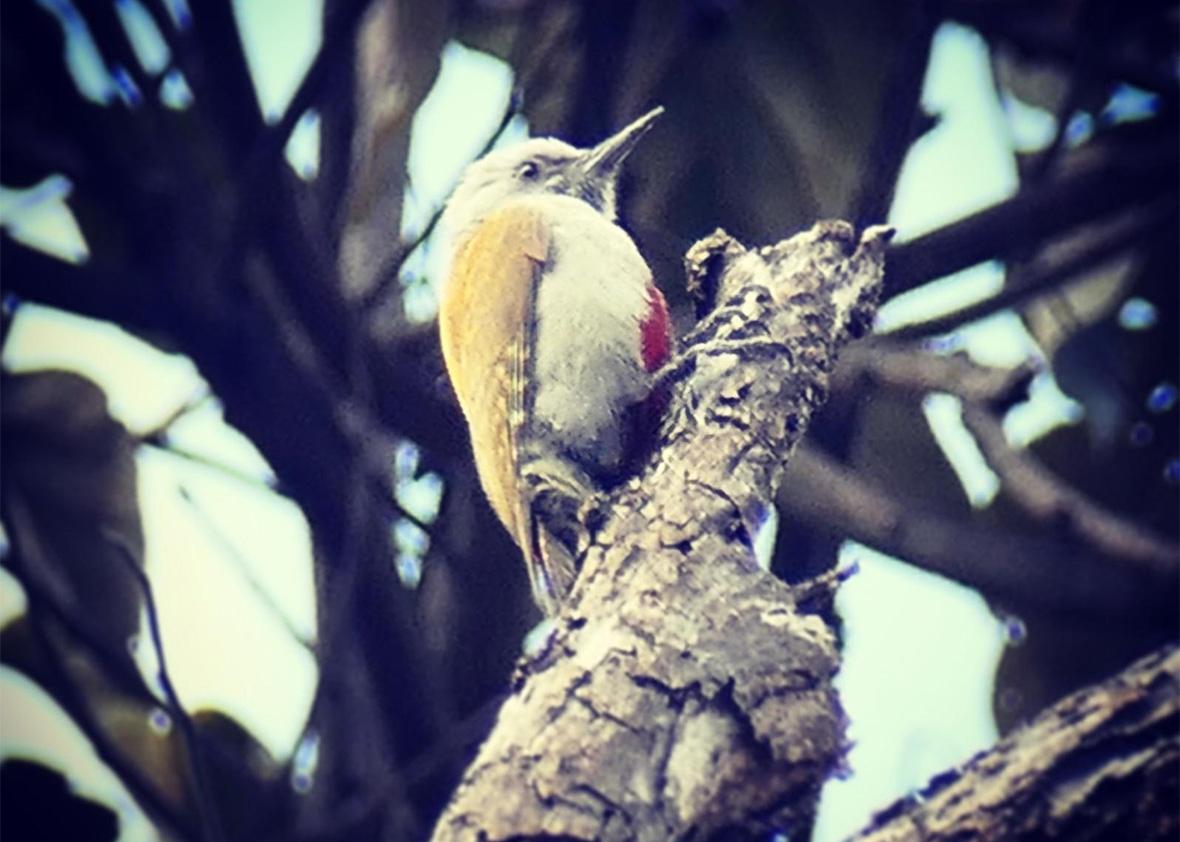 A mountain gray woodpecker in Tanzania on Aug. 17 was Strycker's 4,000th species, and with four months and two whole continents to go, the new record was all but assured. His record-breaking 4,342nd species was a Sri Lanka frogmouth a month later, and a month after that he saw a flame-crowned flowerpecker in the Philippines for his 5,000th, nearly half of all the world's known bird species.
After sweeping through New Zealand and Australia, Strycker returned to far-eastern India for the final week of the year. A yellow-rumped honeyguide in Mayodia was his 6,000th bird. (A quick note on honeyguides: They actively lead mammals, including humans, to bees' nests in order to feed on the scraps after the mammal opens the nest. Incredible, delicious, behavior.) A group of silver-breasted broadbills, as light was fading in Tinsukia on Dec. 31, was his 6,042nd and final bird of the Big Year.
Strycker is back home in Oregon now, sleeping 11 hours a night and wading through piles of congratulatory messages he's received from his birding companions and those who followed his journey from all over the world. (Oh, and here's some irony for you: Strycker says that what might be his favorite birding spot in the universe is also the only one he can't get into right now: Malheur National Wildlife Refuge.)
And though he has every right to be sick and tired of birds, Strycker is still hungry for more. Seeing 6,000 birds still leaves 4,000 more to find, he says, and if they find birds on the moon, he'll find them there, too. He hasn't ruled out another global Big Year either, and already knows how he'd change his route to squeeze in a few more birds: more time in Ethiopia and northeastern South America. After all, he may have no choice but to defend his record: a Dutch birder named Arjan Dwarshuis is already off on a global Big Year of his own.
*Correction, Jan. 8, 2016: This article originally missstated that Noah Strycker traveled to 37 countries during his Big Year. He traveled to 41. (Return.) It also originally misidentified the Pacific Crest Trail as the Pacific Coast Trail. (Return.)