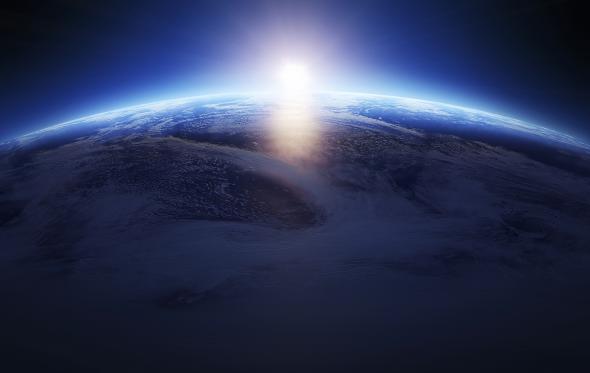 Greetings, Future Tensers,
This is a very special day for us: It marks the launch of a project that we're very excited to share with you, Futurography. Designed as a series of monthlong courses, Futurography aims to introduce readers to the questions and issues that will shape our tomorrows. This month, we'll be exploring geoengineering, the planned modification of our planet's environment to combat climate change. Though many scientists fear that these technologies will do more harm than good, others believe that they may be the only way to reverse the damage we've already done. With our conversational introduction to the topic and our schematic cheat sheet, we hope to give you the tools you need to join conversations that are more important than ever in the wake of the recent Paris climate accords. Stick with us in the weeks ahead as we go deeper with incisive articles and arguments from experts in the field.
Futurography isn't the only big recent undertaking from Slate's technology team. Facebook gave Will Oremus unprecedented access to the inner workings of its constantly mutating news algorithm. The result is a fascinating and far-ranging article that helps explain how Facebook's thinking shapes our own and examines the state of social media more generally. Among other things, it helps to explain why Twitter might be fiddling with its character limits or restoring access to deleted tweets from politicians. Next month, Futurography will expand on these questions by further exploring the role algorithms play in modern life more generally, and we hope you'll join us for the journey. Let us know if you have any questions that you'd like us to investigate or explain.
In the meantime, here are some of the other stories that had us weighing our drones:
Firefight: Arizona State University professor Stephen J. Pyne provided some much needed context to the Oregon standoff by exploring the history of fire management.
"Brain training": Lumosity, which claimed it could sharpen your mind with neuroscience-based video games, just settled deceptive-advertising charges with the Federal Trade Commission.
Racism: Though a racially focused dating site created an online furor this week, hardly anyone seems to actually be using it. Small victories!
Cyber(in)security: Lily Hay Newman rounded up the biggest, baddest hacks of 2015. Here's the short version: There were a lot of them, they were big, and they were bad.
Events:
Robots are starting to look suspiciously familiar, but how realistic do we really want them to be? Join Future Tense in Washington, D.C., on Wednesday, Jan. 20, at noon to explore the future of human-robot interaction. Lunch will be provided; bring your own robot. Click here to learn more.
Modifying the albedo,
Jacob Brogan
for Future Tense
---