Zach Clayton, 15, is the most famous person on a social network most people have never heard of. In the summer of 2014, Zach created an account on YouNow, an app where users can broadcast themselves live on video to a crowd of faceless viewers or else duck under an anonymous screen name and join the crowd. Zach chose the former, and soon he was broadcasting to the site every single day, sometimes for hours and hours at a time, first to a crowd of a dozen people, then a couple hundred, then 8,000. The moment he discovered YouNow, Zach told me recently, "everything started clicking."
Today 510,000 people follow Zach's YouNow handle @BruhItsZach. He can launch a broadcast with no warning and coax tens of thousands of people to check in on him within the space of an hour. A core group of supporters will stay glued to the feed until Zach shuts it down, then disperse across his other social media pages and wait for the next tweet or Snapchat or Instagram like to bubble to the surface. Zach's Round Rock, Texas, bedroom walls are papered over with handwritten notes sent through the P.O. box his family set up to handle the deluge of fan mail. Also arriving there are plush teddy bears, printed bucket hats, and at least one electric-blue thong. On Zach's official website, supporters can buy T-shirts that say "My Hero Wears a Bucket Hat" or signed posters of Zach striking a Tiger Beat pose. Through unofficial channels, they can read X-rated fan fiction with titles like BruhItsZach, Under the Sheets; Pregnant By Zach Clayton; and Zachs Toes.
When Zach's mother, Apryll Priest, first discovered that her teenage son was broadcasting live from his bedroom, "I kind of freaked out a little bit," she told me. "I was like any typical parent. I was scared that, like, pedophiles were watching him." Then she started watching the broadcasts for herself. "For most of his life, Zach struggled with being, you know, not liked well," Priest says. He was "severely ADHD"—energetic on the soccer field but unfocused at school and easy to push around the halls. But on YouNow, "people liked him for who he was. They liked him for being spastic and wild and funny and talking all the time." And even when the broadcast ended, "Zach had way better self-esteem. His whole outlook on life changed. He just turned into this totally different kid."
* * *
YouNow founder Adi Sideman had been tinkering in what he calls "the user-generated video space" for 15 years when everything started clicking for him. After getting a master's degree from New York University in interactive telecommunications, Sideman launched a series of entertaining but trivial Web games: "create your own car commercial, create your own ringtone, remix your own songs," stuff like that. But several years ago, he sensed that emerging technologies were tipping in his favor. "All of a sudden, everybody has a camera in their pocket. There's Wi-Fi everywhere. Social networks allow people to distribute their own content," Sideman says. "We were all becoming broadcast stations." He launched YouNow in 2011.
In theory, YouNow sounds a bit like Twitter's real-time video feature, Periscope. In practice, they're nothing alike. Periscope's tagline is "Explore the world through someone else's eyes"; it's named after a device that rises out of the darkness to take a look around. But on YouNow, you don't see what the broadcaster sees—you see the broadcaster himself. You click into a stream and stare into his eyes. YouNow's camera is always set, by default, to selfie mode. The whole site is designed to create personalities and foster fandoms around them. And its features are gamified to keep everyone's eyes glued to the screen. When a Periscope broadcast is launched, only the user's Twitter followers get a heads up. But YouNow broadcasts compete for the attention of the entire social network through a roiling leaderboard tacked to the side of the screen. When a Periscope user stops streaming, the screen goes black. When a YouNower signs off, her viewers are instantly pitched into a new stream, where a different broadcaster is challenged to charm the newcomers into sticking around.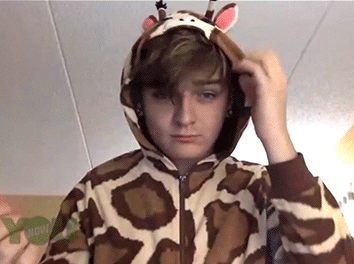 At first, nobody was paying too much attention. But in the summer of 2014, just as Zach was catching on, traffic to YouNow spiked from 10 million visits a month to 100 million. Now, YouNow says it records 150,000 broadcasts a day and 100 million user logins a month. According to its own internal stats, which we could not confirm, 74 percent of its users are under 24 and 56 percent of them are female. The average user spends 51 minutes on the site every day. There are no ads, but last year, YouNow launched a partnership program that allows for choice broadcasters to earn money through a series of cutesy processes built into YouNow's cartoonish monetary system: Viewers use real money to buy YouNow bars, which can be tossed into a broadcaster's virtual tip jar or spent on a suite of virtual "gifts," like a superpowerful thumbs up (which helps vault the broadcast up the leaderboard) or a piece of heart-shaped fan mail (it unfolds on screen with much animated fanfare).
Why would anyone pay money for this stuff? The more popular a broadcaster gets, the faster the comments pop up and fall off his screen and the harder it is for the lowly fam to be heard. (Broadcasters prefer the term fam over the traditional fan—they compare the broadcaster-viewer relationship to a close-knit family bond.) So it's tempting to splurge on some bars to get your chat comments rendered in bold type or your screen name shouted out in the middle of the screen, right in front of your idol's eyes. YouNow says $1.5 million passes through the site's tip jars every month and that it pays out over 50 percent of that to the partners who raised the money. (Zach's mom Priest confirms that Zach gets this cut, though she won't say how much he makes. A British YouNow star says she makes 1,500–2,000 pounds a month, and Sideman has said top earners have the potential to make up to $50,000 a year.) And that's not the only cash coming in: In October, investors gave YouNow $15 million in venture capital funding.
Elite YouNowers flex quick social reflexes, polished improv skills, a knack for summoning audience participation, and an ability to radiate compassion out to a vast, faceless crowd. Brand managers are already throwing free merch and endorsement deals at the platform's biggest stars—underwear sponsorships, Dairy Queen gift cards, "hoverboards." Hollywood talent scouts and reality TV casting directors are circling the platform a little more warily, wondering just exactly what this form of "star" could do in real-deal Hollywood. Sideman offers some suggestions: "Engage an audience, have a big fan base, be able to activate an audience, be interactive, provide great interactive entertainment. Basically, talk."
Everything happens faster on YouNow, including getting big. On a mature platform like YouTube, incumbents are too firmly entrenched at the top of the charts to be easily toppled by an upstart sensation. But on YouNow, "a person can start broadcasting and quite immediately get discovered," Sideman says. "It's almost like we're on hypertime." Zach is certainly moving at that speed. On a typical broadcast, Zach's voice dips in and out of exaggerated lisps and blaccents and Cockney dialects as his train of thought ricochets between inside jokes and non sequiturs and sincere expressions of supporter-love and self-conscious little asides and this one-line song he sings all of the time—all of the time—which goes, in its entirety, "let me suck your titties, babyyyyy!"
There are more where he came from. Last year, a handful of young men came upon YouNow almost by accident, pulled in from a friend's Instagram comment or enticed by a tweet ticking down a screen. Once they started broadcasting, they felt at home on the feed. As the guys climbed YouNow's leaderboard, one by one by one, they started crossing paths on social media, clicking into each others' streams, feeling out each others' vibes, and texting nonstop across the country. Last fall, five of them officially banded together as YouNow's first broadcasting squad. Joining Zach are Timmy Connors (17, a crooner of earnest pop covers with a lip ring and a pastel dye job—182,000 YouNow followers); Nick Bean (20, a dimpled North Carolinian who records topical rap tracks like his recent jam "Netflix & Chill"—361,000 followers); Edwin Burgos (17, an insatiably silly lip-syncer on broadcast and a master of the sad-centerfold look on Instagram—189,000 followers); and Rudan Custodio (21, expertly ripped, plays the ukulele—346,000 followers). Together they call themselves "5quad," and they're kind of like a boy band without the music. All the boys "have the good personality that everyone likes," Hannah, a 19-year-old supporter from Michigan, told me. "They're always happy, and if they're not happy, they make themselves happy," and that makes Hannah happy. "The 5quad guys can do anything," the group's talent manager, Herbert "Dooney" Battle, told me. "They could put out a CD and not sing. And people would buy it."
When Dooney first stumbled onto Zach's corner of the Internet last spring, he'd managed "influencers" like 6-year-old Vine jester Lil TerRio and discount-aisle dreamboat Alex From Target, but he'd never seen anything quite like the 14-year-old in the bucket hat. "His supporters are on another level. I can't even explain it," Dooney told me recently. Alex From Target, for instance, has seven times as many Twitter followers as Zach does. But when it comes to fan engagement—the number of RTs, likes, and comments the guys rack up, tweet for tweet—Zach's metrics blow Alex out of the water. Zach's fans are simply more obsessed. "All these kids are getting crazy impressions," Dooney says, and when they work together, "it's like the Power Rangers combining to become Megazord." Under Dooney's advisement, 5quad members have begun pacing their broadcasts throughout the day to avoid two members competing for the same crowd and to satisfy around-the-clock supporter interest. Now, when Timmy says goodbye to his viewers, they say hello to Rudan.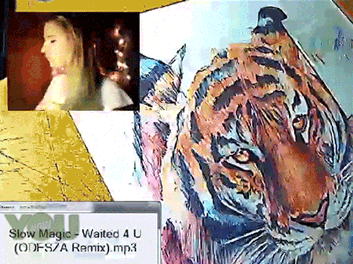 It's not just boys: YouNow accommodates a variety pack of talents. There's SnowMarite, a 21-year-old Latvian artist who draws fantastical nature scenes with brilliantly-colored ballpoints; Mr. Cashier, who started broadcasting from a Brooklyn bodega and now makes more online than he ever did behind the counter; and British singer-songwriter Emma McGann, who goes live to sing impromptu ditties for her fams, show off her pet pug, and counsel aspiring YouNow stars about how she got her start on the platform. (Even Zach's mom has gotten in on it: Her own channel, @BruhItsZachsMom, has amassed more than 96,000 followers, most of them 5quad fans looking for yet another digital outlet for obsessing over the guys.) "It doesn't matter how you get your following," 5quad's Custodio says. "Once you get it, you can do anything." Custodio believes YouNow has spun the old celebrity trajectory on its head. Like: "Right now, I'm not about trying to get cast in some movie," Custodio told me. "I'm about building my image. Because when you build an image, you get put in movies."
* * *
A YouNow broadcaster has yet to jump from the leaderboard to the Hollywood A-list. Social media stars borne of more established platforms are still busy building inroads to traditional media by way of book projects, live tours, and direct-to-digital features like the teen comedies Camp Takota (featuring YouTube comediennes Grace Helbig and Hanna Hart) and Expelled (a vehicle for Vine heartthrob Cameron Dallas). Reality television is more welcoming: The Amazing Race cast its latest season with 22 social media stars, and America's Got Talent is now holding some auditions directly on YouNow. Last week, the group released its first EP, Trenz, directly through Dooney. My personal favorite of the three heavily processed hip-hop tracks is the techno-farce "Wifi Wifey," which begins: "Do you double-tap like me?/ When I'm on the road you can Skype me/ I'll follow if you follow me back/ You my wifi wifey." It's not a mainstream hit, but the fams are loving it.
The real potential in YouNow celebrity is not that broadcasters will become movie stars some day—it's that social media broadcasting will soon subsume film as the world's trustiest star-making vehicle. Last year, Variety surveyed a set of 1,500 American teenagers and asked them to rate a raft of Hollywood and social media stars on various markers of influence. The top five slots went to Smosh, the Fine Bros., PewDiePie, KSA, and Ryan Higa—all YouTube vloggers or duos. Like a mini-Hollywood, YouNow even feeds its own little tabloid machine. The anonymous gossip Twitter account @YouNowConfessed publishes provocations like "Zach is so Hollywood now" and "5quad has a lot of drama tbh," while a 5quad fan news feed tracks the boys' online movements, alerting followers to developments like "Zach was on Instagram 18 minutes ago" and "Edwin's popping into DMs." Encountering a squad member in the flesh is the ultimate thrill. Last month, one fan followed 5quad's social media down to the Santa Monica pier, jumped into Conners' opened arms, wrapped all four limbs around his trunk, and stayed suspended there for 15 seconds.
"He'll lose some followers," says Priest, "if he's not being as entertaining as the night before."
The 5quad boys are among the first YouNow personalities to ascend to DigiTour's talent roster, and DigiTour co-founder Rojas recognizes that YouNow celebrity is a slightly different animal than previous micro-waves of social media star. YouNow fan engagement is "deeper, richer, faster, and stickier" than other fandoms, Rojas says. A YouTube vlogger can plot and plan and edit and reshoot, but a YouNow broadcaster has to "just free fall into the moment," Custodio says. "Some days I'll be talking to 7,000 viewers at once, watching the comments fly by at 100 lines a minute, and I'll still have to make everyone feel like they're talking just to me."
Since making it big, 5quad's teen contingent has opted out of IRL high school and started taking virtual courses online. Custodio dropped out of college when he was forced to "choose between going to my final exams and going live." Once he found YouNow, "I stopped talking to my real-life friends," Custodio says. "I don't really have 'real-life friends' at this point." Last year, Zach quit his soccer club and abandoned his childhood dream of going pro. "YouNow is his job now," Zach's mom Priest says. "At this point, it's not something that's just for fun. He knows that at a certain time of the night, it's his turn to get on and work." Last year, Zach apologized to supporters for failing to broadcast on Christmas Day. "I promise, from now on, I'm gonna go live a lot more," he pledged to fans after another broadcasting blip in June. "I've been super busy and stressed lately which is not an excuse."
"When I first started YouNow, it was like a game to me," Zach says. "When I was just going on to have fun, I could miss a day or two of a broadcast. Now, I have to go on every day. If I miss a day, people get mad at me."