World AIDS Day is, like other world disease days, a publicity gambit that has a distinctly absurd pageantry. But there is substance beyond candlelight vigils, a red ribbon hung from the White House portico, and proclamations from politicians and public health officials. Most tangibly, each World AIDS Day, held annually on Dec. 1, broadcasts official updates about the damage caused by HIV, which at last count had infected 78 million people since the epidemic surfaced in 1981 and had killed half of them. And beginning in 2012, World AIDS Day began to trumpet a new possibility that a few years earlier would have seemed preposterous, even delusional: ending the epidemic.
A growing number of locales on this World AIDS Day can rightly claim to have made important steps toward ending their epidemics. Key to this progress is the recent evidence that treatment is prevention: Anti-HIV drugs can reduce the virus to such low levels in appropriately treated people that they rarely infect others, whether it be through sex, mother-to-child transmission, or even sharing needles. Pre-exposure prophylaxis, or PrEP, protects uninfected people with the same drugs. San Francisco and New York state both have explicit plans to end their epidemics by more aggressively exploiting treatment as prevention and PrEP in concert with staples such as condom promotion, education, clean needle provision, and behavior change.
To retain its epidemic status, AIDS requires that each infected person spread the virus to at least one other. If interventions can reduce transmissions such that, say, only 75 percent of people with HIV infect someone else, an epidemic will sputter and, eventually, stop. But for millions of people, a great distance separates the aspiration to end AIDS from the achievement of that goal.
Consider the recent fate of Oscar Villareal, one of two dozen people photographer Malcolm Linton and I followed for two years in our new book, Tomorrow Is a Long Time: Tijuana's Unchecked HIV/AIDS Epidemic. (UCTV produced a companion four-part video series.)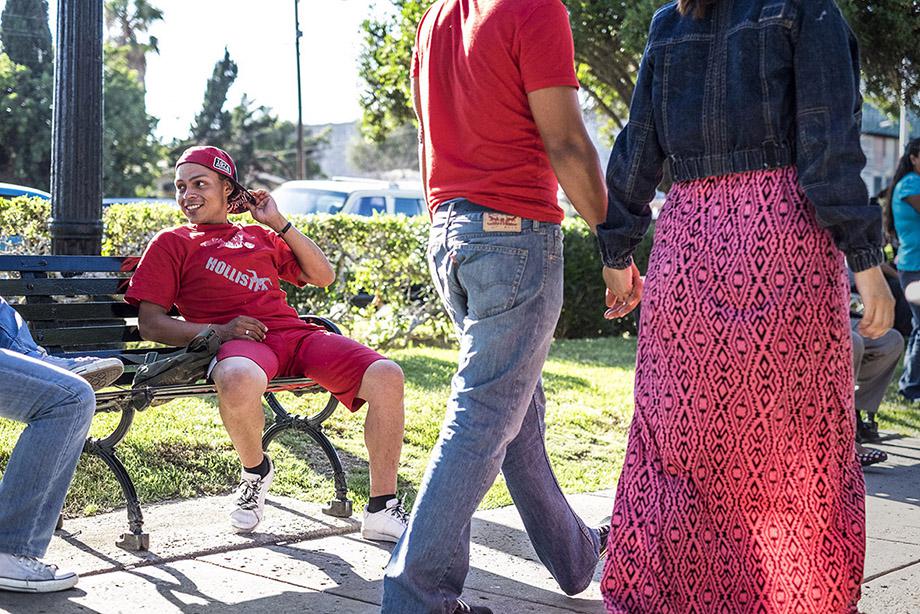 In the summer of 2014, Oscar, 28, earned his living as a sex worker in Tijuana, the Mexican border town that abuts San Diego. During the day Oscar was Beto, a gay man who cruised the park. At night he became a transgender woman, Alessandra, Alé for short, who worked the clubs and the streets in the red-light district known as the Zona Norte. "Alé makes more money than Beto," Oscar said, adding that the life he shared with his two alter egos was "very balanced."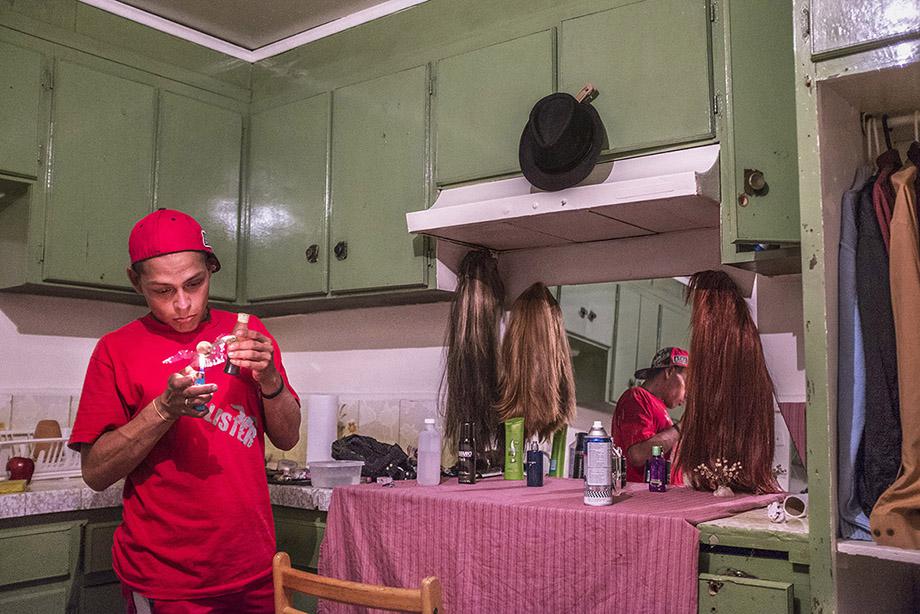 Oscar lived in Tijuana as a young child but moved to Wisconsin at age 8 on a visa with his aunt and a sister. "I went supposedly to go to school, but then I ended up working, and I liked the money, so I forgot about school," he said. A Greek restaurant hired him as a dishwasher when he was 12, and his aunt could not persuade him to continue with his studies. "I was young and hardheaded. I regret that now." The restaurant owners treated him like one of their own children, he said, eventually promoting him to crew leader.
Oscar married and had a son, entertained as a female impersonator, and bought a new Ford Focus. "Over there, I used to do cocaine, because I was making a lot of money," he said. Then in 2010 he had a car accident. He had no license or insurance, which led to his arrest and the discovery that his visa had expired. After six months at a detention center run by the U.S. Immigration and Customs Enforcement, a judge granted Oscar a "voluntary departure," which meant he would leave the United States but not be barred from re-entering.  
Oscar returned to Tijuana without his family, and he started to smoke crystal methamphetamine, a powerful aphrodisiac used by many sex workers.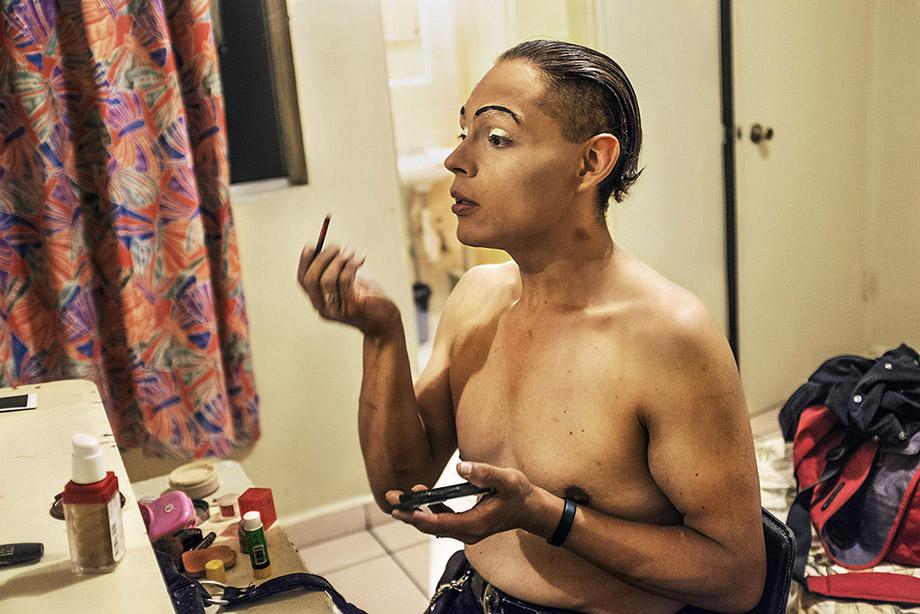 Oscar had his first HIV test in Wisconsin when he was 18. He was negative. When he took another test on Tijuana's Gay Pride Day in 2013, he was still uninfected.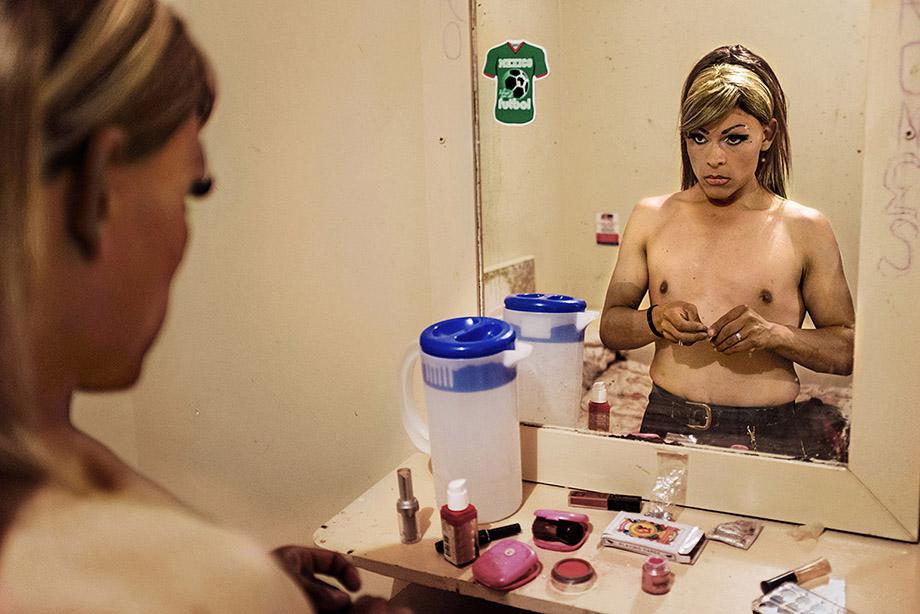 Gay men and transgender women have the highest HIV infection rates of any group in Tijuana. Selling sex further increases risk, as does smoking crystal meth. "Alé gets horny and crazy and wild," said Oscar.
A meta-analysis in 2008 that looked at 25 studies of transgender women in 14 countries found an HIV prevalence of 27.3 percent in those who sold sex and 14.7 percent in those who did not. The overall estimated prevalence of HIV in Tijuana adults is 0.6 percent, about the same as in the United States.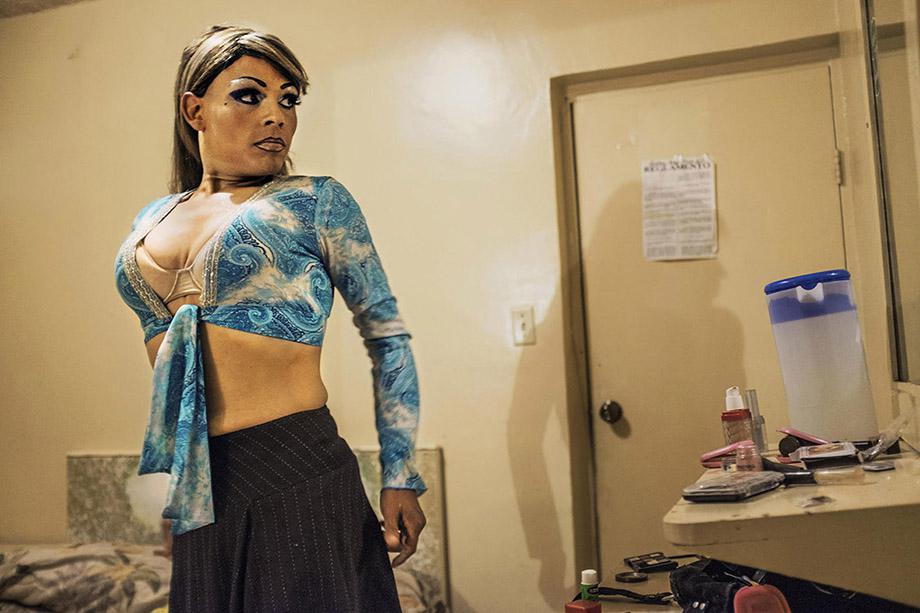 Oscar said Alé scared him: "Alé gets whatever she wants. She is a very spoiled girl. She's a very dangerous girl. She is very, very strong. She is my boss. I listen to her sometimes. And Oscar, he is kind of like Alé but more mellow, not that aggressive."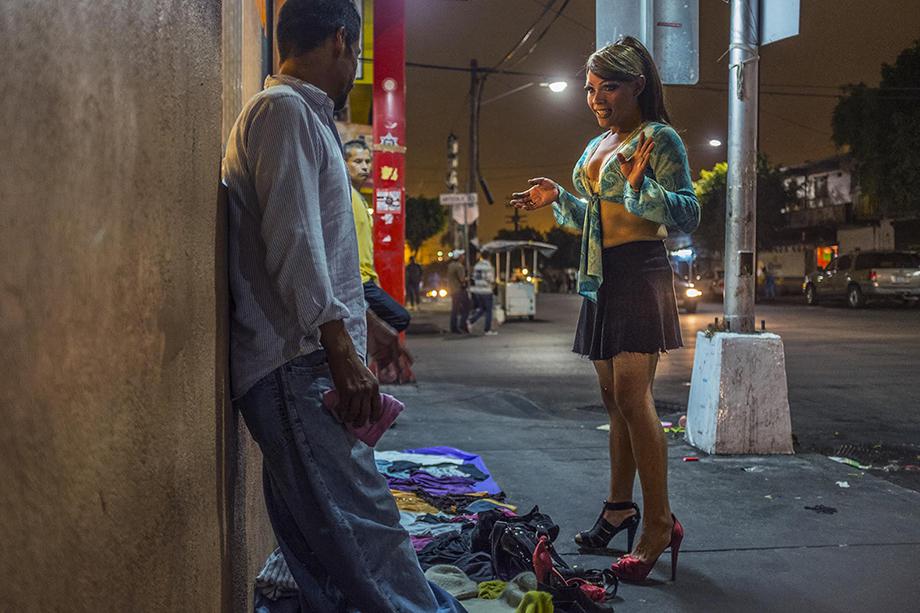 When Oscar was a boy, he regularly returned to Tijuana to see his mother, and he had his first sexual experience there when he was 10. "I was on the streets most of the time playing around, and there were a lot of old guys," he remembered. "They'd say, 'Play with my thing, and I'll give you a candy.' " Back in Wisconsin, he continued to trade sex with older men for treats and money. "It was normal to me."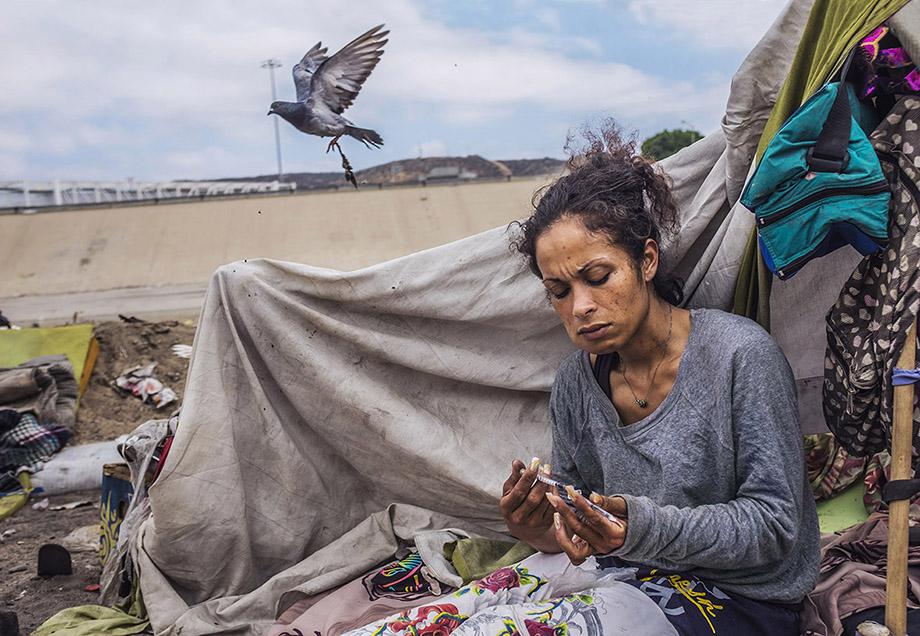 Oscar was appalled that so many deportees, like onetime gang member from Los Angeles Lesly Zulema Sanchez, ended up living in the Tijuana River Canal. "I think those people are nuts," said Oscar. "Sometimes people ask me for a coin or whatever, and they say, 'Oh, I'm deported.' I'm like, I'm deported, too, and I try to survive in a different way."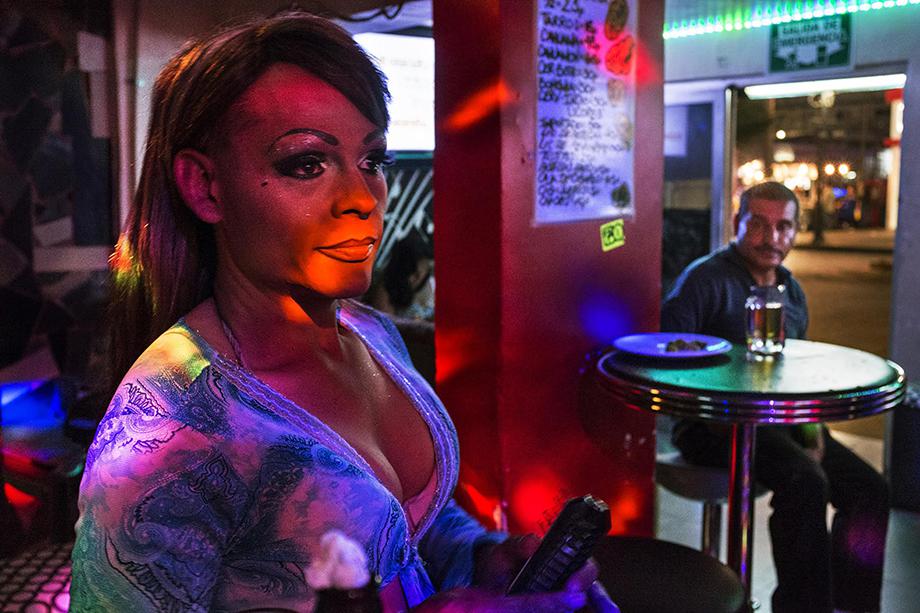 Oscar said Alé mainly had U.S. clients. "They confuse me because they want Alé, but then they want Alé to behave like Oscar. I don't like that. Why? Why do they do that?"
Often, Oscar explained, the clients wanted Alé to be the insertive partner. "That's strange, weird. It bothers me when I'm Alé and they try to touch Beto's things. I don't like that. They're supposed to be locked in a safe."
Male-to-female transgender people often have male clients who like to receive anal sex but do not identify themselves as gay. In their minds, there is no stigma if they are having sex with a woman, even if she has a penis.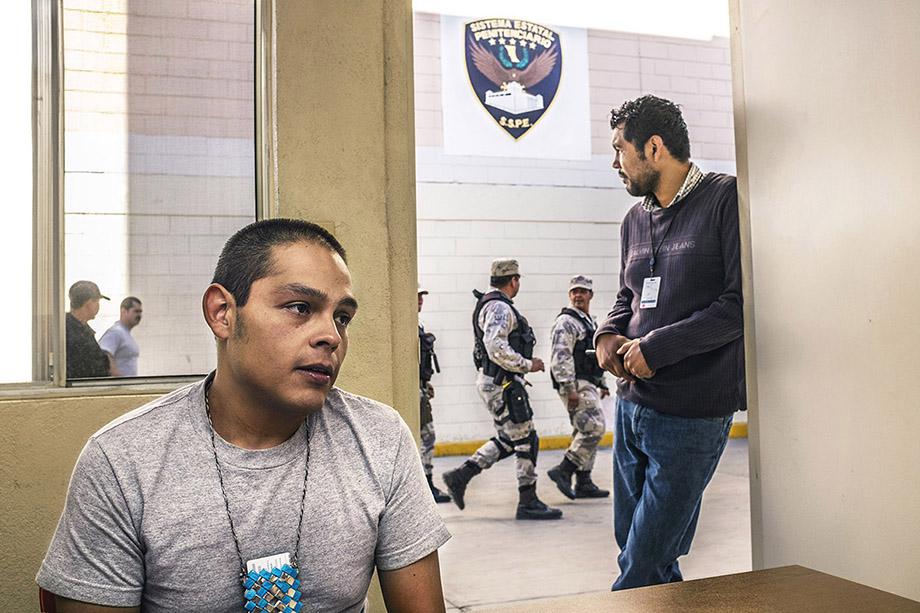 In September 2014, the police arrested Oscar, who was coming out of a weeklong meth binge. A search allegedly found that he was carrying half a kilo of crystal meth, and he was locked up at Tijuana's La Mesa prison, which houses 6,000 inmates. "The police put the drug on me," he said. "With no witnesses, my lawyer said I'm going to get five years."
Centro de Servicios, a nongovernmental organization commonly referred to as SER, is the main HIV prevention program in Tijuana that serves gay men and transgender women. Its staff regularly visits La Mesa prison to conduct rapid tests for the virus and to educate inmates about how to protect themselves. SER's Kristian Salas tested Oscar and found that he was positive.
The prison moved Oscar to a cell with six other HIV-infected inmates, who received double helpings of food. "Kristian told me I shouldn't be sad," said Oscar. "He told me it was like diabetes, and people don't die as long as they take the medication. I'm not sure about that. Only time will tell me the truth."
In February, when we last checked in with Oscar, he was still in prison and said his CD4 white blood cells—HIV's main target—numbered 353 per microliter of blood. (Normal CD4 counts range from 600 to 1,200.) He complained that he was not yet receiving antiretrovirals. Mexico's guidelines call for treating all HIV-infected people, regardless of their CD4 counts.
* * *
Tijuana as a whole does not have a particularly severe HIV/AIDS problem—especially considering the other health issues it faces. In Tijuana, as in the United States and much of the world outside of sub-Saharan Africa, the virus primarily has made headway in "high-risk" groups, creating what scientists call a "micro hyperepidemic." This limited spread makes places like Tijuana especially amenable to ending AIDS. It is far more difficult to launch treatment and prevention campaigns for a general population than it is to target smaller and interconnected communities of transgender women, gay men, sex workers, and people who inject drugs, the main groups infected with HIV in Tijuana.
Logically, places like Tijuana would be at the top of the list for campaigns to ending AIDS epidemics. But no coordinated effort exists in Tijuana to test people at the highest risk, the cornerstone of any such effort. When people do test negative, they are not offered PrEP. And for those who are infected, a recent study found that only 3.7 percent were receiving anti-HIV drugs. Treatment as prevention doesn't have a hope if it's not used.
The reasons why Tijuana has not jumped on the ending AIDS bandwagon reach far beyond the problem of limited resources—and they are common to other places that have similarly scaled, easier-to-contain micro hyperepidemics. There are two essential obstacles, and they overlap. First, there is no strong leadership. This in part reflects the reality that the communities most affected by HIV have weak political muscle: Tijuana has no advocacy movement loudly chanting in front of government buildings on behalf of gay men, transgender women, drug users, and sex workers. And the rampant stigma and discrimination these groups face is compounded because many are deportees from the United States or migrants from Central America, most are poor, and some are homeless.
In September, the World Health Organization issued guidelines that for the first time recommended treating all HIV-infected people in the world with antiretroviral drugs and offering PrEP to everyone at "substantial risk" of becoming infected. The guidelines explicitly state that if countries adopt these recommendations, they will contribute to "ending the AIDS epidemic as a major public health threat by 2030." This is a glorious vision that on this World AIDS Day surely will receive more rah-rahism than ever before.
But despite all the progress that's being made, Oscar Villareal's story is not an anomaly. An estimated 2 million people became infected with HIV in 2014. And hardly any of them lived in Tijuana.