On Tuesday, T-Mobile announced at its 10th "Uncarrier" event in Los Angeles that it will stop counting video streaming from certain services against customers' monthly data allotments. Starting on Nov. 15 for new customers and Nov. 19 for existing customers, T-Mobile users with 3GB data plans or higher will be able to do unlimited mobile streaming from more than 20 services like Netflix, HBO GO/NOW, Hulu, and VUDU.* If this isn't living the dream, what is?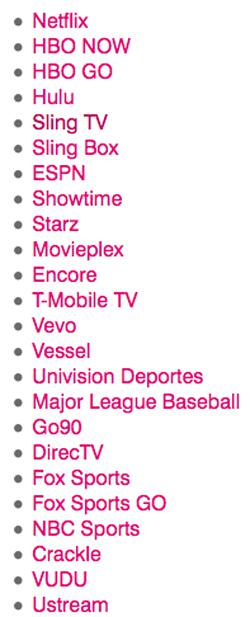 T-Mobile is calling the program Binge On. It builds off of the carrier's Music Freedom initiative, which launched in June 2014 with a similar setup for unlimited music streaming.
Unlimited video streaming without data overages sounds like everything everyone has ever wanted. So what are the downsides? First of all, Binge On only streams at "DVD-quality," otherwise known as 480p. It may not be a total dealbreaker, but high-definition 720p or 1080p have been standard for a long time on 4G LTE. And these days you can actually see the difference on most smartphone screens. If you're eating up your data allotment (or you're on Wi-Fi) you can stream at whatever resolution you want, but if you have Binge On enabled you'll be stuck at 480p.

The other problem has to do with the structure of these types of arrangements. As with Music Freedom, Binge On puts T-Mobile in the position to choose which video streaming services get priority in the marketplace. T-Mobile customers will get nudged toward the services on the list. This is a net neutrality issue that could affect small or up-and-coming services. It can also exclude services that are already popular. For example, YouTube and YouTube Red aren't on the Binge On list right now.

T-Mobile seems prepared for this criticism. The company says, "If your go-to video streaming service isn't part of the program yet, tweet us your favorite service @TMobile, along with the hashtag #BingeOn. If they meet our requirements, we'll investigate the feasibility of adding them." And just to emphasize that this isn't paid prioritization, T-Mobile adds, "No one pays to join and no money is exchanged."

It's certainly better than an arrangement where streaming companies have to buy in, but it's still a situation in which a carrier (the mobile version of an Internet service provider) is incentivizing customers to use some services over others. The moral argument probably won't keep you from marathoning Narcos on your commute, though.
Correction, Nov. 10, 2015, 8:15 p.m.: This post originally misstated that Binge On will be available to all T-Mobile customers on Nov. 15. It will become available for new customers on that day, and to existing customers on Nov. 19.