Sunday night's sunset in New York City was a showstopper. What? You missed it?! Well, you're in luck: Three enterprising Pennsylvania meteorologists want to make sure nothing like that ever happens again.
Enter: SunsetWx. The project is still very much a work in progress—it just launched last week—but it appears to be the first systematic attempt at a rigorous, meteorologically based daily sunset quality forecast coast to coast. Here was its forecast for Sunday night, for example, issued just after 2 p.m.:
Bull's-eye, New York City. Lo and behold, about three hours later, the sky over Manhattan lit up like the Fourth of July—leading to a surge of activity on social media:
Within a few minutes, #sunset and #nofilter started trending in the New York City area … instantly making it even less cool to post brilliantly hued sky shots. In an ideal world, you'd have known this rapturous event was coming, and watched it with your own eyes, not on your Instagram feed.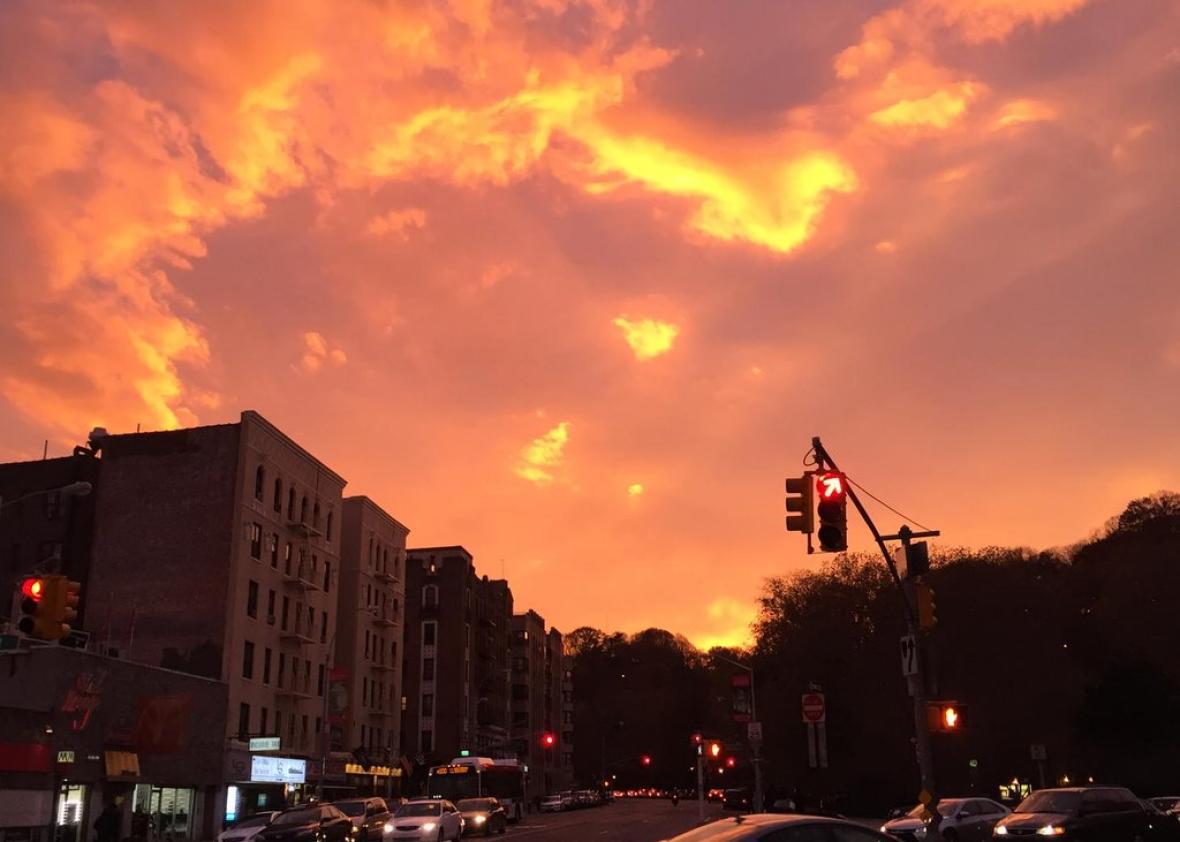 The team behind SunsetWx has already published a thorough methodology of its algorithm and a case study of successfully predicted "vivid" sunsets its first day of forecasting last week. Basically, the model blends high-resolution forecasts of humidity, pressure changes, and clouds at various levels of the atmosphere, weighting wispy upper-level clouds the strongest and penalizing for thick, low-level clouds or average clear sky evenings.
These days, in a world where you can get the temperature and rainfall outlook with a swipe of the lock screen on your phone, it seems that true weather aficionados are keen to, as co-founder Steve Hallett says, "bond with the forecast." I think anything like this that encourages people to step away from technology for a second for an unplanned trip outdoors is a victory. "We take it for granted sometimes that we have nature and weather around us," said co-founder Jacob DeFlitch. "This, hopefully, will help people to go out and see for themselves."