Getting countries to agree to legally binding emissions cuts is famously difficult. Getting them to invest in technologies that could lead to emissions cuts, it seems, is a little easier—especially when tech titans are lining up to join them.
President Obama, French President François Hollande, and Microsoft founder Bill Gates kicked off this week's Paris climate talks with a pair of announcements that should fuel an unprecedented boom in clean energy investment over the next five years.
The first, called Mission Innovation, is a pact among 20 governments, including the United States, to double their spending on research and development of clean energy technologies by 2020. That figures to amount to an extra $20 billion for the kind of basic scientific research that could lead to new ways to collect and store renewable energy, including solar and wind power. The United States alone will ramp up its annual spending from $5 billion to $10 billion. Also on board are China, India, Brazil, Indonesia, and Saudi Arabia, among others—countries that have historically come into the climate talks with a very different agenda than their wealthier counterparts.
At the same time, Gates is spearheading something called the Breakthrough Energy Coalition, a group of 28 private investors who will commit various amounts of their respective fortunes to clean energy ventures, provided the governments follow through on their promises. Gates is personally pledging to invest $1 billion, while others have not yet announced the size of their contributions. Among the tech magnates participating are Facebook's Mark Zuckerberg, Amazon's Jeff Bezos, Virgin's Richard Branson, Alibaba's Jack Ma, Hewlett-Packard Enterprise's Meg Whitman, LinkedIn's Reid Hoffman, and SalesForce's Marc Benioff. More are expected to sign on in the days to come.
Gates' leadership here is significant. He and his wife, Melinda Gates, have built the world's largest private foundation, and they've dedicated their efforts in developing countries to fighting poverty and disease. Perhaps belatedly, Gates appears to be recognizing that climate change could undo all of that good work.
The good news is that once Gates tackles a problem in earnest, he doesn't just throw money at it. He uses money as a lever to bring about broader changes. That appears to be the case here, too. An Obama adviser told Mashable's Andrew Freedman that Gates was the "intellectual architect" of the private-sector effort on clean energy. On Monday, he explained his thinking in a paper called "Energy Innovation: Why We Need It and How to Get It" (PDF).
Gates places his clean energy goals in the context of the broader fight against global poverty. The world will need more energy than ever in the coming decades, he argues, as the poor aspire to a higher standard of living. But unless that energy gets cleaner, cheaper, and more efficient, the pollution it produces will change the climate irreparably. And poor countries will be among the first to bear the costs. 
Gates' charitable efforts in some fields, including U.S. education, have been criticized by some as naïve and misguided. (Zuckerberg, too, has misfired on education funding.) But his technocratic approach could be a breath of fresh air in the climate battle, which is too often viewed as a zero-sum conflict: between energy producers and environmentalists, government regulators and private industry, rich countries and poor countries.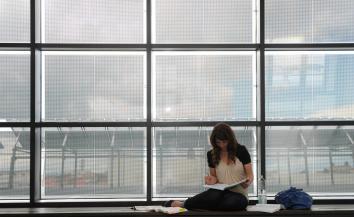 Clean energy investment, Gates rightly points out, is not zero-sum. For instance, the U.S. Department of Energy spent $17.5 billion on research between 1978 and 2000, and realized $41 billion in benefits. Yet Gates argues convincingly that both the government and the private sector have been underinvesting in energy research, because innovations in the energy sector take a long time to pay off. U.S. tech and pharmaceutical companies invest 15 to 20 percent of their revenues on R&D, Gates' paper reports. For energy companies, that figure is a paltry 0.4 percent. Likewise, a smaller share of government spending on energy goes to R&D than does government spending on the military or health care.
The types of technologies Gates has in mind are not your everyday photovoltaic solar panels or wind turbines. Rather, he's looking at cutting-edge ideas such as solar paint and flow batteries. They might be years or even decades off, and maybe they'll never work. But if they do, the payoff could be great.
This is not the first time a bunch of tech tycoons have gotten excited about renewable energy. With help from government subsidies, Silicon Valley fueled a cleantech boom between about 2007 and 2012, which led to a few big hits—think Tesla and SolarCity—but a lot of high-profile busts (like Solyndra). Two of the investors in Gates' coalition, John Doerr and Vinod Khosla, were among the principal figures in that first boom and bust. The lesson they took away is not that clean tech is a waste of money. The lesson is that it's foolish to expect the sort of instant mega-returns on capital that Silicon Valley investors can get from, say, social-media startups.
This time around, the tech investors' motivations are more explicitly altruistic. "Our primary goal with the Coalition is as much to accelerate progress on clean energy as it is to make a profit," Gates writes. The idea is to take a longer view, helping new ideas to bridge the "valley of death" between the lab and commercial viability. That seems like a wiser approach than pumping dubious startups full of cash and then expecting them to show Y Combinator–style growth within a few years.
As encouraging as the new initiatives are, $20-plus billion really does feel more like a "first step" than a grand solution to the problem of clean energy funding. Fortunately, Gates has a track record of following up and building on his charitable efforts over time. Let's hope his Silicon Valley friends follow suit after the excitement of the Paris announcement has passed.