Yahoo's stock is down more than 4 percent today after the company disappointed for third-quarter earnings on Tuesday. That's nothing new. Yahoo shares have lost more than 25 percent over the last year and tumbled 38 percent since Jan. 1. Among Yahoo's woes: Its stake in Chinese e-commerce giant Alibaba has shrunk in value alongside a dramatic slump in Alibaba's stock price, and its tax-free spinoff plans of said stake failed to get explicit approval from the Internal Revenue Service. In the latest quarter, Yahoo missed expectations on both profit and revenue and said that it was lowering revenue guidance for the coming one.
But on one point Yahoo chief executive Marissa Mayer is explicitly "optimistic"—a new search deal with Google. Mayer announced Tuesday that the company had signed a three-year contract with Google to "bolster our search capabilities." The nonexclusive partnership is designed to supplement one that Yahoo already has with Microsoft and is subject to a voluntary regulatory review by the Department of Justice. "Overall, we remain optimistic about growth opportunities in search," Mayer said on the post-earnings conference call. "We believe that by establishing partnerships with both leaders in the search space, we can achieve a competitive search dynamic that will provide a better experience for our users and advertisers and will improve our monetization."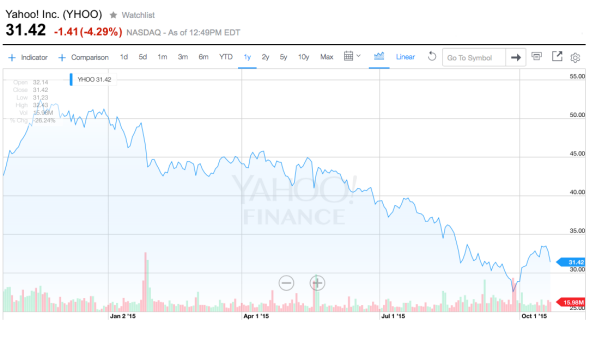 Yahoo is the third-largest desktop search engine in the United States. As of August, Google sites were first with a 63.8 percent market share, then Microsoft sites with 20.4 percent, and then Yahoo with 12.7 percent, according to digital analytics firm comScore. Yahoo is especially bullish on the Gemini platform for mobile search and native advertising it rolled out in February 2014. In the third quarter, native advertising on Gemini grew 90 percent year over year. "The Yahoo Gemini platform is really where we want to invest, particularly on mobile in new formats, new ideas," Mayer said. "I think you should expect to see a lot of our mobile traffic move to Yahoo Gemini."
In the meantime, Google will help them figure some things out.