Microsoft was founded in 1975. It was called Microsoft because it was a software company. It didn't make computers—it made the stuff that made computers run.
That approach served Microsoft brilliantly for decades. But the company's fortunes flagged in the 2000s when computing began to move off of the PC and onto the Internet—and, at roughly the same time, off of the desktop and into our pockets. Google and Facebook conquered the Internet. Apple conquered the pocket. And Microsoft still hasn't caught up. But it might be starting to.
On Tuesday, Microsoft held an event in New York City that could be remembered as a turning point in its history. Three years after it introduced the Surface tablet, two years after it bought a smartphone company, and one year after it introduced the Band smartwatch, Microsoft unveiled a full range of new devices that included all of the above. It also showed off the futuristic HoloLens augmented-reality headset, a developer version of which is due out in early 2016. Oh, and one more thing: its first-ever laptop, the surprising Microsoft Surface Book.
Microsoft, it's clear, is no longer just a software company—it's a computer company. It now offers devices in almost every category Apple does, plus a few more to which Apple has no answer: the Xbox, the HoloLens, and the giant Surface Hub. More importantly, they're all serious efforts with legitimate selling points beyond the mere fact that they run Windows. (To some that's a selling point; to others it's a mark against them.)
Here's what's new:
Surface Book
The headliner is the laptop, which Microsoft is positioning as a more powerful and more versatile rival to the MacBook Pro. If the Surface tablet is a tablet that can double as a laptop, the Surface Book is its mirror image: a laptop that you can use like a tablet. Its 13.5-inch screen is touch-sensitive, responsive to finger and pen alike. The display unit, which includes the processor, is attached to the keyboard unit by an ingenious hinge that locks them together—until you press a button, and then it pops off and becomes a stand-alone tablet, albeit a pretty basic one. (The batteries will work for only three hours before you have to reattach it.) Microsoft calls it a "clipboard." It's also reversible: Attach the screen backward, fold it over, and you can carry the whole computer around like a tablet and draw on the top of it. The company calls this "canvas" mode.
Microsoft claims the Surface Book is the "thinnest, most powerful PC" and twice as powerful as a MacBook Pro. I have a feeling Apple will dispute that assertion, but the specs are impressive: It weighs a hair less than the 13-inch MacBook Pro, has a higher-density resolution, and starts at $1,500, which is comparable to the midrange 13-inch MacBook Pro rather than the top-of-the-line version.
Whether the Surface Book proves to be as elegant and easy to use as the MacBook, time will tell. It does feel both sturdy and light, if a little industrial. But it's demonstrably more versatile, and it's a fascinating idea that Microsoft will likely improve upon over time. It looks like a worthy showcase for Windows 10 and a challenge to PC makers to raise their standards—or risk losing business to their longtime software partner.
Surface Pro 4
The Surface tablet was Microsoft's first big foray into mobile computing, and it has come the furthest. A curiosity when it launched in 2012, it has evolved into the computer of choice for people who want a tablet that doubles as a PC. It now has a serious challenger in the iPad Pro, but the Surface keeps getting better, too.
The newest one, unveiled Tuesday, is thinner, lighter, and faster than its able predecessor, even as it sports a slightly larger, 12.3-inch screen. As I detailed in my review of Windows 10, it's perfect for Microsoft's new operating system, which can sense whether you have the keypad attached and switch between tablet mode and PC mode accordingly. It's compatible with an improved Surface Pen stylus, which stays a step ahead of the Apple Pencil by adding an eraser—and a magnet that binds it to the side of the screen when you're not using it. And it works with a new docking station, which for $200 will give you all the connectors you'd expect from a desktop PC—two 4k display ports, four USB 3.0 ports, and an Ethernet port—without bulking up the tablet itself. Microsoft claims its new tablet is "50 percent faster than MacBook Air," which sounds impressive if true, although the MacBook Air doesn't set a particularly high bar for performance.
The Surface has always been a nice piece of hardware, but it's been held back by, of all things, clunky software. That finally changes with Windows 10, which is relatively friendly and intuitive in both tablet and desktop mode.
You know a company is feeling good about a device when it stops touting the basic specs and starts talking about the tactile joy of interacting with it. That's where Microsoft is with the Surface Pro 4, whose biggest improvements over the Surface Pro 3 are under the hood and aimed at making the user experience more "magical," in the words of CEO Satya Nadella. As Apple fans are well-aware, that sort of verbiage also happens to be a pretty good indicator that said device is going to sell for a premium. The Surface Pro 4 nominally starts at $899, but that's without a keyboard, or the fast processor, or any of the other goodies that make the Surface a viable PC. Realistically, it's going to run you well over $1,000 and will top $1,500 fully loaded. So, yes, it had better replace your PC.
Lumia 950 and 950XL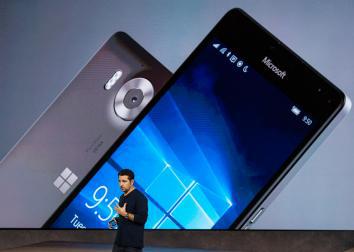 Don't call them Nokias. Don't call them Windows Phones. Microsoft's flagship smartphones are now simply Lumias, and the latest are the 5.2-inch Lumia 950 and the 5.7-inch Lumia 950XL. iPhone killers, these probably aren't: Microsoft's phone business is still regrouping from the fallout of the failed Nokia acquisition. But they do have some nifty features, including the sort of ultra-high-performance camera on which the Lumia brand was built. (The rear-facing camera is 20 megapixels.)
They also have "tablet-grade" liquid cooling and are built to be powerful enough to function as PCs in their own right. No kidding: Link them to a wireless monitor, keyboard, and mouse, and you can use the Lumia in Windows 10's desktop mode, just like you can with the Surface tablet. Microsoft's Panos Panay demonstrated this surprising capability at the launch event Tuesday, and the audience seemed suitably impressed, if a bit nonplussed. How often do you find yourself with access to a monitor, keyboard, and mouse, but not an actual computer? The Lumias start at $550 and will be available in November.
Microsoft Band 2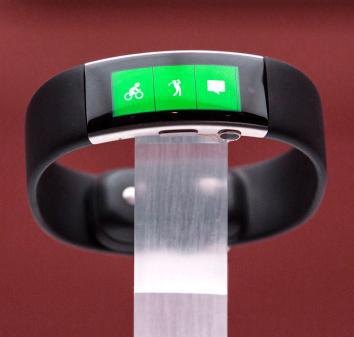 Microsoft's bid for your wrist is geared toward fitness and health applications, but it also has some basic smartwatch capabilities. The new one is prettier than the original, with a curved screen and a sleeker profile. (It couldn't have gotten much less sleek.) For fitness nerds, the Band 2 will also use your heart rate and some fancy math to estimate your V02 max, a measure of your capacity for oxygen consumption. At this point it feels like a bit of a half-baked hybrid between a fitness band and a smartwatch, and at $250 it isn't much of a bargain. Still, Gizmodo's Darren Orf argues convincingly that it has potential thanks to its 11 sensors, which include a barometer.
In the long run, the success of Microsoft's wearables will hinge on that of Cortana, its Siri-like personal-assistant software. Even if the Band 2 doesn't stand out from its rivals on features, it could succeed among Windows 10 users as a sort of remote control for their other mobile devices. But that will only happen if Microsoft's tablets and phones make much greater inroads in the consumer market.
A year or two ago, that seemed like a long shot. Today, Apple and Google might be feeling a little less comfortable.