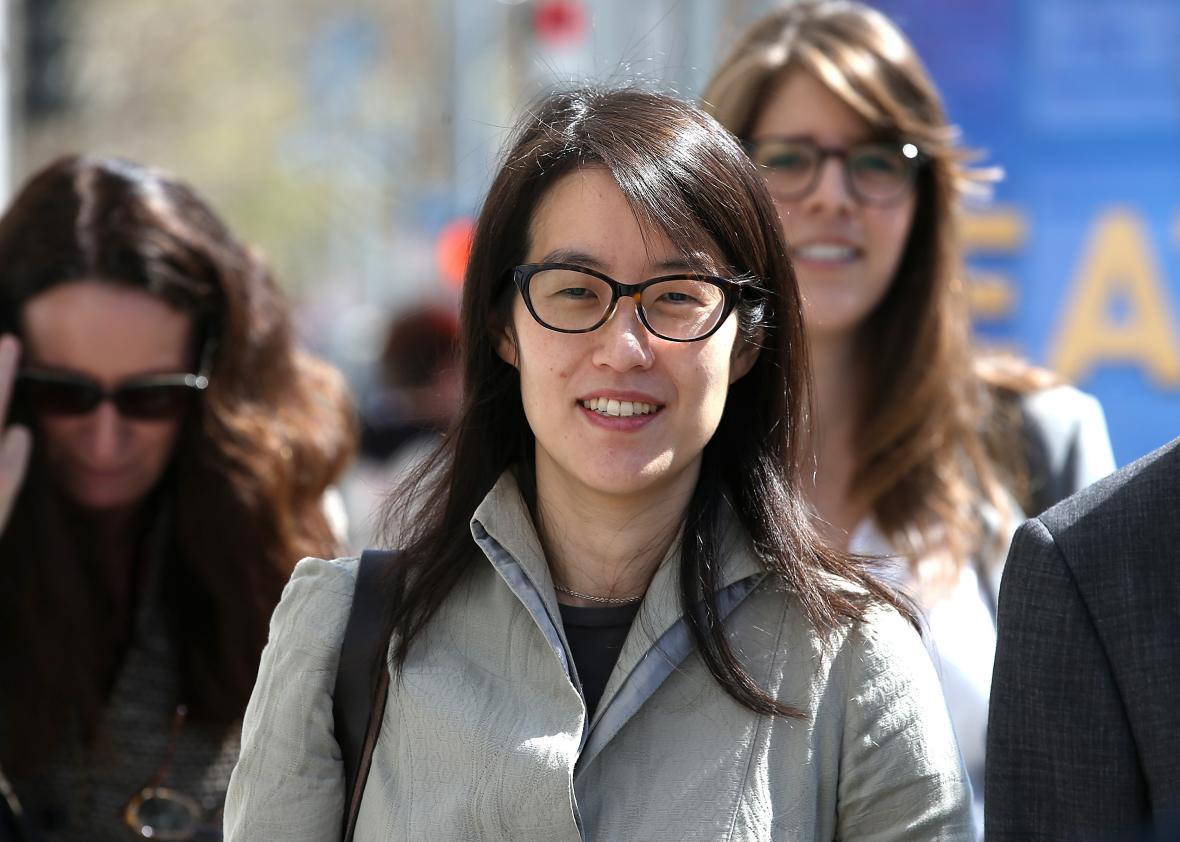 Ellen Pao, the woman behind the high-profile gender discrimination lawsuit against venture capital firm Kleiner Perkins Caufield & Byers, has decided not to appeal. "I cannot afford the risk of even more costs to fight against a firm with tremendous financial resources and massive legal and PR armies," Pao said in a statement Thursday. "It is time to move on. I look forward to continuing the conversation about workplace equality and to building great companies in the technology industry."
Pao lost her case in March after a five-week trial, with the jury ultimately finding in favor of Kleiner Perkins on all counts. The contentious suit, in which Pao alleged that Kleiner Perkins denied her senior roles on the basis of gender and tolerated a work environment that was toxic for women, was closely watched in Silicon Valley, where diversity in just about all respects is a perennially touchy subject. After the decision came down, Kleiner Perkins reportedly offered to waive the $1 million or so in legal fees Pao owed for its defense efforts if she didn't appeal. But in June, Pao filed a notice of appeal in San Francisco court.
In a post written exclusively for Re/code, Pao says the cards were always against her. "From the first day of trial, I saw how hard it was going to be to win when every potential juror who expressed a belief that sexism exists in tech—a belief that is widely recognized and documented—was not allowed to serve on the trial," she writes. Pao emphasizes in her statement that she did not reach a settlement with Kleiner Perkins. "Settlement might have provided me with financial benefits, but only at the great cost of silence," she explains. "To quote their lawyer, 'KP is not interested in a settlement without a non disparagement provision,' meaning I would not be free to speak the truth about my experiences. I refuse to be silent on these important issues." Her Re/code missive ends with a plea for other women to do similarly:
I have a request for all companies: Please don't try to silence employees who raise discrimination and harassment concerns. Instead allow balanced and complete perspectives to come out publicly so we can all learn and improve. I and many others are eager to hear more stories being shared by women and minorities. I turned down offers to settle so I can keep telling mine. We need to keep telling our stories and educating people on how it can be that women and minorities form such a small fraction of our investor base, our tech workforce and our leadership.
This hasn't been an easy year for Pao. In July she stepped down as interim CEO of Reddit after a tumultuous tenure on the site; many have connected her resignation to sexist attacks from some users.
---