Here is what you will learn about Sam and Nia Rader by watching a handful of the most popular videos posted to their YouTube channel: They are an attractive couple with two children, a minivan, and an impressive command of the Frozen soundtrack ("Good Looking Parents Sing Disney's Frozen," 20.9 million views). Last week, Nia peed in the toilet at night and didn't flush so as not to wake her youngest child, then Sam put an eyedropper in that toilet, transferred the diluted pee to a pregnancy test, and announced the positive result to Nia, their two kids, and the world ("HUSBAND SHOCKS WIFE WITH PREGNANCY ANNOUNCEMENT!," 12.6 million views). The story went viral ("WE'RE GOING VIRAL!!," 394,000 views). Then, Nia had a miscarriage ("Our Baby Had a Heartbeat," 3.5 million views).
This is sufficient material for molding an Internet sensation. When People magazine covered the pregnancy shocker, the headline referred to the twentysomething couple as "husband" and "wife." But when the miscarriage news hit, the pair had graduated to "YouTube stars Sam and Nia." The couple's gratitude swept across social media: In Monday's vlog, Sam told his growing audience: "I see all you guys, our new viewers, as the people that our little girl brought into our family." (Though the miscarriage occurred far before the parents could determine the baby's sex, they've decided to refer to it as a girl in public announcements.) On Twitter, they wrote: "Our tiny baby brought 10M views to her video & 100k new people into our lives. She turned our life around & brought us closer together." On Monday, the Raders Periscoped their rehabilitative pool outing.
For the millions of viewers watching at home, the Raders' viral journey poses several questions: Who are these people, and why do I know so much about their reproductive status? Why would you announce a six-week pregnancy to your entire family and also millions of strangers? Or film yourself putting someone else's toilet pee on a pregnancy test? Or tweet about how many video views your fetus inspired? Is any of this even real? "My initial take on the video was that it was staged," Vanity Fair's Richard Lawson wrote after watching the reveal. Sam had gone to absurd and borderline-offensive lengths to "be the big surprise guy" while Nia "seems just a little too ready for the moment." I can see how the videos smell like a pro-life stunt meant to model the value of a budding human life, or else a Jimmy Kimmel prank rigged to mine the depths of the Internet's gutter. But viewed through the lens of YouTube's family genre, the videos look totally, disquietingly real—or, as real as any vlogged life can be.
The Raders are just a slightly more deranged version of the handful of vlogging families who have risen to modern reality stardom by framing their lives through a viral lens. When they first joined YouTube in 2007, Sam and Nia were like any other young couple enjoying those heady early days of cellphone-camera infatuation: Their YouTube offerings included an amateur music video for Sam's post-college band, wakeboarding footage set to a Jason Mraz song, and a clip of daughter Symphony eating a sausage patty. Then, in March of last year, the couple got serious. They installed a dashcam in the minivan and filmed themselves lip-syncing to the Frozen soundtrack while Symphony (now 5 years old) and her younger brother Abram (who turns 2 next month) bopped in the back seat. They dubbed themselves the "Good Looking Parents." The video has since amassed more than 20 million views.
They've been chasing that number ever since. First, they filmed themselves lip-syncing to Tangled and the Lion King and more Frozen. But soon, Sam and Nia were vlogging everything and releasing a video daily. Initially, the couple churned out standard sunny lifestyle fare like "The Cutest Baby We've Ever Seen," "How Nia Does Her Hair," and "Making the Crib-to-Bed Transition," but they soon saw greater returns from videos that flirted with disaster. So a standard night out became a "SURPRISE DATE NIGHT FAIL!" Asking Abram to identify the character on his onesie turned into "OUR BABY CAN'T FIND ELMO!!" Their kids weren't just sitting around on the floor; they were making "ADORABLE COIN PRONUNCIATIONS!" In recent months, they've also experimented with a fake gross-out video (the big surprise of "BABY WALKS INTO DADS STREAM!" is that it is not pee), Upworthy bait  ("CHILDS REACTION TO BABY WITHOUT A NOSE"), and Sunday school–ready lessons like "IS MY WIFE A TROPHY!?" (no, she's "a gift from God").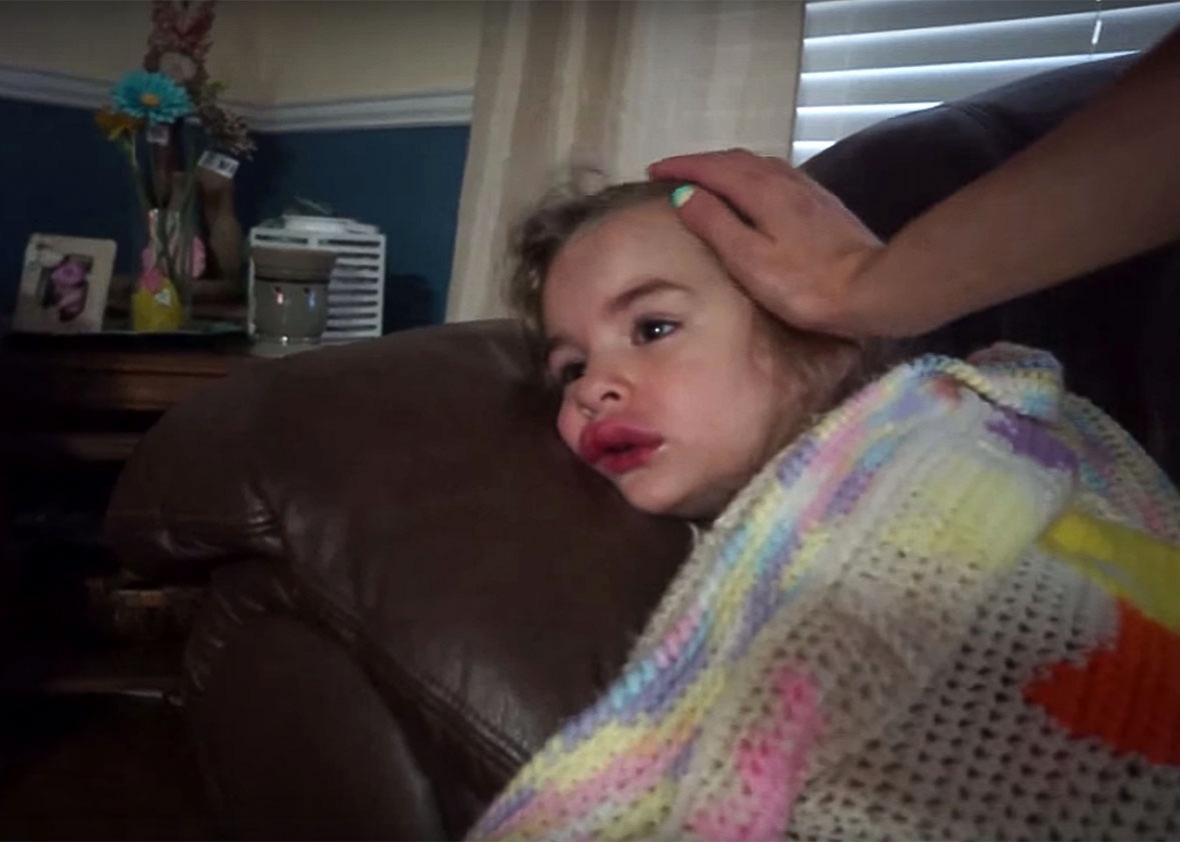 But their biggest sleeper hit outside of the musical renditions was last summer's "STUNG IN THE LIP BY A WASP!," in which Symphony wailed through a puffy upper lip to the tune of 200,000-plus views. Since then, the Rader family has experienced an outsized string of medical emergencies. In "LOSING A FINGER IN A TABLESAW! ER VISIT," Sam does not lose a finger, but he does take the camera into the emergency room and trains it on his own distended, bloody hand as a doctor performs minor surgery. In "AND THE DIAGNOSIS IS …," Symphony's pediatrician allows Nia to film the entire appointment, culminating with Symphony laying belly-down on the exam table as Nia zooms in on the kid's upper thigh and makes the big announcement: It's eczema. "YOU'RE PULLING HOW MANY!!?!!" features time-lapse video of Nia's dentist appointment. In "NIA THREW A GLASS CUP AT ME," both Nia and Sam end up with glass shards lodged in their bare feet, then film the cuts before sweeping the kitchen. See also: "WHAT'S HAPPENING TO OUR PUPPY?!" (it has a blister), "MY TERRIFYING EBOLA EXPERIENCE" (Sam works as a nurse at a hospital near Dallas that has not treated an Ebola patient), and "I MIGHT HAVE MENINGITIS!" (I couldn't make it the whole way through this 14-minute video, but I'm betting he doesn't!).
Pregnancy has also proven a consistent theme. In last August's vlog "GUESS WHO'S PREGNANT!?" Nia meets her friends Sandy and Courtney for lunch, where viewers learn some big news: Sandy is pregnant. In November, Sam and Nia released "THE PREGNANCY RESULTS ARE IN!," in which Nia experiences "some pregnancy symptoms," takes a test, and films their reaction to … the negative! Then came "BYE BYE BIRTH CONTROL!," where Nia reveals to husband and audience that she stopped taking her pills months ago. This June, Nia wrapped up a pregnancy test and gifted it to Sam for Father's Day ("PREGNANCY TEST PRANK FOR FATHERS DAY") to trick him into thinking she was expecting, only to hear his wife scream in his face: "Just kidding it's negative! Woo! Totally got you!"
The pregnancy obsession isn't personal; it's practically required of a successful vlogging family. YouTube's most popular clan, led by Shay and Colette Butler and known collectively by the rather un-PC nickname the Shaytards, has amassed a combined 1.8 billion views on its main channel alone. The Butlers' most popular video, with more than 13 million views, is the one announcing the birth of their youngest son, Daxton. The toddler is currently listed by celeb aggregator Famous Birthdays as the second-most famous person born in 2013—less famous than North West, but more famous than Prince George. And unlike in many social contexts, open discussion of infertility and miscarriage is not taboo in family vlogging land. Utah couple Ellie and Jared Mecham created their YouTube channel (more than 80 million views) to document the family's "infertility journey"; they've since documented the births of sons Jackson ("OUR BABY IS HERE!!," 1.9 million views) and Calvin ("EMOTIONAL LIVE BIRTH!!," 2.2 million views). Another popular family vlog, Daily Bumps (254 million views), launched when Bryan and Missy Lanning had one young son and "a bun in the oven." In time, the Lannings revealed to viewers that Missy had previously had a miscarriage at 10 weeks and a stillborn baby delivered at 20 weeks. When healthy baby Oliver finally arrived, his debut was a hit ("WELCOME OLIVER JAMES," 3.4 million views). Now 2 years old, little Oliver appears in clickbait videos like "BABY TRAPPED IN WATERPARK!" and signs Daily Bumps posters for his fans.
Perhaps the reason Sam and Nia's similar pregnancy storyline has caused such a sensation—among both adoring fans and doubting haters—is because the couple's video persona is considerably less polished than more established vloggers'. While many family YouTube channels seem staged like Anthropologie catalogs, Sam and Nia are transparently small-town strivers. Consider the picture-perfect Mecham family: Jared has his own channel for his ukulele covers, Ellie has her channel for style tips, and the pair is currently molding son Jackson into a child model. When difficult topics arise, they know just how to film them and edit them and set them to music to hit the right emotional buttons. In comparison, Sam and Nia's online presence is, well, kind of janky. Nia's own style channel features a Hobby Lobby craft haul and a negative review of John Green's Paper Towns ("it used God's name in vain a lot, and I'm really not OK with that"). Sam's personal DIY channel petered out after two videos, one of which was about taking a chainsaw out of a box.
 The pair often vlogs over the wails of Abram, Symphony, and various other young children who belong to their ever-expanding entourage of extended family members and neighborhood hangers-on. They create content in the aisles of Walmart and lunch at casual dining establishments. Their backyard is sprinkled with overgrown weeds and overturned toys and ringed by a busted fence. If the big family vloggers are Keeping Up With the Kardashians, Sam and Nia are Here Comes Honey Boo Boo. To fans, these imperfections read as refreshingly authentic. To detractors, they just point to deeper issues. 
Sam and Nia's daily vlog typically runs more than 10 minutes long, and bystanders' horrified reactions to the Raders' antics are rarely edited out. "I knew she was going to do this," Nia's friend Courtney grumbles when Nia whips out her camera at lunch. And here's what happens when Nia starts shooting in the local Starbucks:
NIA: Here is the best Barista ever: Stacy!
STACY: Oh no, please don't put me on YouTube.
NIA: Oh, why not?

STACY: I don't want to be on YouTube.
NIA: You're so cute though! (Then, to her YouTube viewers) I've known Stacy for a few years now.
And unlike the Mormon families who dominate the lifestyle blogging genre, and often carefully tuck their religion into the background, Sam and Nia are blunt about their views. They identify as a "God fearing family of four" from small-town Texas on a "God-given journey we call family!" They release a new video at 5 p.m. every day, "God willing." They call their viewers "Fan B.A.S.I.C.s" (for "Brothers and Sisters in Christ") and use a tune from a band called Rapture Ruckus as their vlog intro music. They're not into gay marriage, and they say so.
But the most fascinating aspect of the couple's channel is the window it opens into the childhood of a vlogger couple's kids. In "Nia Hit a Car," Nia delivers a tearful play-by-play of how she just sideswiped a car in the Walmart parking lot; Symphony can be spied languishing in the back seat, biting her nails. In her first solo vlog, recorded in April of last year, Symphony commandeers the camera and babbles: "Here's Symphony … Iyyyye just. Goodness. Camera. Hee, hee, hee camera. Lunch. I can take another log! A vlog. A block. I mean a log. Hah." When Nia tells her to speak up so the viewers can hear, she takes direction well: "UMMM. UMMM. CAMERA. HERE'S SYMPHONY!" In one video, Sam sings a little song to the kids to prep them for the camera: "When we're vlogging! And we're filming! We! Don't! Cry!" In the same take, Symphony is filmed counting the members of her family, and when she gets to the camera-wielding Sam, she counts him twice—one for Sam, one for "the viewers." And while young Abram is best used as a prop in videos like "ULTIMATE BABY FAIL CAUGHT ON CAMERA!," "BABY GETS STUCK IN PUMPKIN!," and "BABY TERRIFIED OF TRAINS!," Symphony is old enough to participate in darker experiments. In "WHO DO YOU LOVE MORE… MOM OR DAD?," Sam and Nia won't take "both" for an answer. When Symphony equivocates, Sam grills her with follow-ups like "If there are zombies coming, and they're hungry, who would you pick for them to eat? Me or Mommy?" and "If we're both standing in the road and a car was coming, and you had to push one of us out of the way, who would you push out of the way?" Symphony finally admits she loves Mommy more, maybe because Mommy is not the one asking these horrifying questions.
Of course, this is about more than just the hits. It's about the money. And as the New York Times reported last year, even YouTube's biggest stars get a pretty raw deal. Because ads aren't served on every video view, and because YouTube collects 45 percent of a channel's ad revenue, vloggers stand to make just a few thousand dollars for every million views they rack up. Still, for a small-town vlogging family subsisting on one nurse's salary like the Raders are, a video viewed 12 million times is a hefty unexpected windfall. It's hard to begrudge them that. After months of videos topping out at 20,000 views—ones largely created by stay-at-home mom Nia, caring for two kids while filming her every move—it's likely the family could really use the money.
That's particularly true in light of another surprise vlog posted to their channel on Sunday, after the pregnancy video and the miscarriage news. In it, Sam takes the family to Legoland to make a big announcement, but tickets are sold out. When he tries to "leverage" his "virality" to get into the packed park, he's turned away. Undeterred, he tucks Nia into a Lego gift shop to deliver the news: He's quit his job as a nurse in order to vlog full time ("TELLING MY WIFE I QUIT MY JOB!," 271,000 views). "This huge spike in this new career we started. Just absolutely a blessing. So incredible," Sam says in the video. "So, yeah. No more nursing for me." Sam is hoping that, with God as their social media guru, their viral pregnancy and subsequent miscarriage will be their ticket to the new American dream. Their chances of success likely depend on one factor that's almost unbelievable and yet so, so real: whether Sam successfully impregnates Nia with a famous new baby.