Joshua Cousin called himself Katrina's "first known Blogging Survivor." Fresh out of high school when the hurricane hit New Orleans, Cousin spent four days holed up at home with his family and their red-nosed beagle, Cheddar, as the waterline rose. They finally escaped past floating corpses to a dry stretch of interstate, sat on the scorched pavement for two days, and—after authorities forced them to leave Cheddar stranded on the road—loaded onto a bus headed for wherever. Cousin surfaced at the Houston Astrodome, where he found a computer set up to help evacuees locate scattered family members and friends. He logged into his blog, "Note From the Book," and wrote:
BOOKMAN LIVES!!
whats up yall. I have made it though the Winds and waters of Katrina and now my home is ASTRODOME!! ..
I'll be back in a few weeks.. or months… AAAAAAAH!!! BLOGGERS I'll be here someday!!
KATRINA WAS A KILLER!!
one loss but we made it though!
This summer, a selection of Cousin's post-hurricane blog posts were preserved in Please Forward: How Blogging Reconnected New Orleans After Katrina, a new anthology of online dispatches by the city's chefs, musicians, doctors, reporters, critics, and admirers in the two years after the storm (and edited by Ole Miss journalism professor Cynthia Joyce). The entries are published chronologically—the book begins with a LiveJournal post written by early evacuee Kelly Landrieu on the afternoon of Aug. 29—and the updates grow increasingly haunting as the waters rise. CNN called Katrina the first American tragedy to be documented in real time by its survivors, as they lived it. But the medium proved more immediate for some bloggers than others.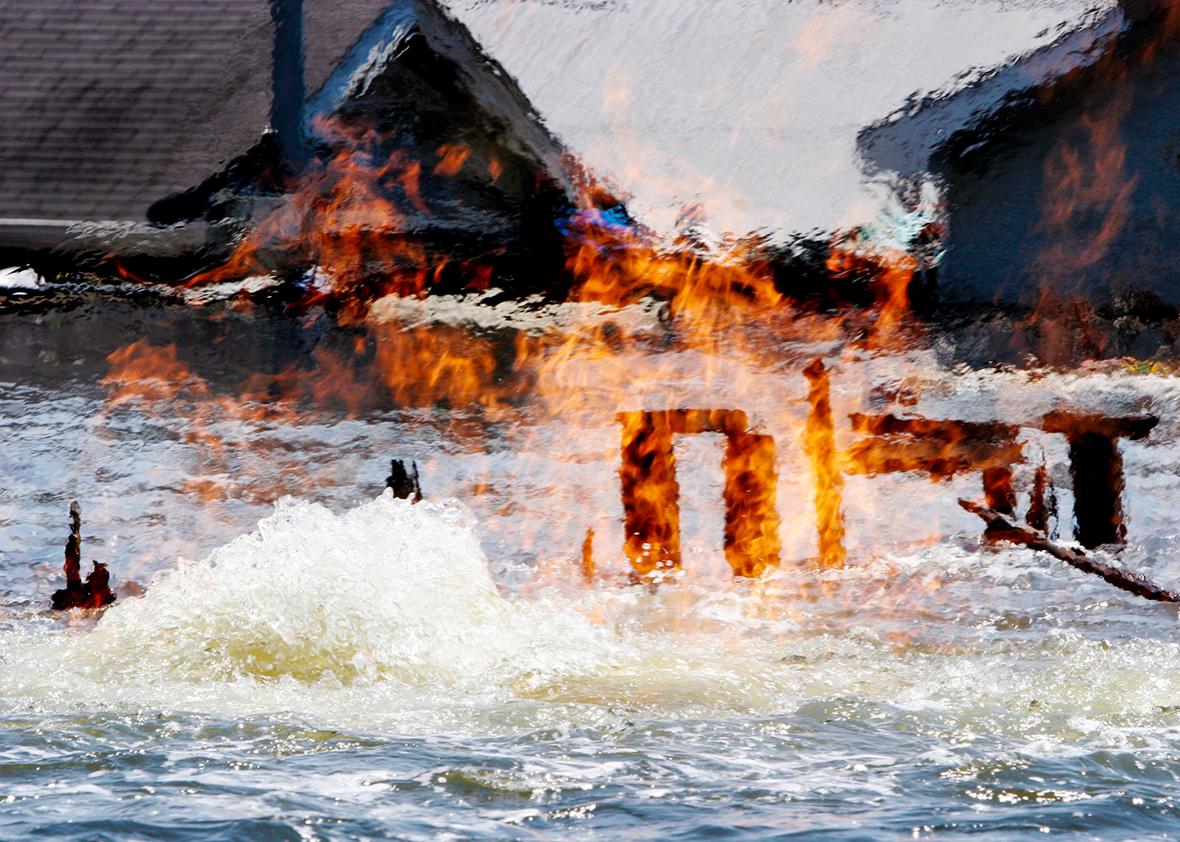 Just as you might count the seconds between lightning bolt and thunder clap to guess how far away it struck, Katrina's impact on a person could be estimated by the time that stretched between the hurricane's arrival and the survivor's first contact with the outside world. One New Orleans blogger not featured in the anthology, Kenneth Greelee, watched satellite images of Katrina from his safe haven in Galveston, Texas, and blogged, "There is a Schrödinger's Cat quality to watching the spinning red ball: does the New Orleans that I know even exist right now, hours before landfall?" The city's less-fortunate residents did not have to guess, but most of them couldn't blog what they'd seen until they'd escaped it.
So in those first days after Katrina, Louisiana State University communications professor Kaye Trammell hunkered at home in Baton Rouge, blogging from a BlackBerry she charged in her car when her power went out. Techies working at local Web hosting company Intercosmos Media Group live-blogged the storm from their 10th-floor offices, which were powered by a gassed-up generator. In fact, according to a 2009 study in the Journal of Computer-Mediated Communication, of the Katrina-related blogs published within two weeks of the storm, just 1 percent of the owners lived in New Orleans and stayed there through the flood. Four percent evacuated during the storm. Most of the people blogging about Katrina never felt a drop.
For several days post-Katrina, the Internet's most-cited storm blogger was Brendan Loy, a 23-year-old amateur weathercaster who had made the prescient prediction, from his home in Indiana, that the storm just might hit New Orleans like "an unprecedented cataclysm." The New York Times profiled Loy; Slate's Mickey Kaus recommended his blog be preserved in the Smithsonian, "if you can put a blog in the Smithsonian." Joyce's anthology declines to cede more cultural space to Loy, Trammell, and the techies, but it does quote outsider bloggers like Josh Marshall and Andy Carvin, who were churning out Katrina fodder long before Cousin ever made his way to that communal Astrodome computer on Sept. 6, 2005. And it wasn't until Oct. 12 that the world heard the story of Ross Angle, a man who'd just finished his 10-day trespassing sentence at Orleans Parish Prison when the storm hit and guards refused to release him. "I'm still having nightmares thinking I'm surrounded by water in those walls," he told the activist group that relayed his story online.
The profound lag time between the blog entries posted by high-and-dry survivors and those posted by the storm's most desperate victims gave the initial impression that Katrina hadn't been as serious as it seemed. (After the storm passed, CNN reporter Jeanne Meserve told viewers that "the city had dodged a bullet"; when she finally made it to the other side of town, where the floodwater rose above the attics where desperate residents had sought shelter, she broke down and cried on-air.) Meanwhile, the situation for those still stuck in the city was worsening by the hour, in part because survivors and aid workers couldn't receive messages from the outside world, either. "I don't know how much information you are getting but I'm certain it's more than we are getting," New Orleans pathologist (and anthology contributor) Dr. Greg Henderson, who'd stayed behind in the storm to care for the sick and injured, wrote on Aug. 30. "I don't know how long it will be and this is my greatest fear. The greatest pain is to think about the loss, and how long the rebuilding will take. That, and the horror of so many dead people."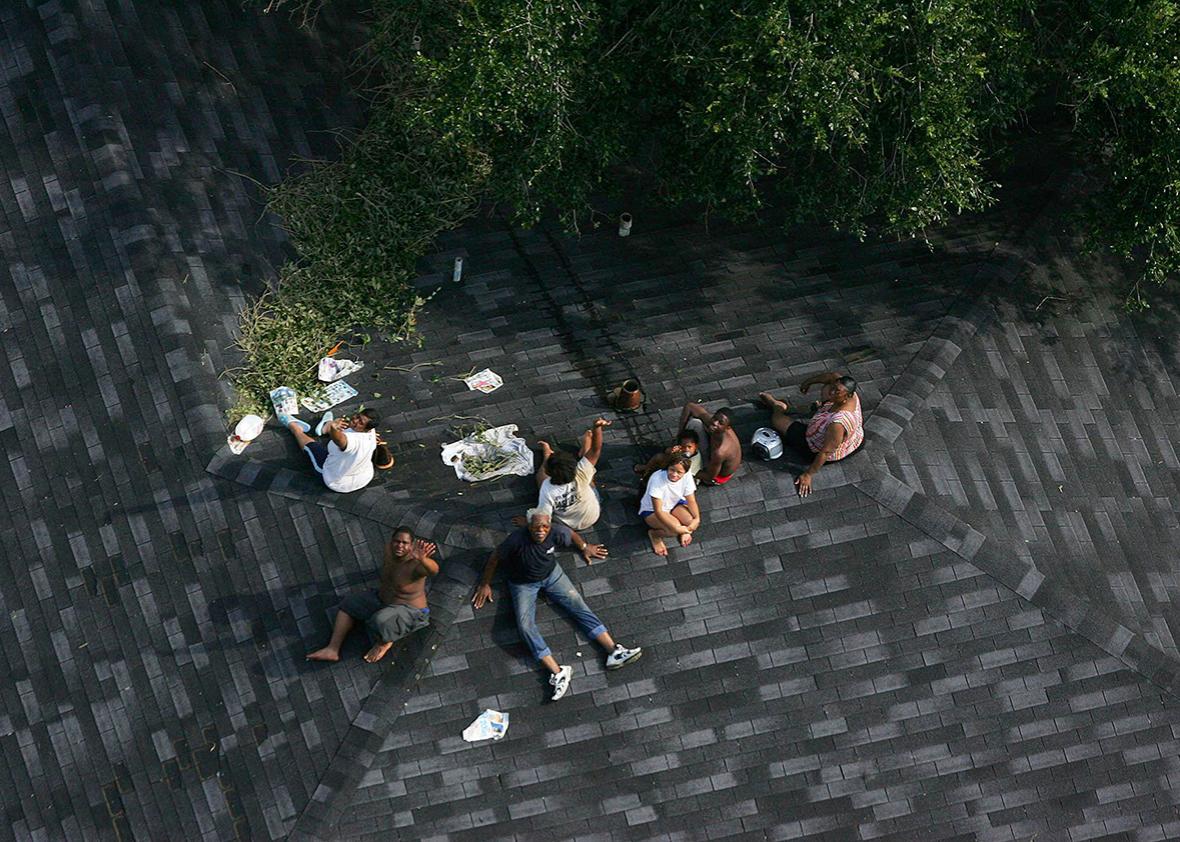 "I can't tell you what it's like in New Orleans right now," New Orleans evacuee Richard Read wrote on his blog Sturtle on Aug. 30. "I can only tell you what it's like to not be there." What he could impart to his readers was this: "I want to stop watching the news. It's deadening, and the broadcasters are prone to get things wrong." That was partly because CNN had been padding its round-the-clock coverage with reports mined from the storm-themed blog posts of early evacuees like Sturtle—the ones written by the relatively charmed segment of the New Orleans diaspora. In the week after the storm, the Situation Room's Wolf Blitzer would periodically check in with his "Internet correspondents," Abbi Tatton and Jacki Schechner, to see what Katrina news they were "picking up on the blogs." The reporters would then divine the mood of the New Orleans blogosphere for Blitzer: Bloggers believe this to be the federal government's fault; bloggers agree with Kanye West that the media coverage has been racist; bloggers are offended by Barbara Bush's comment that refugees huddled in her Texas baseball stadium were in a better situation than they had been in a real house in impoverished New Orleans.
"There is no Katrina Story," novelist and Please Forward contributor Dedra Johnson noted on her blog recently; there are many Katrina stories. Seeing all these survivor tales juxtaposed next to one another can put the reader in the uncomfortable position of weighing traumas against one another. On one page is an entry from programmer David Olivier, who wrote on his blog Slimbolala that he and his wife had evacuated to Memphis with rum, limes, a juicer, and simple syrup in tow, because "we figured a mean old hurricane was no reason not to have good daiquiris." And on another there's a dispatch from Cousin, who logs online and pays tribute to a family member who didn't make it out: "He was cool people," Cousin wrote. "He died while trying to save a boys life. He was on is way to save his daughter & drowned. YEAH ITS SAD!!!" (In happier news, the Cousins found Cheddar in November 2005 with the help of some dedicated animal rescue bloggers.)
But as time went on, few outside the city seemed interested in hearing about Katrina survivors at all, no matter how much they'd suffered. Joyce's anthology charts the big and small indignities visited upon Katrina survivors in the months after the world stopped caring. Feb. 2006: The artist Bill Joyce is commissioned to illustrate a New Yorker Katrina cover in honor of the first Mardi Gras after the storm; at the last minute, it's bumped for a more topical cover: A Brokeback Mountain homage starring Dick Cheney shooting his hunting buddy. Sept. 2006: The tourist stands update their inventory with local-shaming shirts like: "I stayed in New Orleans for Katrina and all I got was this lousy T-shirt, a new Cadillac, and a plasma TV." Dec. 2006: One family's FEMA trailer still has no power. July 2007: A man discovers that his home has been slated for demolition by the government without his consent.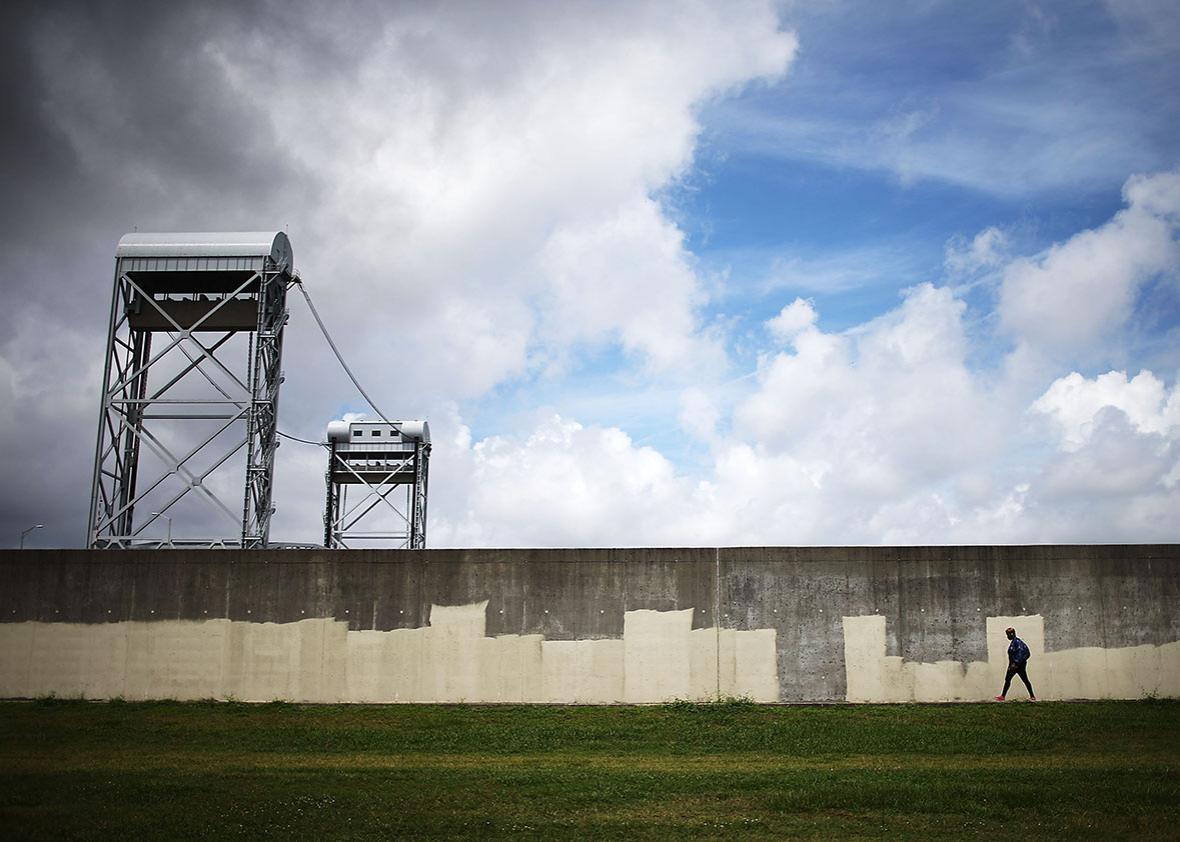 Now, 10 years later, America wants to talk about Katrina again, whether Katrina survivors want to or not. At a launch party for the anthology earlier this month, Richard Read was surprised to see how many people showed up to "relive their decade-old memories of losing friends, homes, photo albums, jobs, of living in a wounded city," he wrote on his blog. "I didn't get it. I don't get it. I've been studiously avoiding most of the Katrina reminiscences, all the anniversary blah-blah that's been going on for weeks. I mean, I'm sure Anderson Cooper is a nice man, but I already know the story he's going to run on CNN. I know what all of them are going to say. In 2005, the narrative was pain, despair, loss. Now, it's resilience, struggle, determination. I got it. I get it."
"The fury of activity this year is about the magic No. 10. A decade. After a decade, some in the U.S. want to think about that terrible thing that happened to us," Johnson wrote Thursday. She added:
For a while.

Then they'll be done.

Again.