I'm typing this article on a Microsoft Surface tablet, using Windows 10. 
That's important for two reasons. First, Microsoft released Windows 10 in some 190 countries on Wednesday, and for desktop PC users, it's an enormous improvement on its predecessor, Windows 8. Microsoft, whose dominance in the desktop operating system market was called into question for the first time in decades by the Windows 8 debacle three years ago, is back in business.
Second, it's significant that I'm typing this on a tablet because that's something I've never done before. Writing an article, for me, requires constantly switching between a word processor, Evernote, Slack, and numerous browser tabs. Every time I've tried to do it on a tablet—whether on an iPad, a Surface, or an Amazon Fire—the experience has been so frustrating that I've given up.
Not this time. If Windows 8 was the first operating system to turn your desktop computer into a tablet—an idea whose time has not yet come, and may never—Windows 10 is the first to let you turn your tablet into an honest-to-God-functional PC. (Thankfully, for beleaguered desktop users of Windows 8, it also lets you turn your PC back into a PC.)
In short, Windows 10 is the operating system Microsoft should have released three years ago. But it isn't just an improvement on its predecessors. It is, as of today, the most versatile and forward-looking operating system in the world. That's because it is the first to recognize and embrace the future of computing: a world in which all your devices are just different-sized screens running the same software.
That is not to say that Windows 10 is the best operating system out there. It's far too soon to declare anything like that. It lacks the instant appeal of either OS X or iOS, the openness of Linux, or the lightness of Chrome, and its mobile app ecosystem remains a wasteland compared with Apple's and Google's. We don't yet know just what it will look like on phones or whether anyone will be persuaded to use it on them. Besides, any number of bugs and shortcomings is likely to arise in the coming days and weeks as the masses begin to adopt it on their desktop PCs.
But Windows 10 does get two very big things right. For desktop users, it restores the familiar, utilitarian layout of Windows 7, including the desktop Start menu, while incorporating some of Windows 8's more futuristic elements. And for those using tablets and hybrid computers, it makes switching between a touch-based interface and the classic desktop environment surprisingly seamless. It manages to do both of those things within the confines of a single operating system, something neither Apple nor Google has accomplished. Bravo, Microsoft.
It is also fast, easy to use, reportedly secure, and thoughtfully designed—virtues that are never a given when Microsoft releases a new OS. Aesthetically, it is neither aggressively ugly nor aggressively bland. And although Microsoft is playing catch-up to Apple on many key features of its operating system, it has leapt ahead on a few others.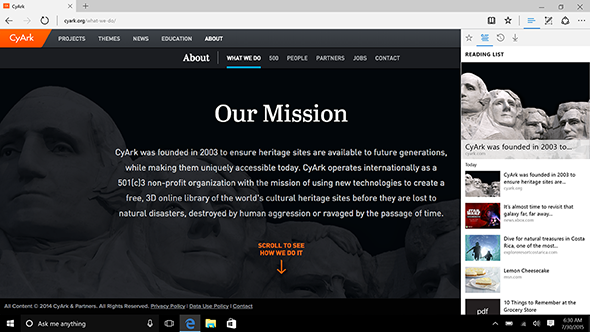 Most interesting of those is its ability to adapt to different types of devices. It has been clear for years that PCs, tablets, and phones are converging on similar sets of features and functions—email, calendar, voice and video calls, Web browsing, productivity—as processors continue to shrink. Apple has regarded this convergence warily, cautiously allowing its desktop operating system to adopt elements of iOS while keeping the two separate. Microsoft regarded this evolution first with arrogance and dismissal and then with panic once it became clear that tablets and phones really were a threat to Windows' future. The panic led to Windows 8, which shoehorned desktop PC users into an interface that was built for tablets.
With Windows 10, however, Microsoft has embraced the convergence while respecting key differences between the mobile and desktop use cases.
It does this with an elegant feature called Continuum, which is best appreciated when you're using a tablet with a detachable keypad, like Microsoft's own Surface Pro 3. Use the tablet without the keypad, and Windows 10 will present you with a touch-optimized home screen populated by Windows 8–style live tiles. Native apps like Mail and the Edge browser will function like mobile apps, and you can download other mobile apps from the Windows Store. By default, apps will run full-screen, like they do on an iPad, although you can still multitask by swiping across the screen into "task view." Buttons are big and easy to press.
Snap in a keypad, and everything changes. The classic Windows desktop appears, and the live tiles retreat into the Start menu. Open windows sprout their familiar title bars and shrink out of full-screen mode so that you can drag them around and switch between them more readily. And those same native apps, including Mail and Edge, morph into desktop applications, optimized for a track pad and keyboard rather than a thumb or a finger. Out with the big buttons, in with the little icons.
Meanwhile, both modes benefit from the thoughtful incorporation of some features borrowed from mobile OS design. Gone is Windows 8's runic Charms bar, a source of exasperation for countless desktop users. In its place is the Action Center, a take on Apple's Notification Center, which collects recent Mail messages, Facebook notifications, and other timely bulletins, along with some key settings.
Another phone-inspired feature that works surprisingly well in Windows 10: Cortana, Microsoft's version of an intelligent personal assistant. On the desktop, Cortana serves as an all-purpose search hub. It can find your own files and apps, like Apple's Finder. It can search the Web via Bing. And, like Siri, it can take commands, answer questions, or just banter with you for a bit. You can type your queries into its search bar or interact with it via voice. (It responds to the greeting, "Hey Cortana.") 
Other nifty Windows 10 features were clearly designed with traditional desktop users in mind. One of the best, and most overdue, is the ability to create and toggle between multiple virtual desktops, each hosting a different set of open windows and apps. So, for instance, you can fill one desktop with work and the other with personal stuff.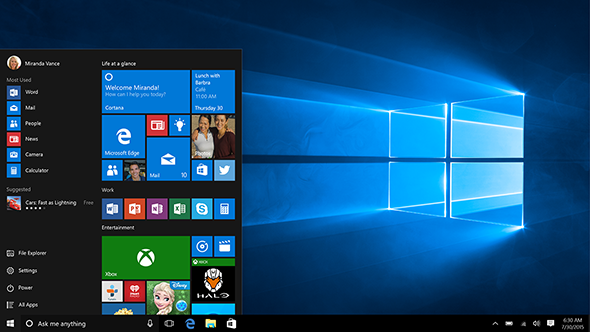 Then there's the Start menu, which in desktop mode acts sort of like a mini Windows 8 within the classic desktop environment. Here live tiles find their true calling, not as hyperactive, oversized icons on a busy home screen, but as nifty little widgets within a customizable pop-out menu that easily stows away when you don't want it. You can pin both modern (touch-based) apps and classic applications to the Start screen, and resizing or reconfiguring them is no sweat.
There is still some awkwardness involved in an operating system that attempts to accommodate desktop and mobile users equally. Most third-party apps don't yet pull double duty. So, for instance, you'll have to download both Evernote Touch and the Evernote desktop application if you want the best experience in each mode. There are also elements of the touch interface in Windows 10 that will feel just a little too desktop-y for iPad adherents.
Finally, the Windows Store is a work in progress. It isn't always immediately evident which apps will work in which environment. And Microsoft faces a challenge in convincing developers that it's worth their time to develop apps that shift between mobile and desktop as seamlessly as they ought to. The company has had particular trouble attracting mobile developers, given Windows Phone's vanishingly small market share.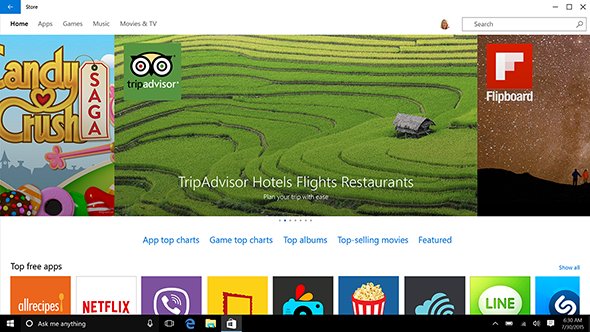 It's that last problem—the phone problem—that will continue to dog Microsoft even if Windows 10 proves to be a hit with the company's loyal desktop users. An operating system that can adapt to all of your computers is great in theory. But it will fall far short of its potential if Microsoft can't persuade people to run it on the ones they keep in their pockets.
Still, the return of a strong Microsoft desktop OS is cause for celebration in itself. That it doubles as a serviceable touch-based OS is an impressive achievement and another sign that Microsoft is regaining the thirst for innovation it seemed to have lost years ago. It's also a shrewd hedge against the death of the PC, whose demise has been laughably overhyped but may yet be on the horizon.
It's also worth noting that, as my colleague Lily Newman explains, Microsoft is billing Windows 10 as "the last version of Windows." What that means is that Microsoft will deliver future software updates automatically, rather than releasing an entirely new system every few years. That approach might have its drawbacks, but if nothing else it should allow Microsoft to focus on just one operating system at a time, rather than supporting several simultaneously.
Windows 10 will come as a free update to anyone already running Windows 7.1 or 8. For those still running Vista or XP—and dare Microsoft hope that some OS X users will make the switch?—it will cost $119 for the Home edition and $199 for Pro.
Windows 10 isn't perfect, but it works well enough as both a desktop and tablet operating system that at times I forgot which mode I was in. And that's how it ought to be. Forcing people to keep track of which mode they're in and adjust their behavior accordingly is the type of mistake Microsoft has always made in the past. Finally the company's designers seem to realize that it shouldn't be the user's job to adapt to the software. It should be the other way around.