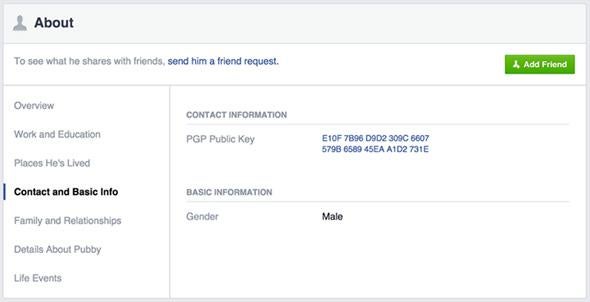 There was a time when Mark Zuckerberg didn't believe in privacy. (Ah, 2010.) But as my colleague Will Oremus pointed out last year, Facebook has been working on cleaning up that whole situation as security and content controls become a bigger priority to users. The latest step is adding an option for Pretty Good Privacy (PGP) encryption on notification emails.
Facebook sends emails for things like password changes and certain account activity, and these dispatches might excerpt private posts or reveal sensitive time stamps. PGP encryption keeps all of this locked down, so not even your email provider can see it.

The social network announced on Monday that it is gradually rolling out the option for users to put a public key (a type of mailing address, plus one of the two keys you need to unlock PGP encryption) and PGP fingerprint (a shortened authenticator) in their Contact Info in the About section. And Facebook is using GNU Privacy Guard (GPG) for implementation.
Since Facebook also offers a Tor site for anonymous connection, it's becoming more possible to use the social network while still maintaining rigorous privacy and security.
So if you want to be into this sort of thing (you should!), you can learn more about using encryption here.

---