Less than two weeks ago, Google executives took the stage at their annual developer conference to announce a slew of exciting new products and features. Predictably, they touted each one as though it were a breakthrough heretofore unimagined by tech's wildest visionaries. In fact, many were simply Google's version of something Apple already does. A precious few, however, were genuine originals—the sort of thing only Google would dream up. (I catalogued and ranked them by coolness here.)
On Monday, it was Apple's turn to send a parade of peppy higher-ups to the podium to pretend they had just invented a bunch of things that other companies already offer. But Apple, whose late co-founder Steve Jobs practically invented the modern tech launch event, wasn't about to settle for ripping off just one big rival's products. With billions in cash on hand and the largest captive software audience since the heyday of Windows, the Cupertino, California, crew set its sights on copying seemingly every successful mobile app in the App Store and slapping the Apple brand on it.
"We have always been shameless about stealing great ideas," Jobs once said. On Monday, his successor Tim Cook proved that the company's shamelessness has not dropped off one bit under his leadership.

Here's my rundown of the most exciting new ideas Apple appropriated today, along with a handy guide to the soon-to-be-defunct startups that inspired each one.
Hot new Apple product: Music
Inspired by: Spotify, plain old radio
My colleague Jordan Weissmann has more on this truly revolutionary product, which allows you to stream just about any song you can think of for the innovative price of $9.99 a month. This highly original service is by no means to be confused with Spotify, which also allows you to stream just about any song you can think of for $9.99 a month.
Apple Music is unique, however, because it also comes with, um, human-curated playlists, which, come to think of it, I suppose Spotify has too. But! Apple Music also comes with Beats 1, a so-called "radio station" that will broadcast songs around the clock to anyone who wants to tune in. According to Apple, this magical technology will allow actual human radio personalities to select songs that will then be played for all of the station's listeners at the same time. Wonders never cease!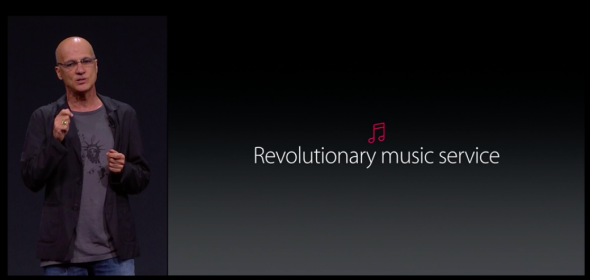 Hot new iOS app: News
Inspired by: Flipboard, Facebook Instant Articles
What if—bear with me here, because this might seem a little far-fetched—but what if there were an app that would let you see the latest news stories from a variety of publishers, all tailored to your interests and presented in an iPhone-friendly format? In fact, there is, and it's called Flipboard. And now there's another one! It's from Apple, and it's called News.
Remember the part of the Apple Music presentation where Apple explained that machine-learning algorithms can't be trusted to choose your music? Fortunately, Apple has determined that they're just fine at choosing your news stories, and has assigned them that task instead.
Perhaps the coolest part of News is that publishers will have the opportunity to craft articles specially formatted for the app, with snazzy title pages, beautiful infographics, and animations that come to life as you scroll down the page. "We think there's never been such a beautiful reading and news experience," said Apple's Susan Prescott, who must have studiously avoided the nearly identical new feature that Facebook launched last month.
News will replace the old Newsstand app in iOS 9. (Disclosure: Slate is among the publishers partnering with Apple on the News app's launch.)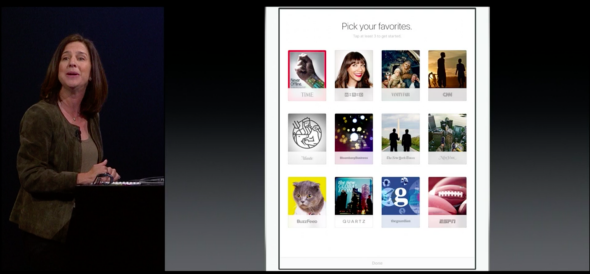 Hot new iOS 9 feature: Proactive Assistant
Inspired by: Google Now on Tap
Five years ago, Apple bought a third-party iPhone voice-assistant app called Siri, took it offline, and repackaged it in 2011 as a central feature of its new iPhone 4S. Flaws notwithstanding, it was a hit, and Google and Microsoft soon found themselves playing catch-up. Google, however, had some natural advantages in artificial intelligence, and its Google Now services have since surpassed Siri in many respects. Last month, Google announced Now on Tap, which can suggest activities and answer your questions based on context: your location, what you're doing on your phone right now, your past behavior patterns.
Now Apple has its answer in a suite of "proactive" new features for iOS 9, its new mobile operating system. Siri and Spotlight will now attempt to learn your habits and, for instance, suggest your favorite running music when you start your morning jog. Defer an incoming text message and it will give you the option to "remind me about this later today." Swipe left from the home screen, and Spotlight will try to guess who you might want to call or what app you might want to open next. Oh, and your phone will now let you know when it's time to leave for your next appointment, based on your calendar and current traffic conditions. That's something Google Now has done for quite a while. Proactive is the new reactive!
None of this is quite Google-level A.I., but it does come with Apple's pledge not to store your data for advertising or cloud-based machine-learning purposes. Now that's something Google is unlikely to copy anytime soon.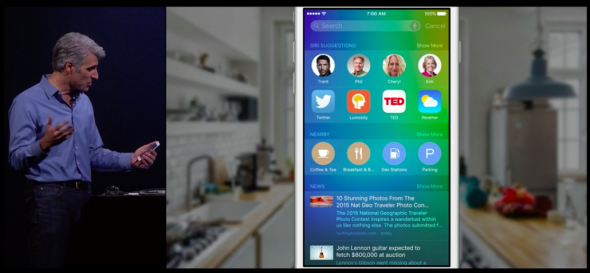 Hot new iOS 9 app: Notes
Inspired by: Evernote
Apple's long-neglected Notes app, a relic of its pre-Jony Ive skeumorphic design ethic, got some rare attention in the company's keynote Monday. In iOS 9, a revamped Notes will feature such futuristic options as text formatting, image importing, and the ability to create checklists (and check them off!). This equates to roughly 1 percent of what Evernote does and is probably not a serious threat to the popular third-party notes app, at least in terms of quality. Then again, Apple reported Monday that the clunky Apple Maps is used more than three times as heavily on Apple devices as its nearest rival, which confirms that the quality bar for successful native iOS apps is pretty low.
Hot new iPad feature: Multitasking
Inspired by: Microsoft Surface
When Microsoft copied Apple's iPad (which was itself inspired by Microsoft's previous attempts to build a tablet), it added a few twists, including the split-screen multitasking for those times when you need to keep one eye on a spreadsheet while blowing up aliens in Halo. Back then, I and others snarked at the idea. Now guess who's introducing split-screen multitasking as the hot new thing? Apple has helpfully given its basic multitasking features names like "Split View" and "Slide Over," which it insists on capitalizing. It has also added picture-in-picture capability so you can iPad while you iPad.
Hot new Apple Maps feature: Transit directions
Inspired by: Google Maps
Almost two years after Apple infamously ditched Google Maps for its own half-baked maps app, it remains inferior in nearly every way. But at least now it will be inferior in one less way, as Apple Maps is finally adding public-transit directions. Even Apple couldn't bring itself to call this one revolutionary.
Hot new Apple Watch feature: Time travel
Inspired by: Pebble Time
The Apple Watch, like the very best Apple products, is at once derivative and category-defining. It has been in the works so long that rivals like Samsung began copying it years before it was even announced. So it's only appropriate that the Apple Watch's new operating system will include a feature cribbed from one of those rival smartwatches that seems destined to be an also-ran. Apple's "time travel" feature will allow you to scroll horizontally backward or forward to see how, for instance, the weather will change throughout the day. It sounds an awful lot like the user-interface idea that was meant to differentiate Pebble's new device, the Pebble Time.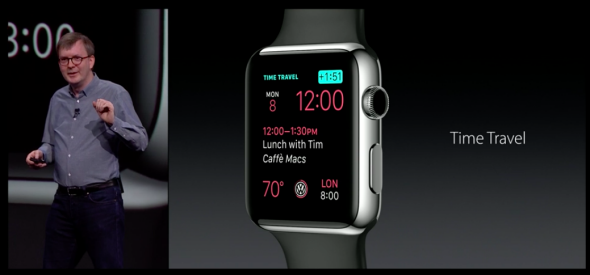 Whew! After so much innovation, it's no wonder Apple felt the need to take a little time to step back and congratulate itself on just how important and transformational its products really are. So, just how transformational are they? Apple is glad you asked. In a promotional video near the end of Monday's keynote, an unseen narrator reached back to the 18th century for a point of comparison. "If you think the industrial revolution was transformational," he intoned, "the App Store is way bigger."