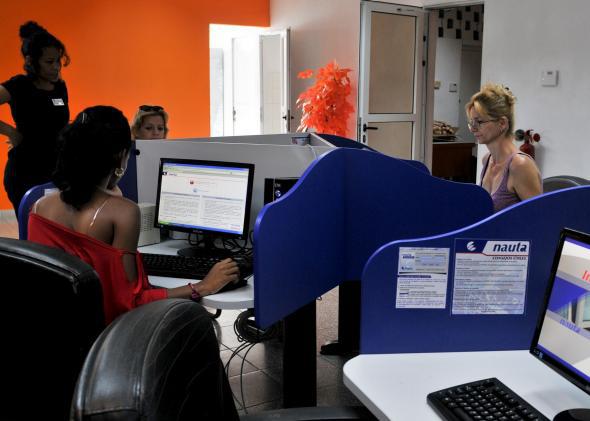 A big question about normalized relations between the United States and Cuba is how the changing relationship will affect Cubans' access to technology. Currently Internet connectivity and mobile data are both scarce in the country. It's also difficult and expensive to acquire computers and other gadgets like external hard drives there. This limits the spread of information, especially from nongovernmental sources. But a new publication wants to use flash drives to make distribution easier.
Elaine Diaz is the first Nieman Fellow from Cuba. She spent 10 months completing a journalism fellowship at Harvard University and is now returning to Cuba to start Periodismo de Barrio, a publication about weather and natural disasters—a critical topic area in a region where tropical storms are a big concern.
The problem for Diaz and other independent news writers in Cuba is that media there is almost entirely government-controlled. Blogs have some flexibility because Cuba's constitution was written before the advent of the Internet, and therefore doesn't explicitly limit online media. But the reach of Cuban blogs is limited by lack of connectivity. Only about 5 percent of the population has Internet access. Cuba got its first public Wi-Fi hub in March.
To distribute news and digital entertainment, Cubans buy "paquetes semanales" or "weekly packets" on flash drives that have a mix of news, TV shows, movies, and other content. They get passed from person to person and decrease in value as they get older. "We get between 10 and 20 customers a day," seller Jorge Fernande told the Guardian in December. "The most popular shows are Vampire Diaries, Walking Dead, Breaking Bad and The 100."
Diaz's idea is to optimize Periodismo de Barrio for these weekly packets instead of doing what some other sites do and retroactively converting their online content to a format that can be shared on flash drives. The idea is the make Periodismo de Barrio's content appealing and accessible by designing it with the weekly packets in mind. Diaz told Fast Company that she thinks of it as a "direct to packet" strategy. She plans to use her savings from the Nieman Fellowship to hire a developer, three journalists, and a part-time designer.
In the site's first post, Diaz wrote "Periodismo de Barrio is committed to a good, independent and fair kind of journalism capable of harmoniously becoming a part of Cuba's current communication channels." Cuba ranks among Iran and North Korea in terms of poor press freedom, and Periodismo de Barrio won't change that on its own, but it could be an important step.

---