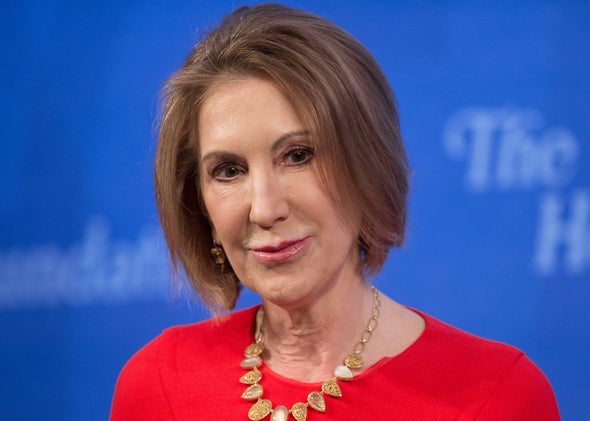 Type HillaryClinton.net into your address bar today and you'll be redirected—not, as you might expect, to the official presidential campaign page of the former secretary of state, but to that of Carly Fiorina. If this oddity has attracted attention, it's thanks to some conveniently partisan symmetry: Last week, Fiorina's budding campaign for the White House faced widespread mockery after it failed to secure the domain name CarlyFiorina.org. In the place of an ordinary campaign site, a mysterious prankster had posted a stark political statement: 30,000 frowning emoticons. As an explanatory note on the page explained, there was one for each of the people she laid off during her tenure as CEO of Hewlett Packard.
From the outside, today's Clinton to Fiorina redirect looks an awful lot like revenge. Breitbart suggests that the candidate is "seemingly buying up celebrity domains to push her campaign message." Fiorina has indeed purchased .org pages of Seth Meyers and Chuck Todd before going on their shows. But it's not actually clear that she's responsible for HillaryClinton.net redirecting to carlyforpresident.com. According to MSNBC, a representative for Fiorina held that the campaign had not purchased the page. What's more, the page's registration was updated on May 2, while the CarlyFiorina.org prank didn't begin making news until two days later, suggesting that the domain was secured earlier and for different reasons.
That's probably for the best. By pushing back in this manner, the Fiorina campaign would only prolong its own embarrassment, something it's nevertheless managed to do on its own. Puzzlingly, her campaign has given this nonstarter of a story its own scandalous moniker. In a tweet about her appearance with Chuck Todd on Meet the Press, Fiorina refers to it as #domaingate. Though she's attempted to show how trivially easy it is to purchase a domain (as of this posting, I could buy ChuckTodd.us for less than $5), she's only succeeded in extending the life of a story she should probably let die.
Some have suggested that the original registration debacle was newsworthy because Fiorina had positioned herself as the tech candidate. From this perspective, her failure to defend herself against cybersquatters speaks to her lack of savvy. It is presumably this point that Fiorina seeks to contest when her camp showily buys up the domains of talk show hosts. Anyone can pull this off, she suggests. It's not my fault. (And, to be sure, her failure to register CarlyFiorina.org doesn't constitute a "gaffe" in any meaningful sense.)
Ultimately, however, the original prank achieved traction because it calls attention to Fiorina's more profound failures as a leader. On Meet the Press, Fiorina complained that CarlyFiorina.org "leaves out a whole bunch of other facts." But that may be the point. In its simplicity, the troll site illuminates a single issue in the clearest possible way, and that light will stay lit as long as we keep paying attention to "#domaingate." Tellingly, the attention paid to CarlyFiorina.org has inspired serious reflections about her record as CEO, potentially turning one of her ostensible strengths into a liability.
Cybersquatting is almost as old as the Internet domain system itself. Taking over some version of a candidate's name will always be easy, and it will keep happening as long as we keep paying attention to it. By and large, these are nonstories, no more meaningful than graffiti hastily scrawled on a wall. They matter only so long as we keep talking about them. Fiorina would do well to stop lengthening the conversation.
---