At its annual conference for software developers on Thursday, Google announced so much new stuff that tech reporters in the audience were begging for a pee break. Much of it was either "meh" or "me-too"—Google versions of products that rivals like Apple already offer. But things took a turn for the interesting at about the halfway mark, when Google veered from smartwatches and mobile payments into the sorts of things Google does best: creepy-smart A.I., massive free cloud storage, random experiments in virtual reality, and the like.
In the interest of sparing you the boring stuff, I've ranked Google's new products according to how interesting I think they'll be to the ordinary tech consumer. To be clear, I'm not a professional software developer and thus not the core audience for some of Google's announcements, like the ones about app indexing. You'll have to look elsewhere for a list of the stuff they found most interesting. This one's for the normals.
1.    A DIY virtual reality platform
My colleague Lily Newman has more on this, but here are the basics. A year ago the company announced Google Cardboard, a do-it-yourself virtual-reality kit so simple that it seemed to border on satire. It turned out to be pretty nifty, and more than 1 million people downloaded the app. (You can read my full Slate review of it here.) This year Google decided to build a whole ecosystem around it.
It has revamped the hardware to fit more phones, launched a new software kit for Cardboard app developers, and developed a platform called Jump that will allow people to create and view all sorts of virtual-reality content. To facilitate that, Google worked with GoPro to build a badass panoramic video camera called Array. Array has 16 separate cameras: Google's software stitches together the footage to create seamless 360-degree video. Starting this summer, YouTube will support virtual-reality videos created via Jump.
All cool, yes, but is there a higher purpose? Google thinks so. For example, it touted a program called Google Expeditions aimed at school classrooms. Every student gets a smartphone and Cardboard, and the teacher uses a tablet to guide them all on a VR field trip of, say, the Great Wall of China, or—why not?—Mars.
2.    A smarter, creepier personal assistant
Google Now is the Google feature that keeps tabs on your email, calendar, location, and more to send you notifications when your favorite sports team is about to be on TV or it's time to leave for your next appointment. This, more than any other product, exemplifies the future of Google and maybe of mobile computing in general. And it's about to get a lot more powerful.
The next step is called Now on Tap. It brings Google's personal-assistant software into whatever you're doing on your phone, including third-party apps. So if you're listening to Skrillex on Spotify, you can ask your Android phone, "What's his real name?" Google's machine-learning software will intuit that "his" refers to Skrillex, and it will respond, without taking you out of the Spotify app: "Sonny John Moore."
Now on Tap will also allow Google to butt into your private correspondence, just like a real personal assistant. For instance, say your deadbeat spouse sends you a text saying he forgot to pick up the dry cleaning, then asking if you want to get dinner at Evvia. Now on Tap will pull up a card for Evvia from which you can easily browse the menu, read Yelp reviews, make an OpenTable reservation, or ask how to pronounce "spanakotiropita." And then it will pull up a second card suggesting that you set a reminder to pick up the dry cleaning yourself.
And with that, Google moves one step closer to building the Star Trek computer.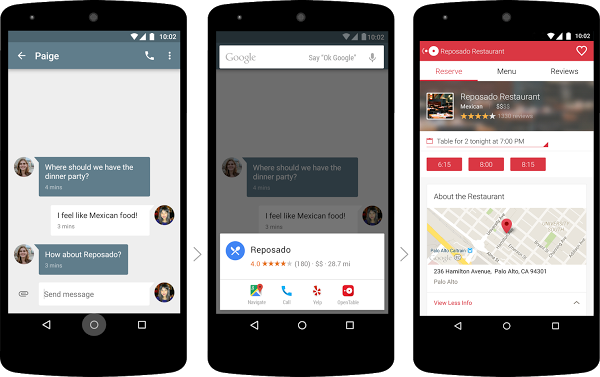 3.    A great photo app with unlimited free storage
In the wasteland that is Google Plus, there has quietly existed one killer app: photo storage. My former colleague Farhad Manjoo sang the praises of Google's photo-storage features two years ago, but they've remained tainted by association with the failed Google Plus brand. No more. Google announced on Thursday a new standalone service, Google Photos, that offers many of Google Plus's best features without the clunky social-network trappings.
Those features include automatic organization—grouping your photos by people, place, time, and event—plus a powerful search function that lets you search for, say, "photos of that snowstorm in Toronto a few years back" and quickly pull up the images you had in mind. They also include some nifty auto-editing and collage-making tools. Your photos sync across all your devices, and the Google Photos app is available for iOS as well as Android and the Web. In an overdue development, you can now share your photos quickly and easily to your social network of choice—which Google has finally admitted probably does not include Google Plus.  
Oh, and Google is offering unlimited storage of high-quality images and videos—up to 16MP for photos and 1080p for video. This is not great news for Flickr. Or Google Plus, for that matter.
4.    Better privacy for Android apps
When you download an Android app, it asks you upfront for permission to access all sorts of private data stored on your phone. You have to say "yes" without having any real idea of how that data will be used. There's an incentive to just sigh and hand over everything. This has also led to some unnecessary freakouts, like when people briefly went nuts over Facebook Messenger requesting access to their cameras and microphones.
Android M, the next version of Google's mobile operating system, will come with a much smarter app-permission system that allows you to download an app first and then selectively allow or disallow access to various types of data as they become relevant. Not the sexiest update, but it's an important one for privacy, security, and transparency.
5.    Offline directions for Google Maps
This one is pretty straightforward, but nonetheless welcome. By year's end, Google says you'll be able to do much of what you can do today on Google Maps, including getting turn-by-turn directions, without an Internet connection. It appears you'll have to save a map of a given region to your Google account first. Once you've done that, you'll be able to search it and get directions within it even when you're offline, provided your phone's GPS is working. 
6.    Data-saving features for people with crappy Internet
Android One is Google's effort to make smartphone software that works better for people in rural areas and developing countries with limited Internet access. On Thursday it announced a new "light" search results page for that will let you search Google without using a bunch of data, starting with users in Indonesia. It also announced a version of Chrome that's optimized for slow connections. This is great news for the millions of people who still struggle to get data on their phones. Maybe next Google can build a version of Chrome that actually works on a MacBook in the United States without crashing every seven minutes.
7.    A battery-saving "deep sleep" mode for your phone
Android M will come with a feature called Doze that's somewhere between "sleep" and "off." When your mobile device detects that you haven't touched it in a long time, it will go into a sort of hibernation, letting in only the most important kinds of notifications. 
8.    Another platform for all your Internet-connected junk
Brillo, which my colleague Lily Newman wrote about here, falls into the category of "things that Apple has already done." For a while on Thursday, it looked like pretty much everything Google was announcing would fall into that category. But, as Newman explains, this is one where Google might have an edge. Brillo is Android software that will allow you to control stuff like your garage door, coffee maker, and thermostat from a single hub on your phone. Yes, that's a lot like HomeKit, which Apple announced last fall. But HomeKit has been beset by delays and still isn't ready.
9.    Another way to pay for things with your phone
Did I mention that Google was playing a lot of catch-up Thursday? Android Pay sounds an awful lot like Apple Pay, with the chief difference being that it will be accepted at different places than Apple Pay is accepted. Which is fine, and Google has the right. But the whole point of paying with your smartphone was that you wouldn't have to carry around five different competing credit cards anymore. Carrying around five different competing payment apps on your phone, each with its own protocol for accessing your bank account, is marginally less bulky, I suppose. But it doesn't feel like quite the future we were promised.
10. Probably some other stuff
As I said, this was a long event. If I missed anything important, let me know in the comments. And no, an Android nanodegree does not count.