Twitter.com is a barren wasteland.
I should qualify that statement. For the roughly 20 percent of American adults who maintain active Twitter accounts, the site is an overflowing river of wry observations, edifying links, and up-to-the-second dispatches from around the world.
But they're the minority. For the vast bulk of Internet users, Twitter offers none of the above. Visit the home page and you'll find little more than a background photo, a few lines of text, and a prompt to sign up or log in. Follow a link to an individual tweet or profile page, and you'll find yourself blocked from further action unless you enter credentials.
By Twitter's own count, 500 million people visit the site every month without being logged in. Some 150 million of those come directly to Twitter.com, making its home page one of the more popular pages on the Web. That represents an enormous potential audience for a company that has been dogged by its struggles to attract new members. And yet, for those without an account, Twitter.com doesn't feel like a destination. It feels like a dead end.
That's finally about to change. In the coming days, Twitter will publicly launch a new home page for logged-out visitors, company sources tell me. It will initially be available to all desktop users of the site's English-language versions. And it will look a lot like—although not identical to—the one the company has quietly been testing among a small group of users in recent months.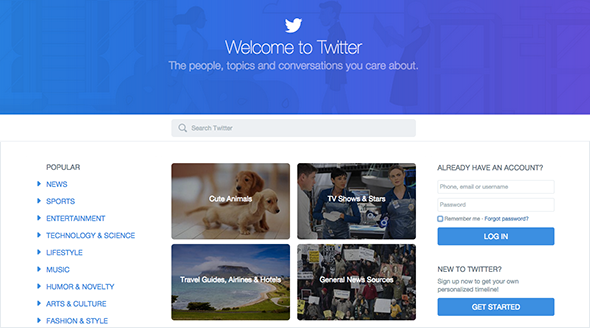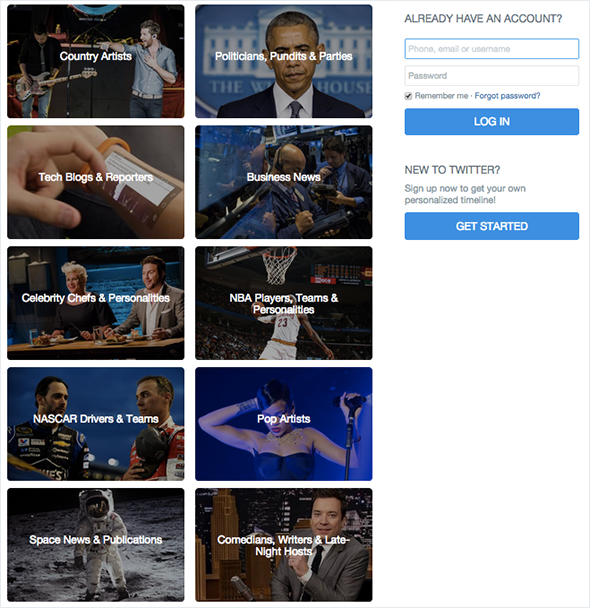 The launch of the logged-out home page marks one of the first big steps in a company-wide push to expand Twitter's reach far beyond its base of about 288 million active users worldwide. Others include "instant timelines," which greet new members with algorithmically generated streams of tweets as soon as they sign up, and a new mobile search page that displays trending topics along with some helpful context. These changes come as Twitter is retiring its unsuccessful "Discover" tab for mobile users, who had mostly eschewed it anyway. More changes are on the way in the coming months. Ultimately, CEO Dick Costolo has told investors, the goal is to attract "the largest daily audience in the world."
That's a pretty heady ambition for a company whose active user base is less than one-fourth that of Facebook, the social network to which it is often unfairly compared. While Facebook has achieved near-ubiquity among Internet users in many countries, Twitter has remained the province of a relatively dedicated core of tweeters and lurkers. Many have tried it, only to find it confusing, frustrating, or simply inessential to their busy lives. Everybody has friends, but not everyone has—or wants, or needs—followers.
Still, Costolo's goal might be more realistic than it sounds. As I've argued at length, Twitter is fundamentally different from Facebook—more media platform than social network. Most people might never tweet, and that's just fine with Costolo. But because tweets are public by default, they can reach a far larger audience than Facebook posts, including people who have no intention of becoming active Twitter users.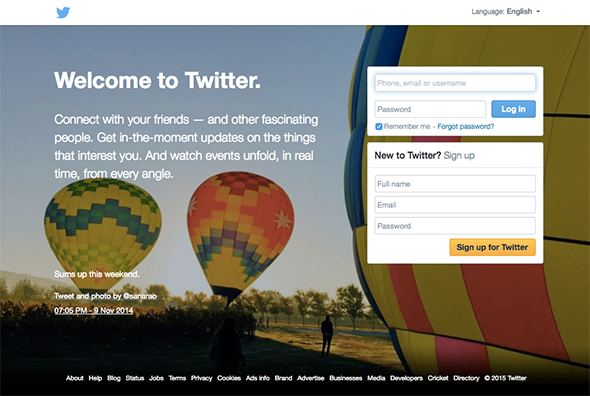 For the past year, Twitter has been paying lip service to these "logged-out users" and their potential value as an audience. In practice, its bare home page has stood as a symbol of its unfriendliness to them. The restrictive approach, requiring visitors to log in before they can do anything, has worked for Facebook, because people actually do log in. For Twitter, however, the barrier to entry has proven too high. With the logged-out home page, it's finally beginning to tear it down.
I had a chance to try out an unfinished version of the new page and found it appealingly simple and intuitive, if not exactly dazzling. Still, it's a vast improvement over what was there before. (Almost anything would have been.) And I expect the company will improve on it rapidly as it begins to gather data on what works and what doesn't.
For now, the page features two central columns of clickable images with titles like "pop artists," "business news," and the obligatory "cute animals." (Not missing a chance to flatter the media who cover it, Twitter also prominently featured a category called "tech blogs and reporters" in the version I saw.) There's also a text-heavy left rail with broader categories like "lifestyle," "humor and novelty," and "government and non-profits." The sign-up and log-in prompts are still there, but they've been relegated to a modest position along the right rail.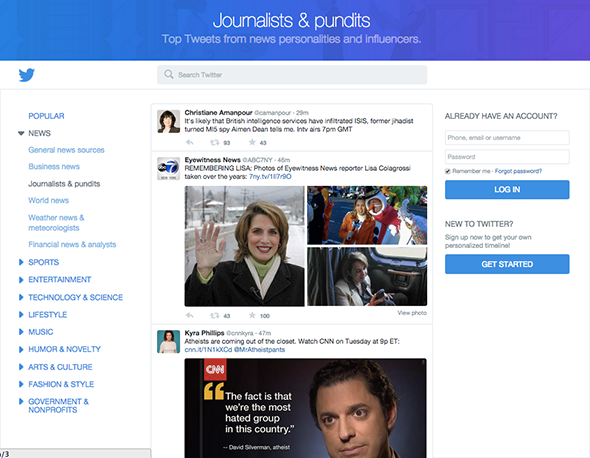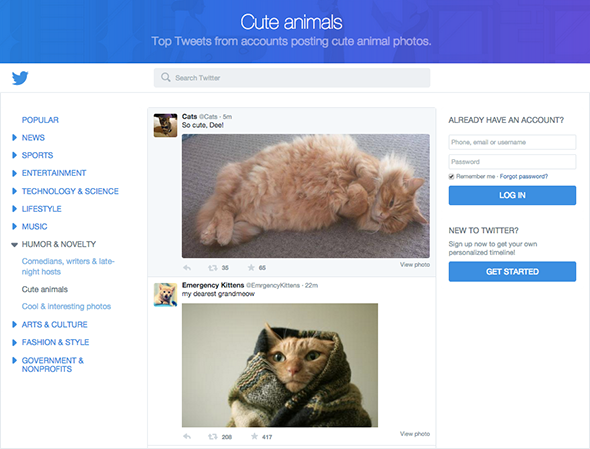 Click on one of the topics and you're taken to a page that looks a lot like the timelines of tweets that are so familiar to logged-in Twitter users. The difference is that the tweets you see aren't based on who you follow. Rather, they're algorithmically selected by Twitter from a pool of prominent accounts in the given category, and all logged-out users see the same tweets at any given time.
The criteria for inclusion in the topic streams isn't clear, but the tweets I saw tended to skew toward the newsworthy and visually engaging, and they had all been retweeted or favorited by dozens if not hundreds of users. Interestingly, they appeared in reverse-chronological order, maintaining a core feature of the Twitter experience, even though they obviously weren't appearing in real time. (The newest tweet in any given topic stream was typically at least 10 minutes old.)
In this early incarnation, Twitter's logged-out home page remains something less than a full-service Web destination. Try to favorite, retweet, or reply to something, and you'll quickly find yourself facing the old "sign up or log in" barricade. Clicking around the topic streams is fun for a few minutes, but the content is too thin to keep the average visitor engaged for very long, or to keep her coming back to the site regularly. It's no YouTube, a social media platform that counts legions of logged-out users among its addicts. Most active Twitter users probably won't see it at all unless they seek it out, which seems unlikely. Logged-in Twitter remains a far better experience, provided you've put in the time to follow people who interest you.
It is, however, a sign that Twitter is no longer trying to be like Facebook. It's beginning to embrace its role as a destination for people who will never be active tweeters. (It's also beginning to embrace the prospect of advertising to people who don't use Twitter.) And it's easy to imagine Twitter's logged-out experience evolving in the future to take in live events and trending topics. In a couple of years, maybe non-Twitter users will visit Twitter.com for real-time updates on a big breaking news story the way they'd flip on CNN or visit NYTimes.com today.