The app market is pretty saturated with navigation tools at this point. There are paid apps, free options, and services where you contribute data to crowdsourced features like traffic updates. But there are still basic route questions that individuals can't get good answers to. Rudder aims to address one of these issues by offering walking directions that factor in how well-lit a route is. That way pedestrians, especially those walking somewhere they're not familiar with, can stick to safer streets.
Rudder can also use a smartphone's camera as a light meter to provide information about ambient light to users. And down the line the service, which is currently still in beta, will include the ability to weigh directness or light conditions more or less in the app's route calculations. (For example, you don't usually need to take a well-lit route over the quickest route during the day.) The app's Apple App Store launch is planned for the beginning of May.

The app won't suggest routes that are more than five-to-eight minutes longer than the shortest path, so it balances efficiency with finding well-lit options. Rudder's data comes from municipal records on local lighting, and so far the service has light information for 12 cities, including Boston, Chicago, and San Francisco, plus international cities like Paris and Vancouver. Rudder can't offer well-lit routes in other places yet, but more cities should be added soon.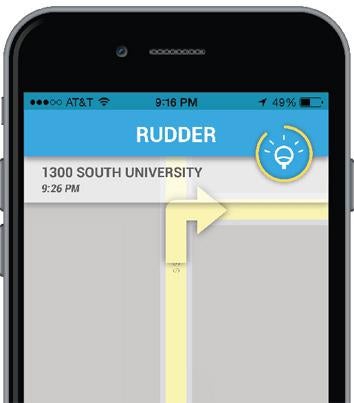 Rudder is targeting college campuses first, because students are often new to the area where they attend college, but also because sexual assaults and other types of attacks are a significant concern. "Young students often have a hard time getting their bearings," Rudder designer Hannah Dow told Fast Company. "They might be new to that city, and have to try to find their way between all these different buildings. We're hoping that students will use our app not just to help them get to know their environments, but to make smarter decisions about where they are walking, especially at night."
The service is obviously applicable beyond college, though. Rudder wants to expand into areas like progress tracking later on, so authorized friends or family can see where users are in their walks or that they've reached their destinations. The app will also get turn by turn directions so users can keep their mobile devices in their pockets instead of having to take them out and look at them. It's not pepper spray or a self-defense primer, but walking a well-lit route at night is always a good idea.