All 67 games of this year's NCAA men's basketball tournament will be streamed live online. But not all of them will be available to people without a cable subscription—unless you get a little creative.
The 22 games that will be broadcast on CBS will be streamed live for free to everyone online. You can watch them all on the Web at http://www.ncaa.com/march-madness-live, or on your phone or tablet via the March Madness Live apps for iOS, Android, Amazon, and Windows devices. Unfortunately, there's no March Madness Live app for Roku, Apple TV, Amazon Fire TV, or other TV sticks or set-top boxes, a Turner spokeswoman told me.
The games streamed on CBS include the national championship game on Monday, April 6 and a smattering of contests from each round—except for the Final Four. For anyone who cares about the tournament, that's a pretty big exception.
The Final Four and the majority of early-round contests will instead be spread across three Turner networks: TNT, TBS, and TruTV. They too will be streamed online via the Web and mobile apps, but you can only watch them by logging in with a username and password from your Cable TV provider. Don't have cable? In the past, you would have simply been out of luck.
This year, however, cord-cutters have at least one other legal option. Sling TV, the new online-TV service aimed at cord-cutters, happens to include both TNT and TBS in its basic package, which costs $20 a month. And TruTV is now available as part of Sling TV's "Lifestyle Extra" add-on pack, which goes for an additional $5 a month. It doesn't include CBS, but you can still watch CBS games without a cable login on the March Madness site. I've written more about Sling TV here.
What's convenient about Sling TV is that, unlike cable, you can sign up at a moment's notice and cancel anytime. In fact, as Gigaom (R.I.P.) pointed out, the service offers a free seven-day trial that could be mighty convenient for NCAA tournament watching if deployed strategically.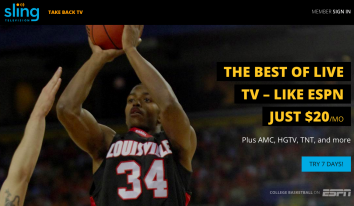 Sony Playstation owners in three major cities have one other option: Playstation Vue, the live streaming-TV service that Sony announced just this week. At $50 a month, it isn't cheap. But, as with Sling TV, you can sign up without having to call the cable company or install any equipment, and it too offers a seven-day free trial. Playstation Vue's base package comes with 60 channels, including all four of those broadcasting this year's March Madness games. It also comes with some serious cloud-DVR capabilities, so you can watch games that have already aired as well as those airing live. As a bonus, a Playstation Vue subscription will count as a cable login for the March Madness Live website and mobile apps, so you can watch on your computer or tablet as well as your console.
Why can't you watch the games broadcast on TNT, TBS, or TruTV without authentication? I put that question to Hania Poole, Turner's senior director of product and operations for March Madness Live. She said that Turner's policy as a cable network is to restrict its programming to those who are paying for it, whether that's on their TVs, computers, or mobile devices. "Programming obviously is very expensive, especially when it comes to great sports," Poole told me.
CBS, in contrast, broadcasts for free over the air, which helps explain why it's comfortable streaming sporting events for free online as well. That said, not every broadcast network does the same. ABC, for example, restricted its live stream of the Oscars this year to viewers with cable logins, even though the telecast was free to anyone with a digital antenna. (The quality of its live stream also happened to be terrible.)
The NCAA and its broadcast partners, including Turner Sports, have a better track record when it comes to the quality of their live streams. That might be because they've long been hugely popular, even among cable TV subscribers, who are eager to sneak a look at the games while they're at work or on the go. Poole said the March Madness Live team closely monitors the quality of its online feeds across the country throughout the tournament. That way it can respond quickly if it sees that viewers in a certain market are experiencing glitches or slowdowns.
Last year, March Madness online viewership reached a new record, with 69.7 million live streams across all platforms, Turner Sports told me. That was up 42 percent from 2013.
Previously in Slate: