Twitter was a tiny, struggling startup when its founders brought the social network to the buzzy South by Southwest Interactive conference in 2007. It was the hit of the show, and within months it had hundreds of thousands of users and piles of venture capital. Two years later, a location-based social app called Foursquare launched at SXSW and found its own overnight success.
Each spring since, the tech world's eyes have turned to Austin in hopes of glimpsing the next big app or social media platform. But as the show has grown, the noise has drowned the signal. For all the hype, there hasn't been another Twitter or Foursquare—until this year.
On Friday, SXSW opened to a roar of hype surrounding an app called Meerkat, which had launched just two weeks earlier. Like Foursquare before it, Meerkat harnesses your Twitter network to do something that Twitter can't—in this case, mobile live streaming. Open the Meerkat app and hit "stream," and you'll start a live video feed using your phone's camera. The app automatically sends a tweet alerting all of your Twitter followers that you're broadcasting live. They can then click a link to tune in and see what you're up to at that very moment. The video isn't recorded, so as soon as you stop streaming, it's gone.
Amateur live streaming has a dubious track record. The webcam craze that peaked in the late 1990s with JenniCam was always more about voyeurism than social interaction, and it ultimately devolved into a porn-industry gimmick. It turns out people get enough mundane, unfiltered reality in their own lives that there isn't much incentive to seek it out online. The more recent failure of Justin.tv reinforced the conclusion that lifecasting is an inherently flawed concept. Justin.tv's creators pivoted to live-streamed gaming and founded Twitch, which they sold to Amazon last year for $1 billion.
But Meerkat raises the question: What if the problem with webcams was simply that webcams don't move? Of course amateur live feeds are going to be boring if they're tethered to your living room. But these days the majority of Americans carry an HD video camera in their pocket, which they can whip out the second things get interesting. And the mobile Internet is just now getting zippy enough to transmit live video wirelessly without the feed cutting out all the time. Could Meerkat be the app that brings social live streaming back into fashion?
Meerkat's phenomenal early growth suggests it could. The app reportedly hit 100,000 users in just 15 days, as prominent tweeters—including celebrities like Jared Leto and Ashton Kutcher and a slew of venture capitalists—raced to establish themselves on its "leaderboard" of popular streamers. SXSW seemed to arrive at the ideal time to catapult the app into the mainstream consciousness.
Just when it when it looked like nothing could stop Meerkat, however, Twitter whipped out its Whac-a-Mole mallet. On Friday, the first day of the conference, Twitter reps notified 27-year-old Meerkat co-founder Ben Rubin that it was about to restrict his app's access to its "social graph"—the database that keeps track of who follows whom. Within two hours, it followed through. That meant that Meerkat could no longer automatically connect new users to the people they follow on Twitter, or send a push notification to their Twitter followers when they started a stream.
The move felt a little desperate on Twitter's part. Twitter, it turned out, had secretly acquired a live-video app of its own a few months earlier, and was planning to launch it soon. The app, called Periscope, is very similar in concept to Meerkat, a source familiar with the product tells me. Twitter apparently felt it had to do something to stop Meerkat from cornering the market before Periscope had a chance. Twitter justified the move by citing an "internal policy" against providing its social graph to direct competitors. Of course, Meerkat didn't know it was a direct competitor until Twitter admitted it had bought Periscope.
Twitter's move didn't kill Meerkat. If anything, the spat appears to have raised the smaller app's visibility, at least in the short term. Now that SXSW Interactive has wrapped up, however, Meerkat faces a tougher climb. When the initial hype fades, will its live streaming turn out to be a flash in the social-media pan, like Yo or Ello? Or is it the next big mobile platform, like Twitter or Snapchat?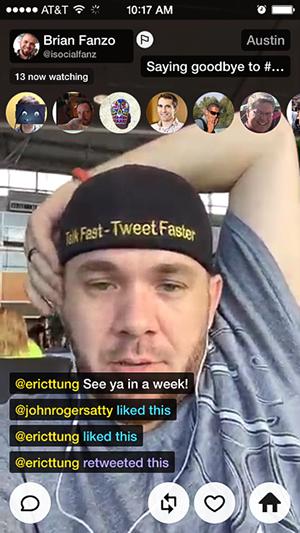 With venture-capital fortunes at stake, you'll find plenty of prognosticators arguing both sides. But there's another, more likely possibility: Meerkat will turn out more like Foursquare or Vine—apps that add an important new dimension to the social-media landscape without revolutionizing it. In Foursquare's case, that dimension was location. In Vine's case, it was short, simple, recorded video. And in Meerkat's case, it's live feeds.
One of Meerkat's problems is similar to the one that ultimately forced Foursquare to pivot away from location-based status updates: The service it provides could simply be integrated into existing social networks. Meerkat's other big problem is the same one Vine faced when Twitter launched it two years ago: Making videos is easy, but making good videos is hard.
Most people's early Meerkats are even more mundane than you might imagine. Often you'll tune in only to see a slightly grainy view of someone's face staring at her own phone or computer screen. At its worst, Meerkat is a throwback to the days when narcissists broadcast webcam feeds of their own bedrooms as they went about their quotidian routines.
At its best, however, Meerkat restores some of the immediacy and intimacy that the Web has lost as Facebook, Twitter, and Tumblr have become platforms for people's carefully groomed personal brands. You can follow someone on Twitter for years without gathering an inkling of their real-life personality. Watch them on Meerkat and you feel like you're sitting right next to them.
Meerkat also opens interesting possibilities for broadcasting live events in real time. A BBC News reporter did a Meerkat of a prayer vigil in Ferguson. Tony Hawk did one of an impromptu shred session in someone's backyard pool.
Technologically, Meerkat isn't novel. Ustream, a leader in professional-quality live streaming for businesses and media companies, has a mobile app that lets you stream to the Web and share it on Twitter, as do other companies. It's Meerkat's simplicity and tight integration with Twitter that have helped it go viral. Open a Meerkat account and it will prompt you to follow everyone you follow on Twitter. And the auto-tweet feature ensures that every Meerkat stream reaches your full Twitter audience, rather than just the people who follow you on Meerkat.
All of which helps to explain why Meerkat was poised to take gold at SXSW—and why Twitter went all Tonya Harding on it. Twitter's core mission is to be the top destination for real-time status updates, and live feeds could be a big part of that. The blow to the knee came too late, however: Meerkat will build its own social network, Rubin confidently declared in a SXSW panel over the weekend. Social graph or not, the app now has enough traction to grow or peter out on its own merits.
Will it succeed? Will people keep Meerkatting when the novelty wears off? I asked that question of Brad Hunstable, Ustream's CEO. His company is in some sense the incumbent in the live-streaming space, but its model is quite different: It makes money by selling subscriptions to businesses, not targeting casual users or viral growth.
Hunstable told me he isn't surprised by Meerkat's sudden success, nor is he worried. And yes, he thinks casual mobile live streaming is here to stay. "It's a different thing, like Vine versus YouTube," he said of the difference between Meerkat and Ustream. In his view, Meerkat will bring attention to live streaming and lower the barrier to people creating videos themselves, and that will benefit the whole sector. Between the coming 5G mobile data networks and cameras that can shoot 1080p video, he said, "there are a lot of very natural forces that are pushing this industry toward an explosion."
If he's right, even Twitter shouldn't be too worried about Meerkat poking its head up before Periscope could emerge from the water. Because when Periscope arrives, it won't be fighting against Meerkat so much as fighting alongside it to make live streaming happen—again.