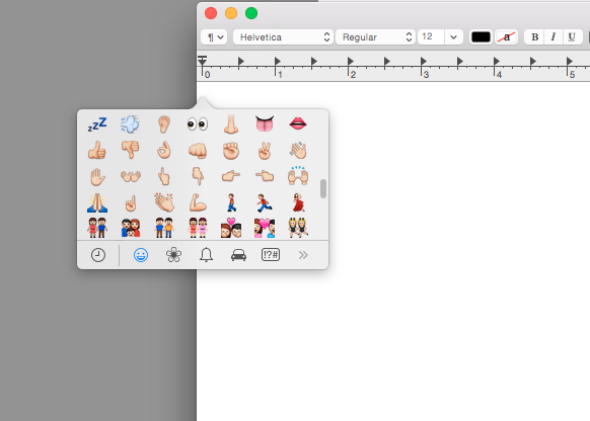 It seems like diverse emojis are on track for inclusion in Apple's current operating system, Yosemite. The company released a beta developer version of an update on Thursday that includes a redesigned window for displaying emojis and place-holders that seem like they're for emojis of all different skin tones.
As MacRumors shows, the new emoji window allows you to hover over a particular pictogram and see expanded options. Right now the choices are unlabeled place-holders, but it makes sense that they will be skin-color options on the gradient established by standards board Unicode in November.

The redesigned emoji selector window is going to allow for scrolling and make it easier to find the exact sandwich or whale you want. It also currently has place-holders in the flag section, so presumably more nationalities will be represented in the update.
The Yosemite update is expected to come out this spring, at which point the emojis on Apple's iOS mobile operating system will presumably get an overhaul, too. Miley Cyrus is going to be thrilled. Not to mention, you know, everyone else.

---